Streamlining of dotted lands under-way in 23,932 acres: KE Krishna Murthy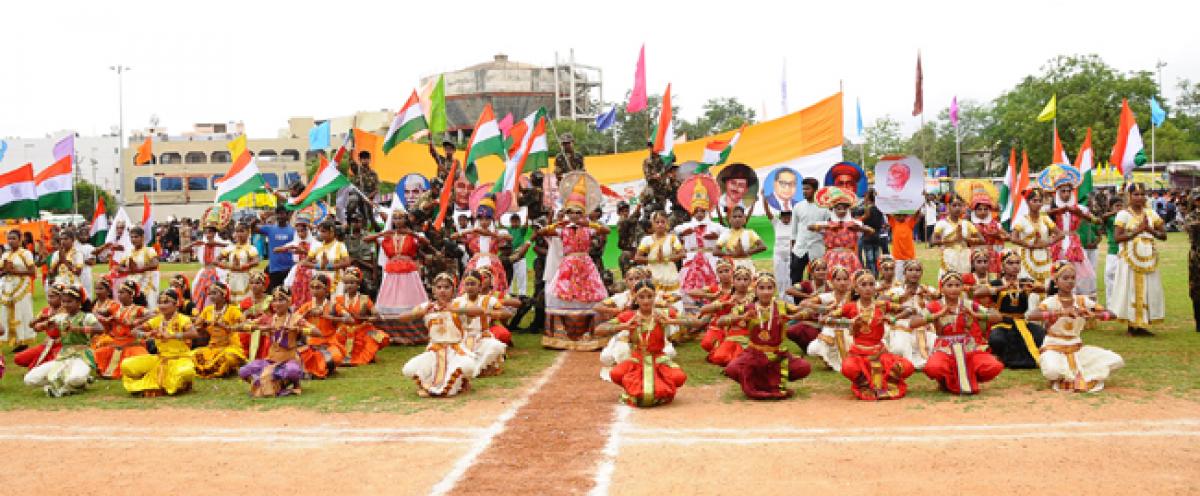 Highlights
The 72nd Independence Day celebrations were started on a grand note here at Kurnool police parade grounds on Wednesday with the unfurling of Tricolour by Deputy Chief Minister KE Krishna Murthy
Kurnool: The 72nd Independence Day celebrations were started on a grand note here at Kurnool police parade grounds on Wednesday with the unfurling of Tricolour by Deputy Chief Minister KE Krishna Murthy.
Speaking on the occasion, Krishna Murthy read out a serious of initiatives taken and the welfare schemes implemented by the state government. He said that streamlining of dotted lands admeasuring 23,932 acres is under way and all land survey numbers have been furnished in Mee Bhoomi portal.
"We are also taking steps to extend unemployment allowance to graduates after the particulars registered through online. Every unemployed graduate in between the age group of 22 to 35 will be given a sum of Rs 1,000 every month," he said.
Expressing concern over the irrigation sector, he said out of 6.35 lakh hectares, only 4.33 lakh hectares has been brought under irrigation this kharif. Over 32,000 quintals of seeds with a subsidy of Rs 10.33 crores were extended to farmers and around 10,537 hectares have been cultivated with horticulture crops, he said and added Kurnool district bagged first position in onion crop cultivation.
The government has sanctioned Rs 224 crores for filling up of 68 ponds with the water of Handri Neeva Sujala Sravanthi (HNSS) Canal to enable wet lands on the western part of Kurnool and around 2,713 water conservation works with a cost of Rs 286 crores have been taken up to conserve 7.08 tmc ft of water.
As part of Guru Raghavendra Project, Pulikanuma and Pulakurthy lift irrigation schemes were ready for inauguration, he said and added this fiscal we have paid Rs 268 crores to the workers under NREGS. Over 37,444 farm ponds have been sanctioned to the district, of which, so far, 15,752 have been completed with Rs 65 crores, he said and added 4.80 lakh women have been granted with Rs 401 crores, each group member has been given Rs 8,000 under initial investment fund.
Chandranna Pelli Kanuka has been extended to 172 couples under first phase, he said and added 3.63 lakh eligible persons were drawing pensions under old age, widow, handicapped and weavers' category and 18.32 lakh works have been covered under the Chandranna Bima. For reducing mother and child mortality rate, nutritious food is being extended to pregnant women, he said. 16,583 houses with a unit cost of Rs1.50 lakh have been sanctioned in the district and 19,850 houses to urban people have been sanctioned under House for All schemes, he said.
The state was also feeding 3.66 lakh students in the form of midday meals, Murthy said the government was extending uninterrupted 7 hours power supply to 63,000 farmers in the district. The cultural programmes performed by the students of various schools have enthralled the viewers. Tableaus of various departments were also put on display.
On the occasion, 401 employees serving in government sector have been awarded with commendation certificates. MP TG Venkatesh, MLAs Mani Gandhi and SV Mohan Reddy, Collector S Sathyanarayana, SP Gopinath Jetty and Joint Collector V Prasanna Venkatesh participated in the celebrations.