Trade fair showcases Organic Farming Method in a big way at Vijayawada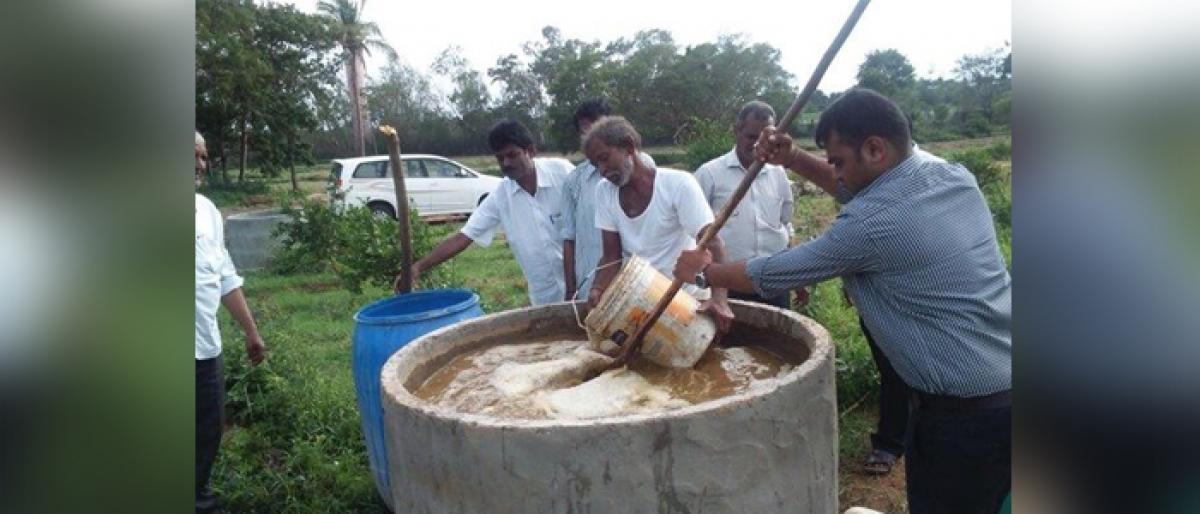 Highlights
The State Government is promoting Organic Farming Method OFM in the state in a big way to protect the soil fertility, reduce expenditure on agriculture, improving productivity and for good health to the people
Vijayawada: The State Government is promoting Organic Farming Method (OFM) in the state in a big way to protect the soil fertility, reduce expenditure on agriculture, improving productivity and for good health to the people.
The government is organising National Trade Fair to showcase the plethora of opportunities in the horticulture and organic sectors under 'Udyana 2018 and Jaivika India' here since August 23.
It will be open till August 26. Nearly 140 stalls have been set up in the trade fair by traders to showcase their products to farmers, who are cultivating under OFM.
Horticulture Department Deputy Director Ch Padmavathi said that as many as 72,000 acres of land was being cultivated under the OFM in the state only with Jeevamrutham and Varmicompost to help the farmers enhance income and prevent use of pesticides and fertilizers.
Dhal flour, Jaggery, Cow urine and Cow Dung (Both from Native Cows) are used to prepare Jeevamrutham, she said.
She mentioned that the state government was giving training to farmers on OFM at village and mandal level to promote organic farming.
The government is also distributing pamphlets at village level to create awareness on organic farming.
International Competence Center for Organic Agriculture (ICCOA) and Sikkim State Cooperative Supply and Marketing Federation (SIMFED) officials would certify the organic products, which was produced by the farmers under OFM, she informed.
Padmavathi said that soil test was necessary for cultivating under OFM and farmers would get minimum productivity in their field during first and second year under OFM for using pesticides in the past and productivity would be improved every year under the OFM.
Organic products have more demand in foreign countries and the State government is providing a platform to the farmers for selling their organic products in all districts, she added.
Sambi Reddy, a resident of Kunchanapalli village, Guntur district, said that he was cultivating 12 acres under the OFM and was producing 35-40 quintals of vegetable per each acre.
People were coming to his field for buying organic vegetables and the leafy vegetables.
He said that organic farming method was profitable with use of natural fertilizers like Jeevamrutham and Varmicompost, said Reddy.