Training of trainers held at Maris Stella College in Vijayawada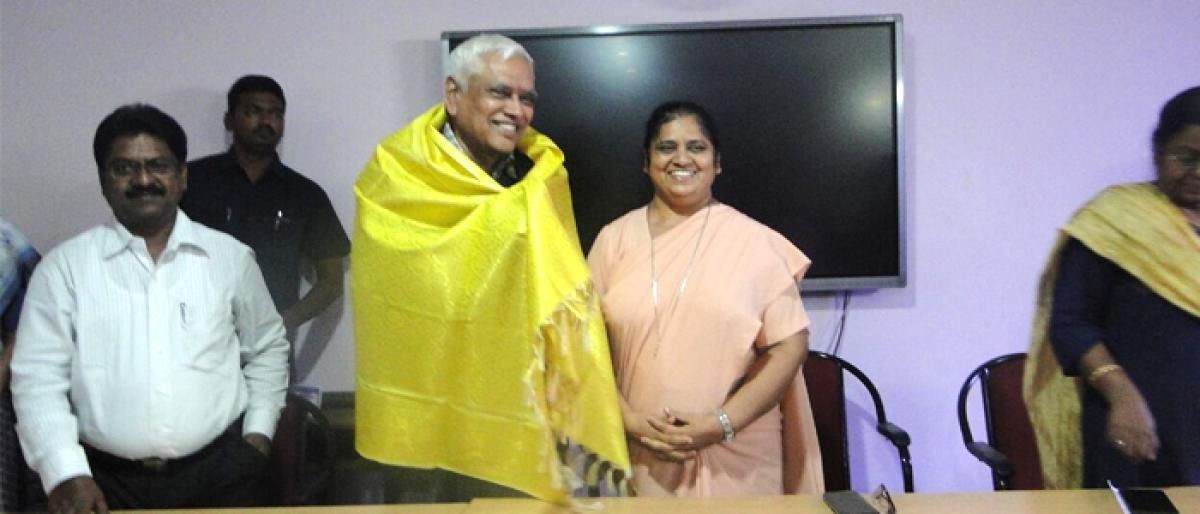 Highlights
As part of Training of Trainers programme on Youth and Health for NSS programme officers at Maris Stella College here, technical sessions were conducted on the topics Preventing Suicides among Youth and Sexually Transmitted Infections HIV AIDS and communicable and non communicable diseases by the Department of Economics and Rajiv Gandhi National Institute on Youth Development on Wednesday
Vijayawada: As part of Training of Trainers programme on Youth and Health for NSS programme officers at Maris Stella College here, technical sessions were conducted on the topics 'Preventing Suicides among Youth' and 'Sexually Transmitted Infections HIV/AIDS and communicable and non- communicable diseases' by the Department of Economics and Rajiv Gandhi National Institute on Youth Development on Wednesday.
Addressing the gathering Dr Kola Vijaya Sekhar, Ophthalmic Surgeon and General Consultant, Guntur Medical College, explained about various communicable and non-communicable diseases which disrupts normal functioning of the body.
Dr TVSN Sastry, District Medical Health Officer, Krishna, Vice-Chancellor of Krishna University Dr S Rama Krishna and others spoke.
Later, certificates were presented to programme officers.

Dr Sr Lovely Jacob, HoD department of Social Work, NSS Coordinator Dr CM Vinay Kumar, Principal Dr Jasintha Quadras, Dr B Josephin Sandhya Rani, B Koteswara Rao, V Swapna, Kalima, Sobha and Dr Swaroop Kumar, NSS programme officers Supriya, Dr Rajendra Prasad, Swaroopa and other college volunteers were present.