PAC probe demanded into Rafale deal at Tirupati RDO office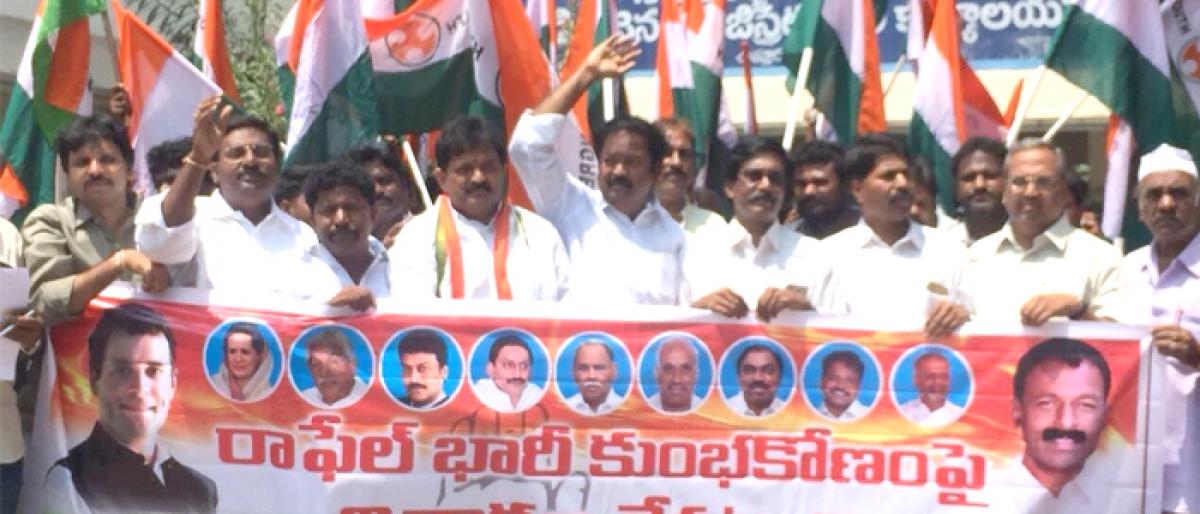 Highlights
The Congress workers staged a protest against the Rafale deal at the office of the RDO here on Saturday
Modi govt slammed for giving contract to Anil Ambani's firm ignoring HAL
Deal was closed without following procedures: Cong
Tirupati: The Congress workers staged a protest against the Rafale deal at the office of the RDO here on Saturday.
They alleged that Rafale deal was the biggest scam in India after it attained Independence in which the BJP-led NDA government at the Centre has bought each war fighter at a cost of Rs 1600 crore whereas the previous UPA government has bought them for only Rs 600 crore.
He alleged kickbacks in this deal as the NDA government had given the contract to the inexperienced Ani Ambani's firm.
The Congress demanded a probe by Public Accounts Committee (PAC) of the Parliament in the whole episode.
They later submitted a representation to the RDO G Narasimhulu. Party leader and INTUC honorary district president P Naveen Kumar Reddy, Mangati Gopal Reddy, Polakala Mallikarjun and other leaders took part.
Biggest scam in India
Nellore: Congress leaders organised a protest in front of the Collectorate on Rafale scam allegedly committed by the Modi government.
They shouted slogans against the BJP-led NDA government.
Congress leaders and workers took out a rally here on Saturday. Speaking to media, Congress city in-charge U Venkata Rao said that kickbacks were accepted by the NDA government as commission in the deal.
He also alleged that the deal was done without following any defence procedures causing huge loss to the exchequer.
Venkata Rao also alleged that Prime Minister Narendra Modi and Defence Minister Nirmala Sitharaman were responsible for the irregularities and the both had misled the people.
AICC member P Sitharambabu alleged that Nirmala Sitharaman has bluffed the people by defending the scam saying that the Hindustan Aeronautics Limited (HAL) was not capable of doing the assignment.
'Nirmala Sitharaman said that they had given contract to Reliance Defence Limited, a company which was floated just 12 days before the agreement.
HAL which was established in 1964 has been overlooked to make fighter jets,' said Sitharambabu.
The Ministry of Defence is saying that military secrets cannot be revealed to public and there is nothing wrong in revealing the price,' he added.
Congress leaders CV Sesha Reddy and others were present.