Lord appears in Mohini avatar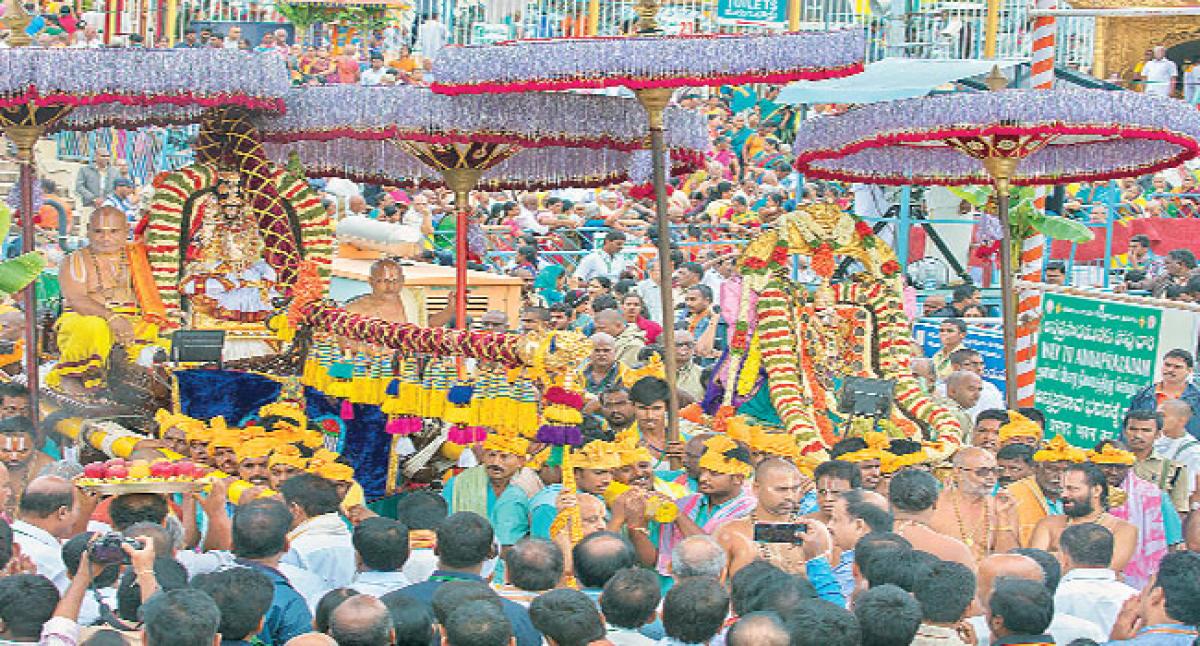 Highlights
The deity adorned with dazzling jewellery and the various hues of aromatic flowers decked on the vahanam is just a blast from mythology and devotees go agog at the sight of the deity
Tirupati: On Monday morning, Sri Malayappa Swamy in Mohini avatar atop an ivory palanquin with a golden parrot (Nachiar Thirukkolam) in his hand took celestial ride along the four mada streets along with Sri Krishna Swamy placed on another pallaki in the Mada streets, delighting the devotees on the fifth day of Brahmotsavams.
The deity adorned with dazzling jewellery and the various hues of aromatic flowers decked on the vahanam is just a blast from mythology and devotees go agog at the sight of the deity.
Legends say that it was Lord's message that His devotees should not fall prey to worldly desires and come out of 'Maya' by appearing as Mohini. Besides he is also cautioning that the entire universe was a creation of his 'Maya' and to overcome the worldly desires, everyone should worship Him.
TTD EO Anil Kumar Singhal, TTD Board members Meda Ramakrishna Reddy, Sudha Narayanamurthy, P Ramesh Babu, Raghavendra Rao and others were among those present.