VMC controlling spread of malaria, dengue in Vijayawada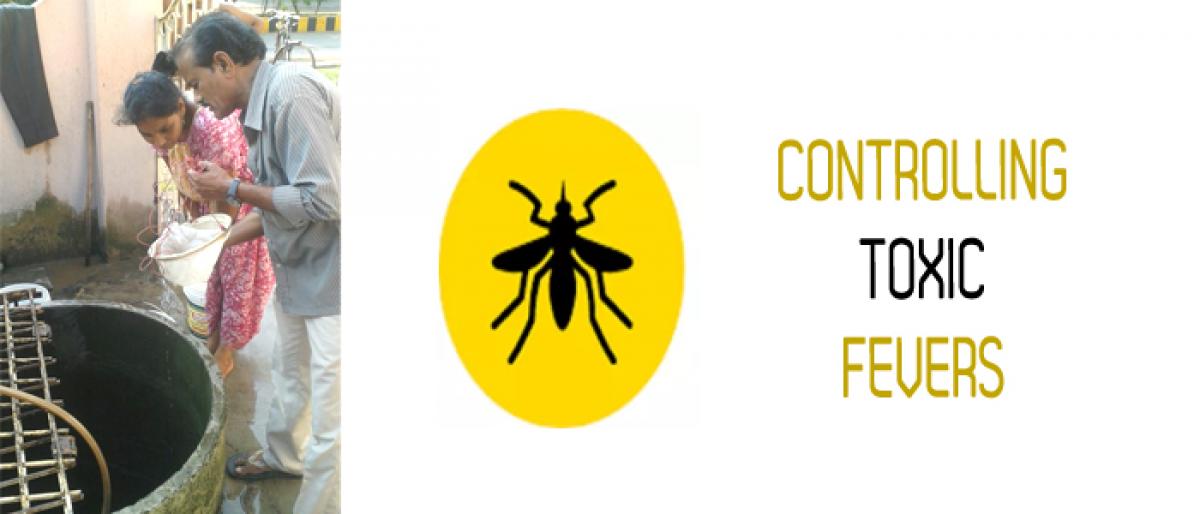 Highlights
Vijayawada Municipal Corporation VMC has been successfully controlling the spreading of malaria and dengue fevers apart from chikungunya in the city through creating awareness to the denizens on toxic fevers and by conducting antilarval operations ALO in all 59 divisions
Vijayawada: Vijayawada Municipal Corporation (VMC) has been successfully controlling the spreading of malaria and dengue fevers apart from chikungunya in the city through creating awareness to the denizens on toxic fevers and by conducting anti-larval operations (ALO) in all 59 divisions.
Besides neutralising the larva, it has been conducting ALO in 796 unused wells and in 525 permanent breeding places once in a week under the limits of VMC. It had allocated nearly Rs 90 lakh on health to prevent fevers and Chikungunya in the city.
VMC Chief Medical and Health Officer (CM&HO) K Arjuna Rao said that as many as 24 malaria and 10 dengue cases have been reported as of now from January 2018 onwards under the VMC limits and reminded that nearly 876 malaria, 108 dengue and four Chikungunya cases had been reported between January 2016 and December 2017 in the city.
Arjuna Rao said that about 5,580 oil balls were dropped at 265 places mainly at canals and stagnated water bodies to prevent the mosquito breeding.
Nearly 7,850 Gambusia fish have been released in 321 places, mostly at low-lying areas and wells.
The VMC sanitary workers were conducting Pyrethrum indoor space spray in 20,811 houses and covered nearly 73,517 people and were also conducting breeding survey in the houses of high risk areas, he added.
He said that VMC conducted Pyrethrum spray at 1,058 culverts to kill the adult mosquitoes and also conducted Indoor Residual Spray (IRS) in 9,549 houses covering 31,925 population.
The VMC had conducted IRS in 1,600 houses in Jakkampudi colony and was also conducting IRS at canals bund areas.
Sanitary workers conducted IRS in 90 schools and 9 government hostels and were conducting outdoor fogging operations twice a week in all divisions, he added.
Rao said that VMC was conducting special drive pertaining ALO and Fogging Operations in Bandar, Ryvas, Eluru and Budameru canals.
He said that Commissioner J Nivas formed a team with the Health Awareness, Mobile and ALO teams to prevent toxic fevers and was creating awareness to the people on hygiene.
Biologist A Nookaraju said that VMC CM&HO department officials were conducting special drive in divisions when the MDT fevers cases have been reported in any division in the city to prevent spread of MDT fevers.
Nukaraju said that the District Medical officials were taking the responsibility of people, who were suffering with MDT fevers and Chikungunya in the district.