Clean chit to Chandrababu Naidu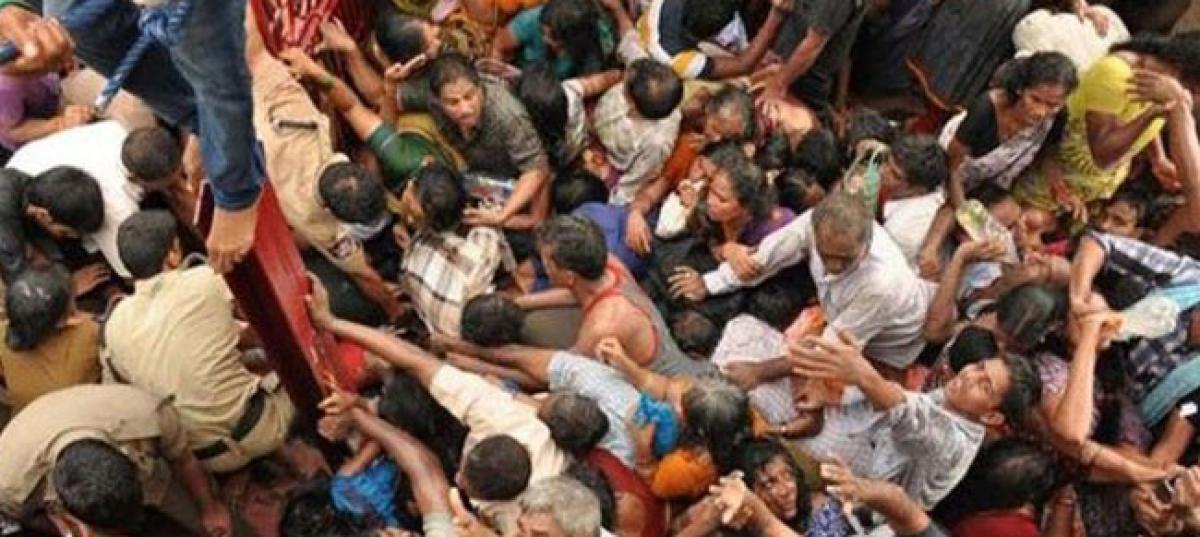 Highlights
Justice CY Somayajulu Commission, which was appointed to probe the stampede that occurred on the inaugural of Godavari Pushkaram at Rajamahendravaram on July 14, 2015, has absolved Chandrababu Naidu government of any responsibility for the tragedy
Amaravati: Justice CY Somayajulu Commission, which was appointed to probe the stampede that occurred on the inaugural of Godavari Pushkaram at Rajamahendravaram on July 14, 2015, has absolved Chandrababu Naidu government of any responsibility for the tragedy.
The Commission, which was appointed on September 15 the same year, held several public hearings before submitting its report to the government which was tabled it in the AP State Assembly on Wednesday.
The Commission was tasked to examine the circumstances that led to the stampede and whether proper arrangements were made at all. The first public hearing of the commission was held on January 18,2016. The commission felt that the publicity given for the event by the media led to collection of a huge crowd at the Pushkar Ghat which led to the tragedy.
The commission concluded that apart from the media, pundits and swamijis gave wide publicity on the importance of Pushkarams. They described the Pushkaram as Mahapushkaram which occurs once in 144 years. The media and the swamijis had held that if people took holy dip during the auspicious hour of the beginning of the Pushkaram, their sins would be washed away and they would remain blessed for the rest of their lives.
The blessings would be more than what one would get if one performed Aswamedha Yagam. The commission said that the undue and unwarranted publicity about the time at which the pushkaram would be inaugurated by the Chief Minister may be a cause for the huge gathering of people near Pushkar Ghat.
Justice Somayajulu concluded his report saying that after the tragedy took place, the kin of all those who were killed were paid adequate compensation and that even those who were injured were not left out. He felt that that the Pushakarams had ended on a happy note to the satisfaction of all.
Justice Somayajulu said that people believing that taking a holy dip during the auspicious hour was very imporatant, rushed to the ghat in blind faith. They waited for muhurtham and rushed into the ghat after the Chief Minister left the place, having completed his bath and puja which led to the stampede as the entrance was only 300 metres wide.
Justice Somayajulu pointed out that Pushkaram was a 12-day event according to ancient procedures. But the media created publicity and it encouraged the gathering to rush to the river. The report said that it took into consideration the evidence and the opinions from people belonging to various walks of life and the family members of the victims and the injured persons.