Chandrababu Naidu to lay foundation stone for Ramayapatnam Port in 45 days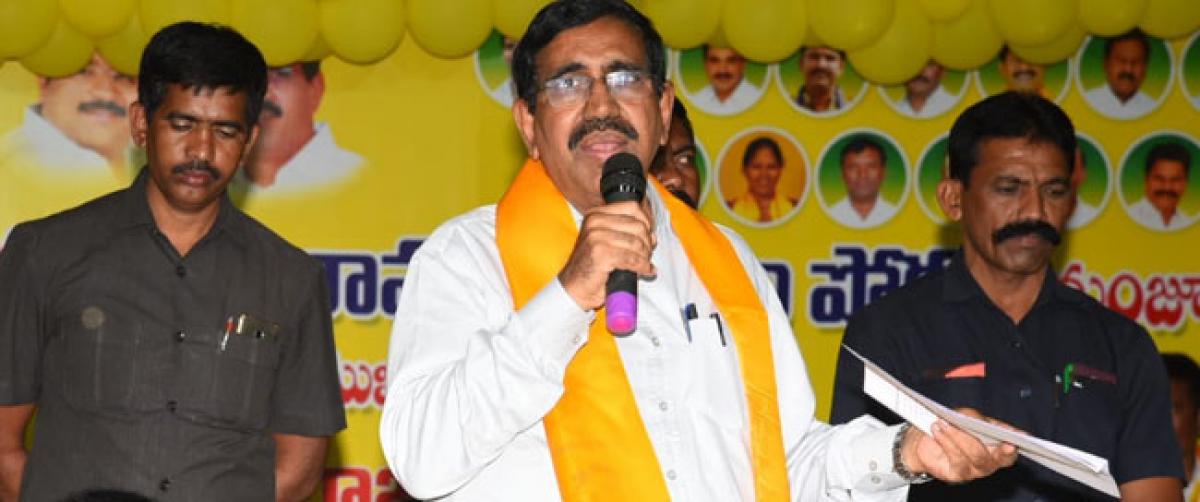 Highlights
The foundation stone for the construction of port at Ramayapatnam will be laid in 45 days, said the ministers Siddha Raghavarao and P Narayana A meeting was held at Ramayapatnam on Thursday to thank Chief Minister N Chandrababu Naidu The ministers participated in the meeting as chief guests
Ramayapatnam: The foundation stone for the construction of port at Ramayapatnam will be laid in 45 days, said the ministers Siddha Raghavarao and P Narayana. A meeting was held at Ramayapatnam on Thursday to thank Chief Minister N Chandrababu Naidu. The ministers participated in the meeting as chief guests.
The Minister for Environment, Forests, Science and Technology Siddha Raghavarao said that the people in Prakasamdistrict had organisedseveral agitationsdemanding the Ramayapatnam port. The minister said that Chief Minister will lay foundation for the port with in 45days.
He alleged that the opposition party leaders are confusing the people in the name of major port and minor port and advised them to know the Acts and laws. He announced that the Chief Minister is trying to develop roads, airports and ports in the state and assured that Ramayapatnam port, once completed, will supersede Krishnapatnam port in business. He said that the port provides large number of jobs to the locals and promised the fishermen community that their livelihood will not be affected by the port.
The Municipal and Urban Development Minister P Narayana said that the earlier government did injustice to the district by awarding exclusive rights to Krishnapatnam port over Ramayapatnam area. He said that Chief Minister NChandrababu Naidu will lay foundation stone to the port, even though the Union government is not cooperating with the state. He said that the small country like Japan has 10102 ports while China has 2034 ports. But India has only 212 ports.
He said that Chief Minister wants to establish 7 ports in the state to increase exports traffic from the state. Kandukur MLA PothulaRamarao, MLCs Karanam Balarama Krishnamurthy and MaguntaSrinivasulu Reddy, Prakasam district TDP president and Ongole MLA DamacharlaJanardhana Rao, Nellore district TDP president BeedaRavichandra, MLAs DVB Swamy, EluriSambasivarao andKadiriBaburao, ZP Vice-Chairman NukasaniBajali, SC Corporation Chairman JupudiPrabhakara Rao and other TDP leaders also participated in the meeting.