Two-day seminar on colonial rule concludes at Acharya Nagarjuna University in Ongole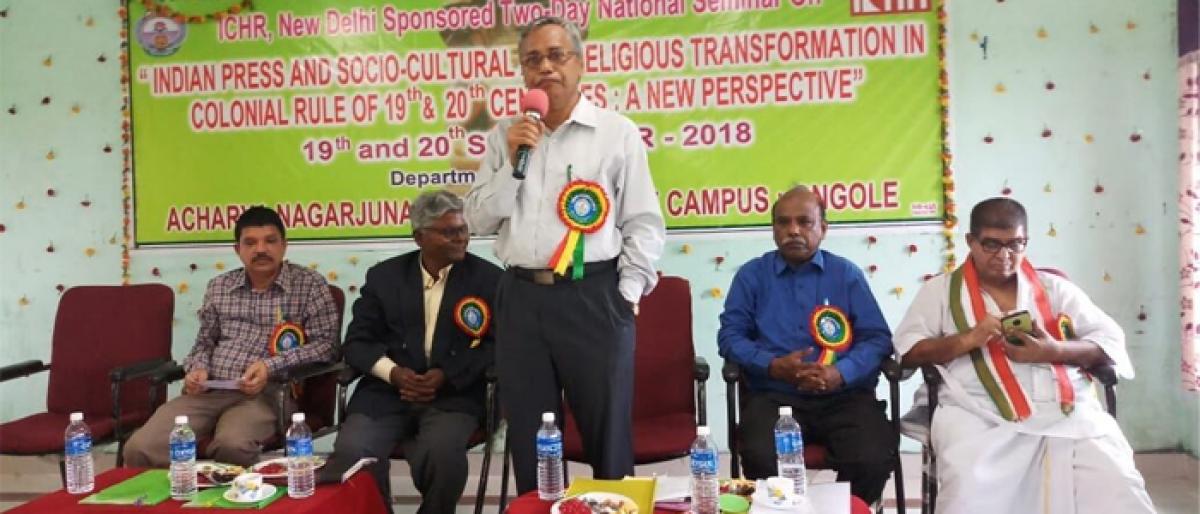 Highlights
The twoday national seminar on Indian Press and SocioCultural and Religious Transformation in Colonial Rule of 19th and 20th Centuries A New Perspective, held by the Department of History, Acharya Nagarjuna University PG Center in Ongole and sponsored by the ICHR New Delhi concluded on Thursday
Ongole: The two-day national seminar on 'Indian Press and Socio-Cultural and Religious Transformation in Colonial Rule of 19th and 20th Centuries: A New Perspective', held by the Department of History, Acharya Nagarjuna University PG Center in Ongole and sponsored by the ICHR New Delhi concluded on Thursday.
On Wednesday, the first day, the Acharya Nagarjuna University Vice-Chancellor, A Rajendra Prasad inaugurated the seminar and said that the press reflects the public and being witness for the social change.
He said that the newspapers were helping the history and culture of the country to flourish even in the modern times.
Krishna Rangarao Gujjari, former professor in IITTM said in his key-note address that English as lingua franca united the country and brought a long lasting influence on society, that included the Indian press.
He said that Indian press experienced tough legislations, mostly to benefit the British and ensure Indian compliance.
He also said that the Indian press during the colonial period experienced developmental difficulties, illiteracy, colonial constraints and repression, but it also disseminated excellently the ideas of freedom and actually became a prominent tool for freedom struggle.
On Thursday, Professor M Koteswara Rao, Dean of CDC, Acharya Nagarjuna University said that the newspapers in the colonial rule played an important role in eradication of social evils and brutal practices like Satisahagamanam, child marriages, untouchability, sexual harassments and encouraged of widow marriages and girl education.
Prof K Mallikharjuna Reddy, Department of History in Srikrishnadevaraya University, Anantapur said in his keynote address that newspapers prepared the public in the colonial rule to fight on social issues and the trend was continuing now also.
He said that Raja Ramamohana Roy fought untouchability with his newspaper Koumudi while Mahatma Gandhi used the same for the welfare of Harijan, nonviolence and freedom fight.
He said that people like Tanguturi Prakasam Pantulu, Kandukuri Veeresalingam Pantulu and other Telugus also used newspapers for the welfare of society.
The special officer and seminar director Dr G Somasekhara announced that about 100 papers by the researchers, students and professors from various places were submitted in the seminar.