Development of nation reflects in architecture: Expert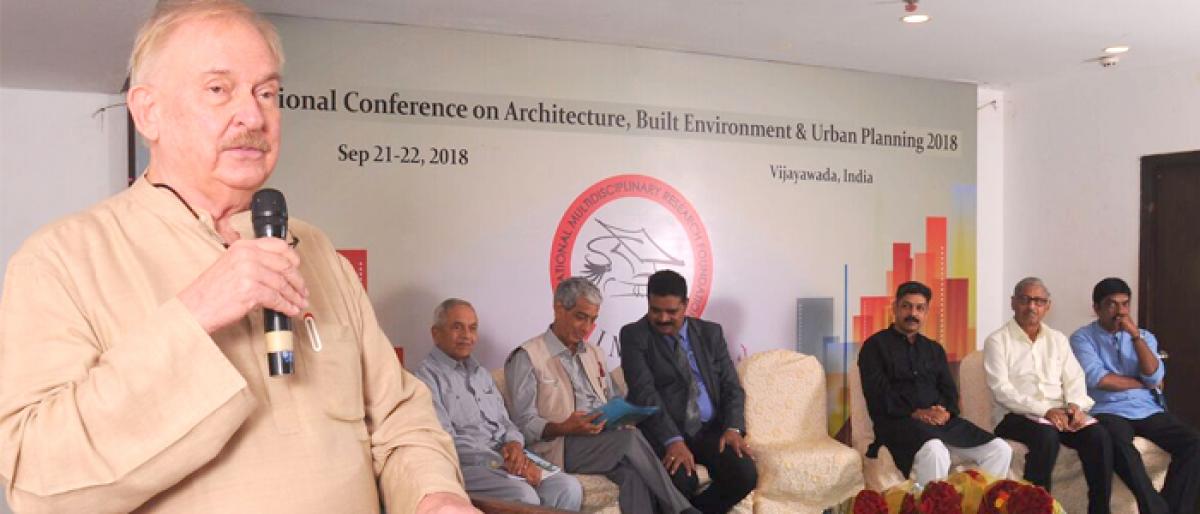 Highlights
A two day International Conference on Architecture, Built Environment Urban Planning 2018 and NationalLevel Design Competition began here on Friday
Vijayawada: A two-day 'International Conference on Architecture, Built Environment & Urban Planning 2018 and National-Level Design Competition' began here on Friday.
The conference was organising by International Multi-Disciplinary Research Foundation (IMRF).
International speakers Christopher Charles Benninger (USA) and other eminent personalities like Prof Jaisim participated in the programme.
Addressing the gathering, the American-Indian Architect and Planner Christopher Charles said that the development of a nation reflects in the construction of buildings, projects and drainage.
Architecture plays a key role in construction and suggested that the contractors should build any constructions with a pre-planned architecture designed keeping in view the future needs and should safeguard the environment, said Charles.
CCBA Designer, Managing Director Dr A Ramprasad said that the architecture's need was more at the upcoming capital Amaravati and Vijayawada and recalled that AP State authorities had contacted international eminent Architectures for the designing of the capital city to cater the needs of future.
He informed that the two-day conference will guide and benefit the new architects and the students. He appreciated the organisers for their initiation to organise the conference.
School of Planning and Architecture, Vijayawada Dean Prof Dr Konda Ramensh said there would be a good future for the architecture students as huge construction works were started at the capital city.
There was a need of more architects in the days to come, he added.
IMRF Director and CEO Prof Dr DB Ratnakar, architects, scholars, students and others were present.