Congress shifts to cadre-based politics says leaders at ongole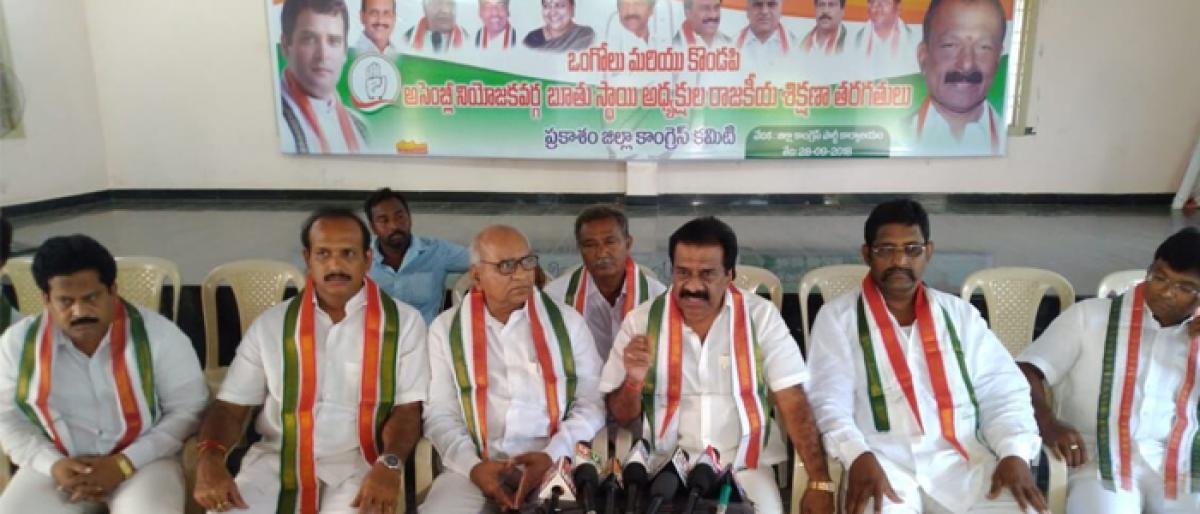 Highlights
To retain the cadre even after most influencing leaders deserted the party, the Andhra Pradesh Congress Committee is encouraging cadre based politics in the state, announced its senior leaders
Ongole: To retain the cadre even after most influencing leaders deserted the party, the Andhra Pradesh Congress Committee is encouraging cadre-based politics in the state, announced its senior leaders.
The Prakasam district Congress committee started booth-level presidents' training programme at the DCC office on Friday.
The leaders announced that they were going to give tough fight to the opponents in the coming elections.
The Ongole Parliamentary constituency trainers, Yarram Venkateswara Reddy, Chevuri Devakumar Reddy and Garnepati Alexander participated in the training of Ongole and Kondepi party workers on the first day.
Venkateswara Reddy said that the APCC in-charge Oommen Chandy wanted to encourage cadre-based politics in the state than leader-based politics as the party received a blow after the bifurcation.
He said that the Congress was fighting for the Special Category Status from the starting and even collected one crore signature campaign in 2015.
He expressed confidence that the Union government formed by the UPA in 2019 would accord SCS as the BJP, TDP, YSRCP and other parties failed to achieve it.
Devakumar Reddy said that the participation of the party workers at the booth-level was giving self-confidence to the leaders.
He said that when the booth-level workers were active, party would automatically strengthen itself.
He said that the state and central governments were involved neck deep in corruption and the opposition party in state failed to give voice to the concerned public.
He announced that the Congress would come into power in 2019 and initiate action as it did once on the alliance partners in UPA and sent its leaders to jail.
Alexander explained that the booth-level presidents would meet every worker and their families personally and revive the support of them to the party.
He alleged that the BJP was trying to silence the other parties leaders, minorities and SC/ST people by using its power and said that the Congress was the only party that can give protection to all.
The PCC president, Eda Sudhakar Reddy, Kondepi in-charge Gurrala Raj Vimal, Ongole town president Sripati Prakasam and others also participated in the meeting.