Bommidi Ravi Srinivas attacks MP Gokaraju Gangaraju for failure to solve local problems problems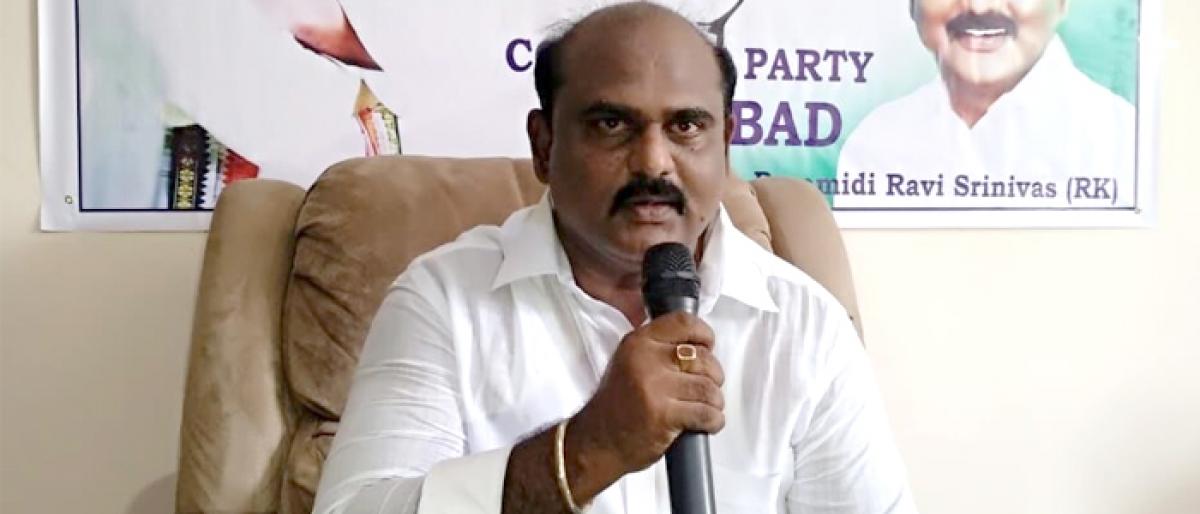 Highlights
The Congress leader for Narsapur Parliamentary constituency, Bommidi Ravi Srinivas criticised MP Gokaraju Gangaraju for failure to solve local problems
Bhimavaram: The Congress leader for Narsapur Parliamentary constituency, Bommidi Ravi Srinivas criticised MP Gokaraju Gangaraju for 'failure' to solve local problems.
Addressing the media here on Sunday, he alleged that the MP was neglecting problems of the people in the constituency.
He challenged Gokaraju to resign and contest again if he had any committment.
The Congress leader attacked the MP to address the Yanamadurru drain problem if he was really concerned about his constituency.
He had totally ignored the constituency problems and there was no point in continuing in the post.
The Congress leader announced that he would go on a fast, if necessary over the drain issue.
He said that the villages adopted by the MP were not developed. The MP was visiting these villages only once in a blue moon.
The development in the constituency had come to a standstill. None of the promises made during elections was fulfilled.
The MP ignored Sakhinetipalli bridge. He was not responding to people's requests over polluted Yanamadurru drain because of a factory in Vendra.
He announced that from October 2 the Congress would start Intintiki Indiramma programme.
He claimed that the Congress was gaining its strength in the constituency.