Minister Paritala Sunitha releases water to Bandameedapalle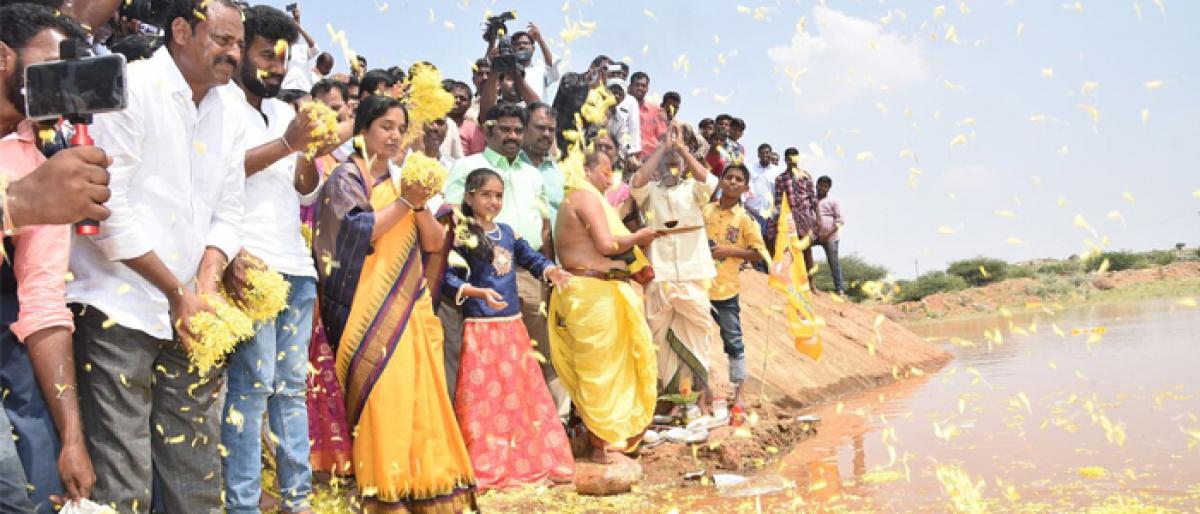 Highlights
Minister for Women and Child Welfare Paritala Sunitha and Collector Veera Pandian on Saturday released water from Kanaganapalle in Raptadu constituency to Bandameedapalle village amidst hundreds of people
Anantapur: Minister for Women and Child Welfare Paritala Sunitha and Collector Veera Pandian on Saturday released water from Kanaganapalle in Raptadu constituency to Bandameedapalle village amidst hundreds of people.
Addressing the gathering, Paritala Sunitha said that she delivered the promise gave to the people of Bandameedapalle in 2016 that she would make efforts to fill the Bandameedapalle village tank at any cost with the Krishna waters.
A 16-km-long canal had been dug to divert water from Kanaganapalle to Bandameedapalle at a cost of Rs 8.70 crore.
The water diversion had been undertaken through Konapuram Bandi Cheruvu, Lal Saheb Cheruvu and Kanaganapalle Reddi Cheruvu.
The minister also promised to release water to even Konapuram by October 16.
Hailing the Chief Minister for filling all irrigation tanks in Rayalaseema districts, she said that there was a false notion that water given to only Raptadu constituency while ignoring other areas.
In fact, the water flows through Raptadu to reach other areas, she added.