Power supply yet to restore absolutely in cyclone hit villages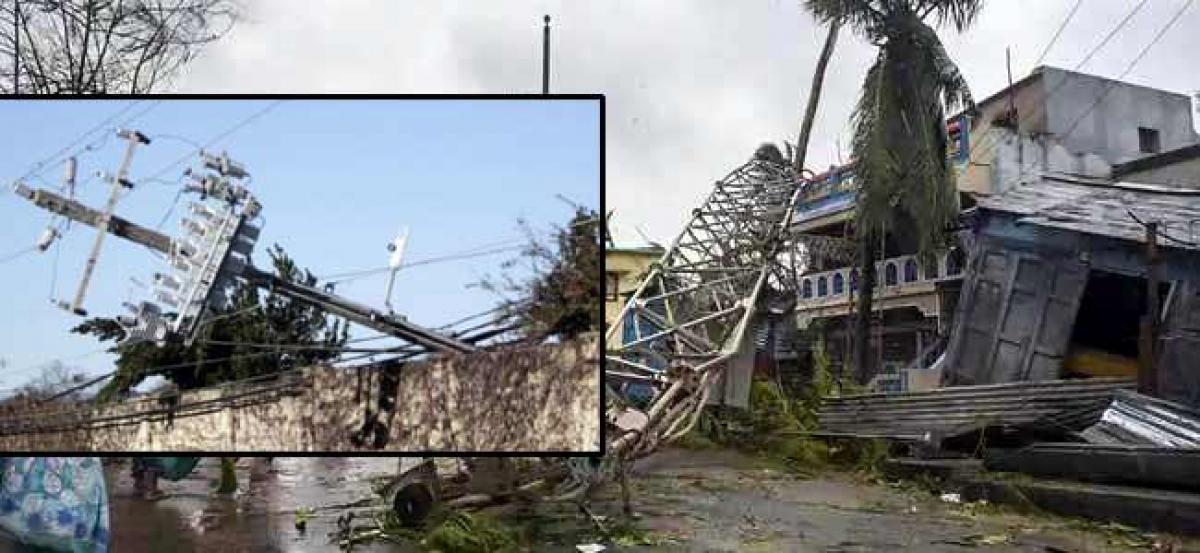 Highlights
Power supply is yet to restore in cyclone hit villages in all 12 mandals across the district Due to Titli cyclone power supply system fully damaged in 12 mandals and partially damaged in six mandals
-Will restore supply by 22 October: energy department principal secretary
Srikakulam: Power supply is yet to restore in cyclone hit villages in all 12 mandals across the district. Due to Titli cyclone power supply system fully damaged in 12 mandals and partially damaged in six mandals. Total 33,300 poles collapsed and 531 sub-stations damaged as a result power supply interrupted in all 1802 villages in 18 mandals. Power supply yet to restore in Itchapuram, Kaviti, Kanchili, Sompeta, Mandasa, Palasa, Vajrapukotturu, Santhabommali, Tekkali, Kotabommali mandals except mandal centers here power supply yet to restore in rural areas.
'In our village power supply stopped on last Wednesday night and it is yet to restore' Pothanapalli Kameswara Rao of Boddapadu village in Vajrapukotturu mandal explained. 'Power yet to restore in our village as it is located near to national highway (NH-16)' L.Sridevi of Laxmipuram village in Palasa mandal said. G.Simhachalam of Peddabammidi village, S.Narayana Rao of Ethurallapadu village and V.Ramu of Parasurampuram village of Kotabommali mandal explained.
Due to damage of power grid at Palasa power dsupply affected in five states including AP, Tamilanadu, Telangana, Kerala and Karnataka. 'We will restore power supply by 22 October in all villages as 10,000 staff is working and another 2,400 staff will attend duties' said energy department principal secretary, Ajay Jain. Total 3,000 mega watts supply affected between Thalcheru and Kolar line due to cyclone impact he elaborated. We are planning to install circle and spun type electric poles in all nine coastal districts in AP instead of vertical poles to avoid damages he added.