CITU reiterates demand for Railway zone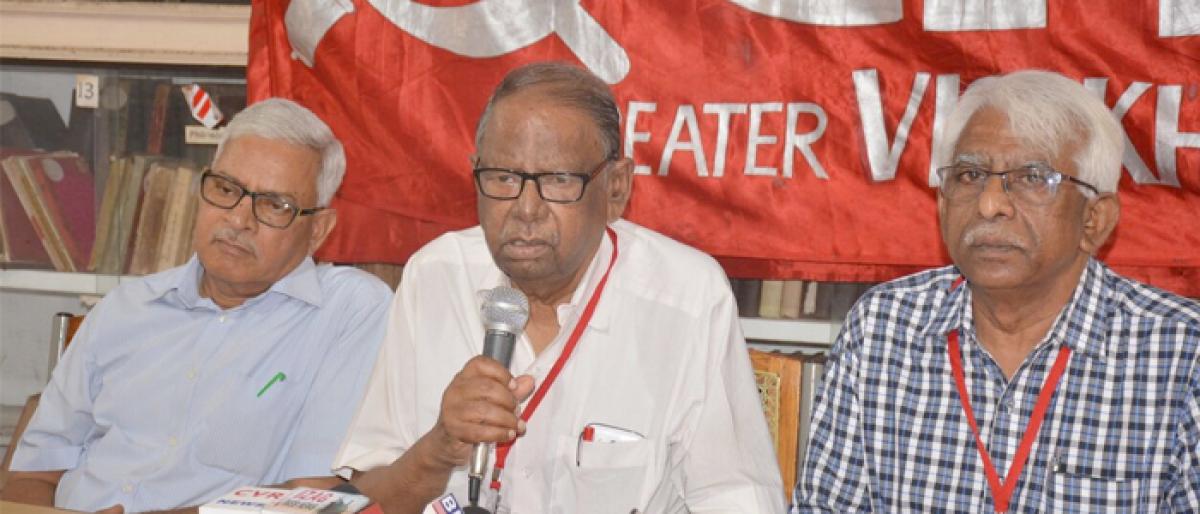 Highlights
Centre of Indian Trade Unions CITU national vicepresident Basudev Acharya demanded that the Centre should announce the Railway zone with Visakhapatnam as headquarters without further delay
Visakhapatnam: Centre of Indian Trade Unions (CITU) national vice-president Basudev Acharya demanded that the Centre should announce the Railway zone with Visakhapatnam as headquarters without further delay.
Addressing media here on Saturday, he announced that the Left parties would fight for the zone in and outside the parliament also.
After the bifurcation of the state, Andhra Pradesh was badly needed some incentives including Special Category Status and Railway Zone, he said and added however, the BJP-led NDA government has not implemented the assurances mentioned in the AP Reorganisation Act.
Very small states in the country having railway zones, why Andhra Pradesh should not have, Acharya pointed out. Acharya elected nine times to Lok Sabha and member in various committees of Indian Railways.
By merging the Guntakal, Visakhapatnam and Vijayawada railway divisions, the Centre can establish a new railway zone in Andhra Pradesh, he stated.
As per the assurance given to the people of AP, the BJP government must establish the railway zone immediately, Basudeva Acharya demanded.
Talking about the privitisation in Indian Railways, he said that the Centre has making the arrangements to hand over 450 railway stations to private parties on lease across the country.
Apart from leasing the stations, the Centre is also privatising the operations in some key zones. The trade unions should unitedly oppose the privatisation in the Indian railways, he said.
All the steel factories in the country are having own mines, except the first shore-based Visakhapatnam Steel Plant, he pointed out.
The Centre is not alloting captive mines to the VSP and intentionally troubling the Asia's biggest plant, he alleged.
Opposing the BJP government's anti-worker policies, the CITU has called for a two day's national-wide strike on January 8 and 9, he said.
CITU, Andhra Pradesh wing president Ch Narasinga Rao was also present.