APSSDC inks MoU with German firm to train students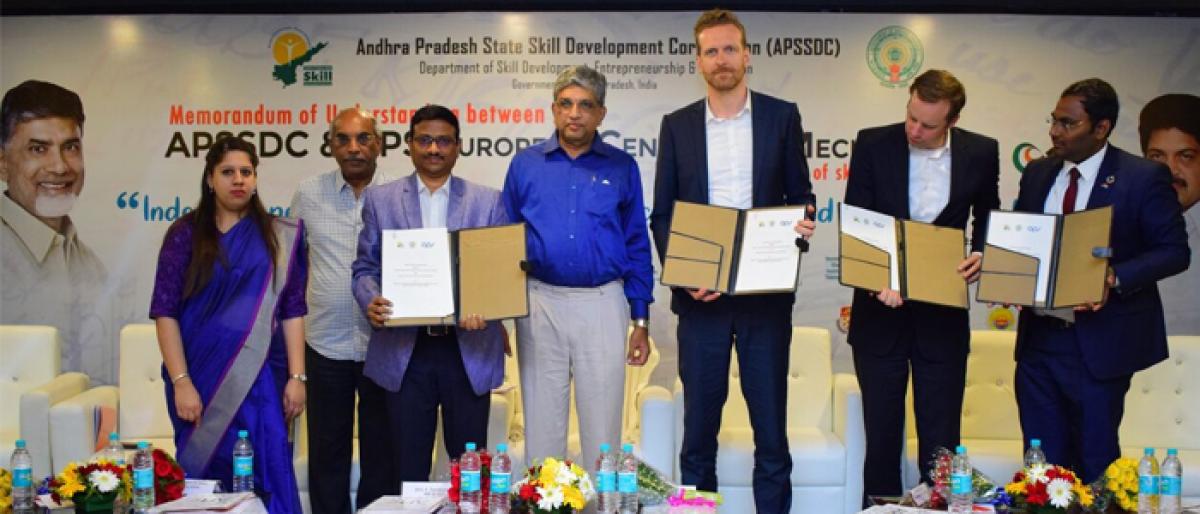 Highlights
In a strategic move to enhance the employability of engineering students in the state, the Andhra Pradesh State Skill Development Corporation APSSDC has signed a Memorandum of Understanding with Germany based European Centre for Mechatronics ECM to establish Indo European Skilling Centres in the engineering colleges across the state for providing them training in mechatronics
The MoU facilitates to train 10,000 students a year in the fields of mechatronics, robotics and industrial manufacturing
Under the MoU, Indo-European Skilling Centres will be set up in the engineering colleges across the State to train students
Vijayawada: In a strategic move to enhance the employability of engineering students in the state, the Andhra Pradesh State Skill Development Corporation (APSSDC) has signed a Memorandum of Understanding with Germany-based European Centre for Mechatronics (ECM) to establish Indo-European Skilling Centres in the engineering colleges across the state for providing them training in mechatronics and industrial robotics.
APSSDC managing director and CEO Koganti Sambasiva Rao, ECM president Vangapandu Venkata Naga Raju, ECM managing directors Dr Till Quadflieg and Dr Christoph Greb signed the MoU and exchanged the documents here on Friday.
Dr K Lakshminarayana, chairman of APSSDC, Krithika Batra, deputy CEO of APSSDC, Special Chief Secretary JSV Prasad and Dr T Lakshmi, chief consultant of APSSDC and other officials were present.
Addressing the gathering, Dr K Lakshminarayana said that it was imperative to make our engineering students employable. He said that we have to think how best we could take the latest technology to the classroom to make our students compete in the ever-growing worldwide employment market. He asserted that efforts should be made to make every student bilingual and to make them computing experts.
Special chief secretary JSV Prasad said that the government had taken lot of initiatives during the last four years and there is lot more needed to be done. He said that it was phenomenal achievement that the APSSDC had bridged the gap between the universities and the industry.
He hoped that the latest efforts would make the students highly employable. He suggested that what has been doing to the engineering students should also percolate to the polytechnic students in near future.
The Indo-European Skilling Centres would train 250 third and fourth-year engineering students from each college with a goal of training 10,000 students a year in the fields of mechatronics, robotics and industrial manufacturing, said Dr T Lakshmi, chief consultant of APSSDC. Applied Robots Control (ARC) Labs would be established in the nodal research centres to train the students, she added.
In the first phase, 12 engineering colleges are selected and trained 3,000 people. Akon University of Germany and the Center for European Center for Mechanical Sciences (ECM) will train students. German-based Lugus and Italian-made COMAU robots are available in each lab and cost of each one is Rs 30 lakh.
The students are trained for three months. The cost of training is Rs 30,000 of which the APSSDC and ECM would bear 90 per cent and the colleges or the students would bear 10 per cent. The students who completed the training successfully would get certificates from Aachen University, Germany.
Dr Zakir from ARC Labs said that in India there are only three robots for 10,000 population whereas in Germany 309 robots and in Korea 631 robots for the same population. " It shows how backward we are in using the technology," he said and added that India has lot of potential in robotics.