Latest sari designs are star attraction at Lepakshi expo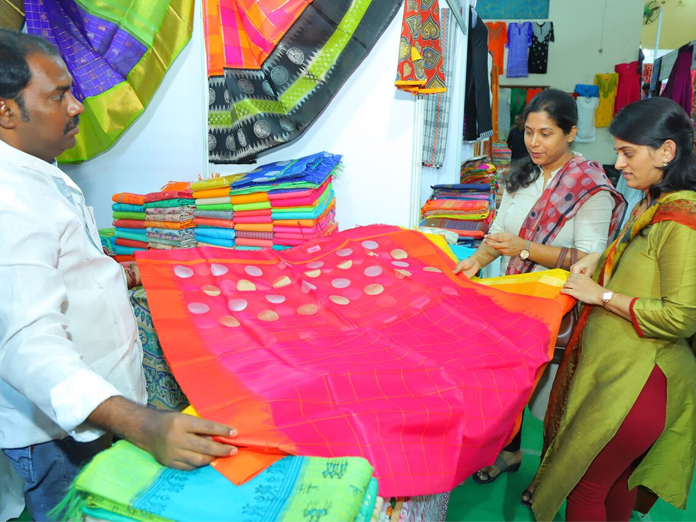 Highlights
Women, who are on purchase spree, sari designs got another opportunity to buy their favourite saris and other items at Lepakshi Cotton and Silk Fab being organised by the Andhra Pradesh Handicrafts Development Corporation at Sindhura Kalyanamandapam here
55 stalls from across the country are opened
Women in large number visiting stalls selling wide variety of saris
Handloom cotton and Kuppadam pattu saris steal the show
Tirupati: Women, who are on purchase spree, got another opportunity to buy their favourite saris and other items at 'Lepakshi Cotton and Silk Fab' being organised by the Andhra Pradesh Handicrafts Development Corporation at Sindhura Kalyanamandapam here.
The exhibition-cum-sale has several eye catching products like Mangalagiri, Pochampalli, Venkatagiri, Uppada, Kanchi, Banaras and other types of saris, dress materials, bed sheets, Khadi clothes and a host of other things were on display to attract the women.
Among all the items, latest sari designs steal the expo as women were seen in large numbers.
Handloom Cotton pattu and Kuppadam pattu saris were the latest attractions which have been drawing the attention of many visitors. Handloom cotton saris in the price range of Rs 1,000-3,000 were the much sought-after variety said the sales girl at the shop.
Uppada saris also have high demand among other varieties. "Every year, new varieties have to be brought to attract the visitors. This year, Kuppadam pattu saris which are the total hand weaved and having a contrast border is getting attention," said the shopkeeper B Balaji from Mangalagiri.
Kuppadam pattu saris price range begins at Rs 5,500 and still it has the patronage along with Malabar silk saris which are available at relatively much lower price.
For those who want lace works, Narasapur crochet lace stall offering number of items like dresses for kids, long middies, divan sets, bed sheets, over coats etc., at the price band between Rs 550 and Rs 9,500.
The response was quite good for these handmade lace works, stated the owner K Balaji from Narasapur. Digital print saris, Jaipur cotton bedsheets, Bhagalpur handlooms, Lucknow handwork tops, Kolkata boutique saris, Pondur Khadi shirtings were some of the other eye catchers at the expo. The visitors were never forgetting to stop at one-gram gold jewellery shop and showing interest in seeing jumkeys, necklaces and bangles there.
Ladies fancy items, different varieties of sweets and savouries, attractive pottery were some other attractions. However, several shopkeepers have said that visitors have been visiting the stalls in good number, but the sales were slowly picking up. Keeping in view of the sales every year, they expressed confidence that in the next two to three days they can have good sales before it concludes on January 13.
The Manager of Lepakshi Handicrafts Emporium, Tirupati and Tirumala K Venkateswara Rao told The Hans India that they conduct such expos two to three times a year and found that they were extremely beneficial to weavers and artisans.
The aim was to provide a market place for their products without the role of intermediaries. About 55 stalls from across the country were set up to promote handlooms.