Trade unions organise huge rally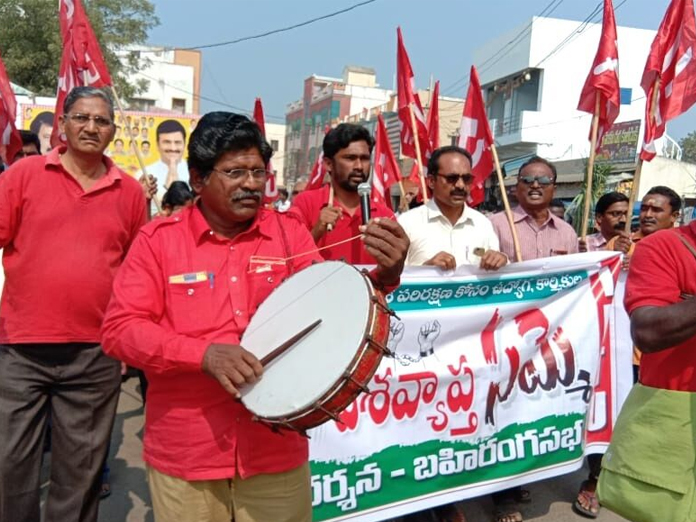 Highlights
As part of twoday strike to protest against antilabour policies of the Central and state governments, working class under the leadership of CITU, IFTU, AITUC and other trade unions organised a huge rally here on Tuesday
Eluru: As part of two-day strike to protest against 'anti-labour' policies of the Central and state governments, working class under the leadership of CITU, IFTU, AITUC and other trade unions organised a huge rally here on Tuesday.
The rally started at municipal office and passes through old bus stand, Karra Vantena, Powerpet railway station and culminated into a public meeting at RR Pet Park.
CITU state secretary V Umamaheswara Rao, AITUC state honorary president Ch Rama Rao, IFTU state leader P Prasad and others addressed the rally.
They alleged that Prime Minister Narendra Modi and Chief Minister N Chandrababu Naidu had changed labour laws convenient for the managements after they assumed office.
They charged that the BJP-led government at the Centre was trying to privatise banks on the pretext of merger. Modi was acting hand in glove with Reliance which got an opportunity to own 4G instead of government-owned BSNL, they criticised.
They accused the governments of failing to tackle issues like fuel price and farmer suicides which are on 'rise'. They called upon the working community to defeat both the governments in the next elections.