AP CM Chandrababu Naidu announces Rs. 2,000 pension from February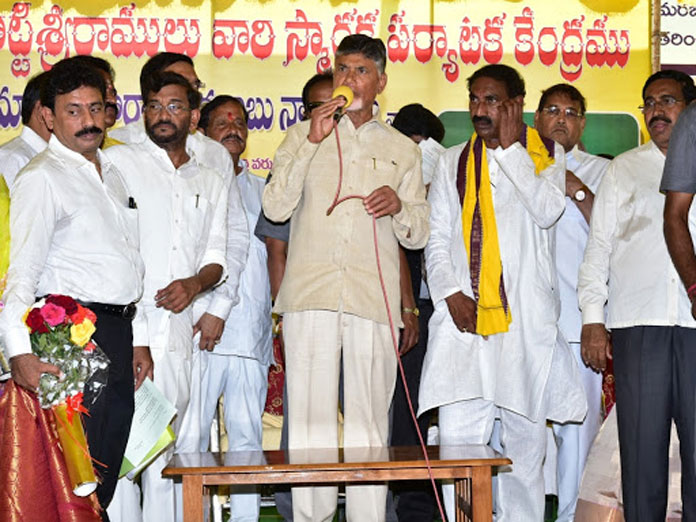 Highlights
AP Chief Minister N Chandrababu Naidu announced here at Bogole in the district that they would be increasing the social pensions from Rs 1,000 to Rs 2,000 from February onwards
Nellore: AP Chief Minister N Chandrababu Naidu announced here at Bogole in the district that they would be increasing the social pensions from Rs. 1,000 to Rs. 2,000 from February onwards. He participated in Janma Bhoomi Maa Vooru programme on Friday and said each pension holder would be getting Rs. 3,000 including one month arrear of January amid huge cheers of the participants. He defined the increment as Sankranthi Gift to Andhra People.
The Chief Minister also introduced another programme, Raksha, for providing free napkins to the school going children across the state. 6 lakh girl children across the state would get at least 10 napkins for their needs as part of the programme at free of cost and hence they had named the programme for the safety and dignity of girls.
He also distributed around Rs. 8,000 Cr worth land pattas to 65,096 farmer families who were part of Community Joint Farming Societies (CJFS) that have been abolished recently facilitating them to enjoy lands. He, further, welcomed reservations for the upper castes and questioned what had happened to the bill on reservations for Kapus which was presented earlier and said would also be proposing reservations for fishermen.
Taking pot shots at the Prime Minister Narendra Modi, Chandrababu Naidu said that Modi is a dictator who was giving only awards to the exemplary development in the state and has been denying any fund source for the development to the truncated state.
"We requested the assurances at the time of bifurcation to be fulfilled. Accepted for political tie up. But, they simply ignored their promises and followed breach of trust. Appealed, begged and finally we came out of the government. Corruption everywhere at the Centre. Even TDP leaders also faced the heat with IT raids on people's representatives and party leaders. Now, they are trying to tapp our telephones and also putting efforts to steal data of the state," Chandrabau criticized. He said unannounced emergency situation prevailed in the country with the ruling of the BJP.
He also said that during the tenure of the BJP at the Centre number of suicides of farmers have significantly increased and the agriculture sector is in doldrums with no support from the Centre. The chief minister said they came out of Hyderabad in 2014 with Rs. 16,000 Cr deficit budget where there was no ray of hope how to bail out from the situation. Still, managed with self-confidence and the state attained many success amid desolation, loneliness, and crisis.
He said reports of Jaya Prakash Narayan, Pawan Kalyan said the state had to receive Rs. 75,000 Cr after bifurcation and still the Prime Minister is non-cooperative. They had provided Rs. 24,000 Cr support farmers for loan waivers and announced they would be clearing the balance of the waivers with 10 pc interest shortly.
"YSR Congress is coming to the people with no experience in real time governance and managing crisis situation and are trying to cash the situation with huge headlines. You don't believe the words. Many countries elected their heads twice and thrice for their development. This should be repeated in Andhra Pradesh too for giving chance for more progress," said Chandrababu Naidu.
Chandrababu Naidu warned that there is a need to protest the TDP from three Modis who were trying to disintegrate with various systems. He asked them to be cautious in the coming elections.
The Chief Minister laid foundation for works with Rs. 110 Cr in Juvvaladinne village where statue of Amarajeevi Potti Sriramulu was unveiled, and also laid foundation for the fishing harbor. He laid foundation for the Greenfield Airport at Dagadarthi. Ministers, MLAs, MLCs and other senior officials were present.
///ends/pvprasad/4.29 pm///
Subscribed Failed...
Subscribed Successfully...