Prakasam police arrest 4 inter-state thieves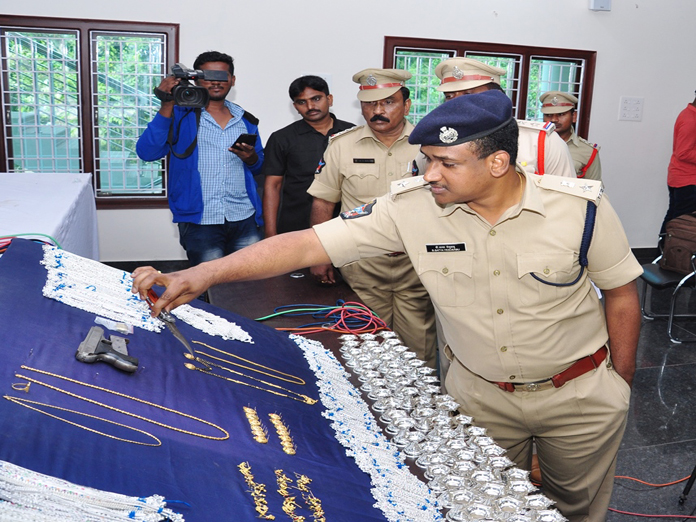 Highlights
The Prakasam district police on Thursday arrested a fourmember gang of interstate thieves and recovered silver, gold ornaments along with 7 motor cycles worth Rs 14 lakh from their possession
Ongole: The Prakasam district police on Thursday arrested a four-member gang of inter-state thieves and recovered silver, gold ornaments along with 7 motor cycles worth Rs 14 lakh from their possession.
Speaking to media, SP Bhusarapu Satya Yesubabu said the accused Ponnuru Satyanandam, Muli Panindar Reddy, Momin Saida and Podili Joji Babu, natives of Guntur district, were involved in 31 thefts and chain-snatching cases in Prakasam, Guntur and Krishna districts along with a few places in Telangana state.
He said Satyanandam served a term in jail for involvement in 15 cases and released in October 2017. Since then, he formed a gang with the others and started to commit chain-snatching and house break-ins. In Prakasam district, they were involved in seven crimes, including two jewelry shop lifting and two-house break-ings. Chirala DSP V Srinivasa Rao, who is also the in-charge of Darsi, guided the Podili CI KS Ch Meera Saheb, Donakonda SI P Subbarao and their staff in enquiry and arrested them at Donakonda on Wednesday.
They recovered 104 grams gold, 15 kg silver, 7 motor cycles, one knife, one pistol and four bullets from their possession. Yesubabu said the accused first lift the high speeding motor cycles and use it for theft or chain snatchings. He said that they procured the pistol and bullets for Rs 60,000 from a person in Hyderabad, who sourced it from West Bengal.
He announced that they identified the person who sold the pistol and will nab him soon. He said the team committed 21 crimes in Telangana, 2 in Guntur and one in Krishna district, apart from Prakasam district. He appreciated the police personnel involved in the investigation of the case.