Rayanapadu railway station to turn satellite from April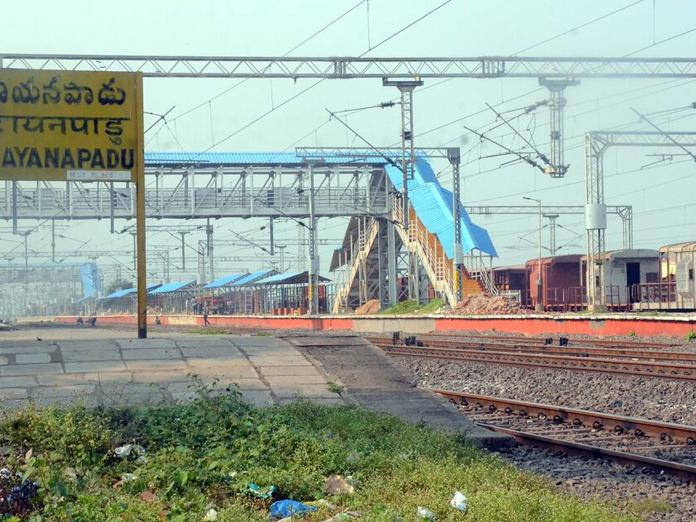 Highlights
The railway officials prepared plans to turn Rayanapadu railway station into a fullfledged satellite railway station from April this year to provide access to Andhra Pradeshs capital Amaravati
Majority of Hyderabad-Howrah-bound trains will be diverted via Rayanapadu station from April without touching Vijayawada main railway station
The railways plan to provide train connectivity to AP's capital Amaravati
Vijayawada: The railway officials prepared plans to turn Rayanapadu railway station into a full-fledged satellite railway station from April this year to provide access to Andhra Pradesh's capital Amaravati.
The railway station has already been changed into a satellite station from January 1 on trial basis.
As part of it, a few trains have been halted at Rayanapadu railway station where Vijayawada-bound passengers from Hyderabad will alight and take a bus to reach the city.
Later, the train will take bypass rail road towards Howrah without touching Vijayawada station.
In near future, majority of Secunderabad-Vijayawada-Howrah-bound trains will be stopped at Rayanapadu railway station without entering Vijayawada main railway station.
Besides, there is also a growing demand to develop Gunadala and Krishna Canal Junction railway stations as satellite stations like Rayanapadu railway station.
According to officials, the Vijayawada Railway Division is taking steps to provide train connectivity to Amaravati capital city in Hyderabad direction.
In fact, Rayanapadu railway station is nearly 12 kilometers from Vijayawada railway junction. The Secunderabad-Howrah and Howrah-Secunderabad-bound trains must change engine in reverse direction in Vijayawada railway station after taking halt.
Now, it takes nearly 20 minutes to 30 minutes for changing the engine based on the traffic.
It has turned out to be difficult task to officials during the process of changing engine and the whole situation forced them to provide alternative plans to avoid heavy traffic in Vijayawada railway junction.
Moreover, the ongoing Amaravati capital city developments demand new train connectivity for its future needs.
In this backdrop, the officials of Vijayawada Railway Division initiated the satellite railway station plan at Rayanapadu.
As part of it, new road bridge work is going on across Krishna River to Amaravati capital.
The starting point of the bridge is also very near to Rayanapadu railway station in Krishna district side.
Once the bridge is completed and Rayanapadu railway station is developed, the passengers will reach Amaravati capital city without entering Vijayawada main railway junction.
Vijayawada Additional Divisional Railway Manager M Ramaraju said that presently several special and Hyderabad-bound trains were diverted through Rayanapadu station.
Speaking to The Hans India, he said that the RTC provided bus facility from Rayanapadu to Vijayawada during train arrival timings besides auto rickshaws were also available at the station.
The station would be converted into full-fledged satellite station from April by diverting majority of trains, he said and added that they would pursue the demand for converting Gunadala railway station into satellite station soon.