Bandh evokes good response in Prakasam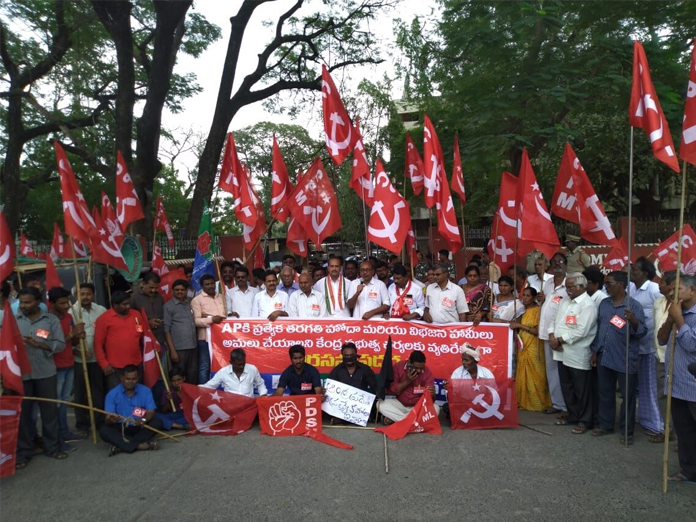 Highlights
The bandh call given by the Andhra Pradesh Pratyeka Hoda Sadhana Samiti with the support from CPM, CPI, Congress, and other public fronts received a positive response from the Prakasam district public on Friday
Ongole: The bandh call given by the Andhra Pradesh Pratyeka Hoda Sadhana Samiti with the support from CPM, CPI, Congress, and other public fronts received a positive response from the Prakasam district public on Friday.
As a support to the SCS demand, a number of schools and commercial establishments in Ongole, Kandukur, Singarayakonda, Chirala, Yerragondapalem, Parchuru, and other places didn't open in the morning.
The employees in several departments in the Collectorate also participated in the bandh and took off after participating in the protests.
The district leaders including Congress DCC president Eda Sudhakar Reddy, CPI district president ML Narayana, Ongole Congress president Sripati Prakasam, and other CPM, AITUC, Pratyeka Hoda Sadhana Samiti leaders staged a protest in front of the RTC depot in Ongole obstructing the buses coming out from it.
Later, they organized a bike rally to collectorate and protested in front of it. The APNGO association members and collectorate employees also held a rally and organized a human chain in church center demanding the special status category to Andhra Pradesh.
The Telugu Desam party cadres sat on knees at the NTR statue in Addanki bus stand after taking up a rally in Ongole, demanding SCS to the state.
The leaders from all agitating parties alleged that the Central government is playing games with the sentiments of the Andhra Pradesh public and looking for a political gain in other states by rejecting special category status to AP.
They alleged that the chief minister N Chandrababu Naidu also didn't support to the demand of SCS earlier while he was in coalition with the BJP and brought the pathetic condition to the state.
They demanded the Central government to announce SCS to the state at least in this last budget session of the parliament and give respect to the promise made to the Andhra Pradesh public in the same floor.
Similar protests were held at the RTC depots of Parchuru, Yerragondapalem, Chirala, Kandukur and Singarayakonda since the early morning.
The agitators obstructed the movement of buses for almost an hour while the few passengers leave the bus station.
The Kandukur police arrested the CPI and other leaders for blocking the highway and movement of buses and shifted them to the local police station.
The CPI Kandukur secretary P Malakondaiah, AITUC district president B Suresh Babu, Andhra Pradesh Vyavasaya Karmika Sangham Kandukur president D Ratnam and others demanded the BJP to keep its poll promise of awarding SCS to the state and demanded the state government to release the leaders arrested by police.