Votes deleted on false claims: YSRCP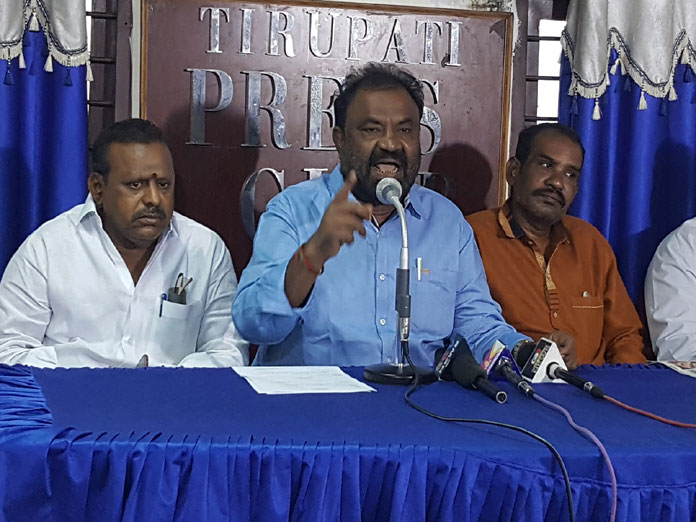 Highlights
YSR Congress Party YSRCP expressed serious concern on the deletion of genuine voters based on false claims filed online in various divisions in the pilgrim city
Tirupati: YSR Congress Party (YSRCP) expressed serious concern on the deletion of genuine voters based on false claims filed online in various divisions in the pilgrim city. YSRCP State secretary SK Basha lodged a complaint with police here on Thursday, seeking them to probe into the online false claims received by Booth Level Officers (BLOs) for removal of voters from the electoral list in many divisions in the city.
Speaking to media here on Thursday, Basha alleged that the TDP activists under the guise of 'Seva Mitra' took up a survey in the city for identification of YSRCP activists, sympathisers and supporters and later filed claim (objection) online in the name of YSRCP activists, who are acting as booth conveners or workers for deletion of votes. He suspected that such false claims were received online for removal of 30-40 votes in more than 100 booths in the city.
Suspecting a conspiracy against his party, he strongly demanded a probe into the claims received so far by the officials for removal of more than 3,600 voters in Tirupati Assembly constituency.
The false claims were filed deliberately in the name of YSRCP booth convener or worker to tarnish the party image and also provoke the people against the party activists, he lamented producing copies of some of the claims submitted to BLOs in the name YSRCP booth conveners at the media conference. He said one such false claim came to light after a BLO came for and enquiry with a party worker Musthafa on whose name the complaint was filed online.
Alleging that the TDP leaders downloading the details of party workers along with photo from Smart Pulse Survey report, for the online claim to make it appear as genuine, he charged the officials colluding with TDP to access the official survey report which is confidential, violating rules to help TDP for the removal of genuine voters including YSRCP activists, sympathisers and supporters.
If the authorities failed to take prompt action in identifying the culprits behind the false claims, the party will take the issue to the Election Commission of India for punishing the guilty. he added.