'Young engineers should focus on developing new inventions'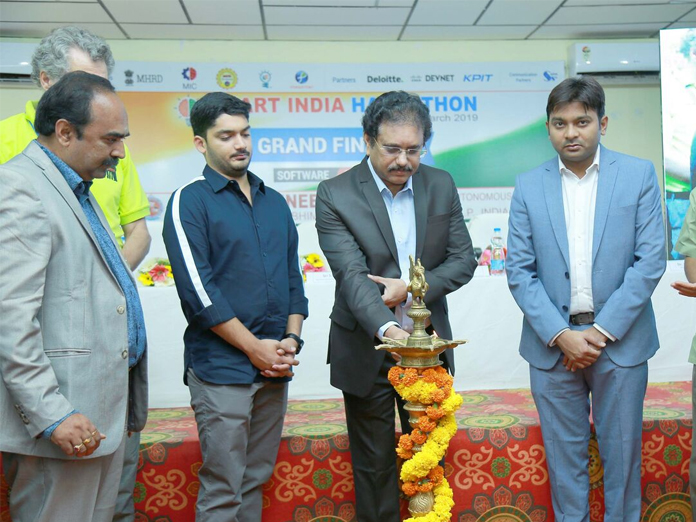 Highlights
Young engineers should focus on research and invent new things benefitting the rural people, said Dr M Ramalinga Raju, ViceChancellor, JNTUKakinada while inaugurating the nationallevel design competitions in 36 hours, as part of Smart India Hackathon2019 at SRKR Engineering College in Bhimavaram on Saturday
JNTU-K VC says the engineers should concentrate on rural agriculture, aqua sector, pollution control and other allied fields
Bhimavaram: Young engineers should focus on research and invent new things benefitting the rural people, said Dr M Ramalinga Raju, Vice-Chancellor, JNTU-Kakinada while inaugurating the national-level design competitions in 36 hours, as part of Smart India Hackathon-2019 at SRKR Engineering College in Bhimavaram on Saturday.
The VC said that 70 per cent of people were living in rural areas and so far, the new inventions were benefitted only the 30 per cent of people living the country.
He hoped that Smart India Hackathon-2019 jointly organised by AICTE and Union Human Resources department would help young engineers to make India number one in the world with their talent.
He said the research should concentrate on rural agriculture, aqua sector, pollution control and other allied fields. "Young engineers should prove that Make in India and Technology India is possible with their new inventions," he added.
The researchers should concentrate not only on solving the problem but should take it to the production level by becoming entrepreneurs, he reiterated.
AP Innovation Society CEO Winny Patro said the Innovation Society would help the young engineers to fulfill their dreams by making them reality.
College principal Dr G Partha Sarathy Varma presided over the meeting, college secretary and correspondent Sagi Vithal Ranga Raju, CEO SRK Nishant Varma, MHRD startup fellow Pankaj Pandey, V Anderlande MD Sipko Mous, SKF India representative Datta Kamble, Technology centre head Dr N Gopalakrishna, Murthy and Dr Uddipan Sharma from AICTE were present.