"Raptor's Police Legacy" Motor Cycles set to launch Ultra-Modern motorcycles to help police to bring the crime rate down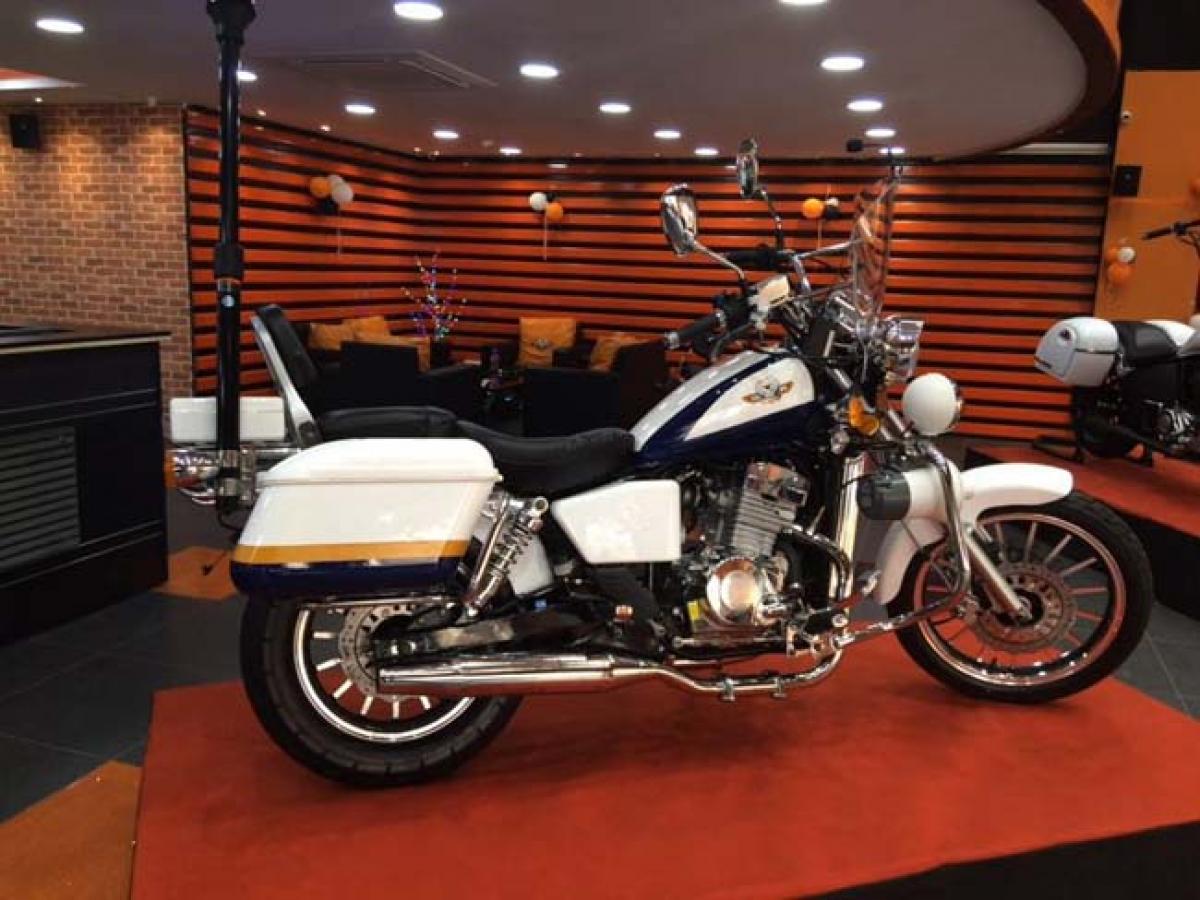 Highlights
Fab Regal Raptor known for its commitment in manufacturing & delivering world class Motor Cycles to the customers has great pleasure in announcing yet another new model "Raptor\'s Police Legacy".
​Hyderabad: Fab Regal Raptor is known for its commitment to manufacturing & delivering world class Motor Cycles to the customers has great pleasure in announcing yet another new model "Raptor's Police Legacy". This model is being designed exclusively for the police department. Police motorcycles are largely used in USA, Europe, Middle East Asia countries for quick and easy reaching of the incident location. These vehicles are used at ease to chase and intercept the culprits within no time of a call being received from the victims.
Speaking on the announcement Mr.M.G.Shahriq Managing Director said "in India we are using 150 CC police bikes not equipped well with advanced integrated modern technology. However in advanced countries, police personnel using the vehicles with undermentioned advanced features for patrolling & VVIP security. In India, these ultra-modern vehicles are already in use in Gujarat. Fab Regal Raptor feels that Raptor Police Legacy Motorcycles" will soon become as an identity of our Nation pride and safety".We are approaching all the states governments to present our newly designed model. Our motorcycles are also very cost effective and fuel efficient. We have been showcasing our Raptor Police legacy to various state police departments and receiving a very positive response from them.
Fab Regal Raptor's single most important mission is to provide the high standard of motorcycles ensuring the total satisfaction of the customers and making it a rewarding one at fabulous and beyond . Fab Regal Raptor designs Motor Cycles with a passion which is unique and desirable and cost effective. Police Legacy Vehicles are kept on display at the showroom for the prospective government employees & customers. They will be launched officially soon. Fab Regal Raptor Motorcycles is even looking for expansion of its business by opening dealerships stores across India. We are planning to launch 50+ dealership stores in Indian in next one year of time. All the 50+ dealerships stores will have Service points so that the customer can get their motorcycles serviced. We are giving dealerships in all the tire one, two & three cities with the investment of 46 Lakhs - 2.5 crores. The demand for this motorcycles is increasing day by day and we are working hard to reach the maximum range of customers. ​
Regal Raptor Police Motorcycles advantages:
A faster mode of driving to reach crime places & chasing criminals.
Fast and easy communication as wireless PA (Public Address) system.
Finding place address and shortest route, easily and faster way as equipped with GPS system.
Integration of mobile surveillance with control room to reach crime spot.
Facility to view lives CCTV /Surveillance camera online.
Apart from Police department Vehicles can be used in other areas like:
Bomb Squad Department.
Traffic Police Patrolling & Highway emergencies.
Fire Department.
Police Escorts for VVIP & ministers.
FEATURES OF RAPTOR'S POLICE LEGACY:
Rear backside First aid box.
Stylish Front Windshield firing with impressive police logo.
Both side boxes to carry things in a safe condition as locked protected.
Incompatible 7 Years warranty
One year free road assistance.
All over India service centers and dealership network.
Excellent front and rear Disc braking with front dual disk diameter 300mm & Rear Disk diameter 240mm.
Equipped with 6 sensors technology which is best in class for its performance.
Super mileage
Fast mode of communication and safety of the public.