Sahara's latest shadow banking schemes keeps India savers in dark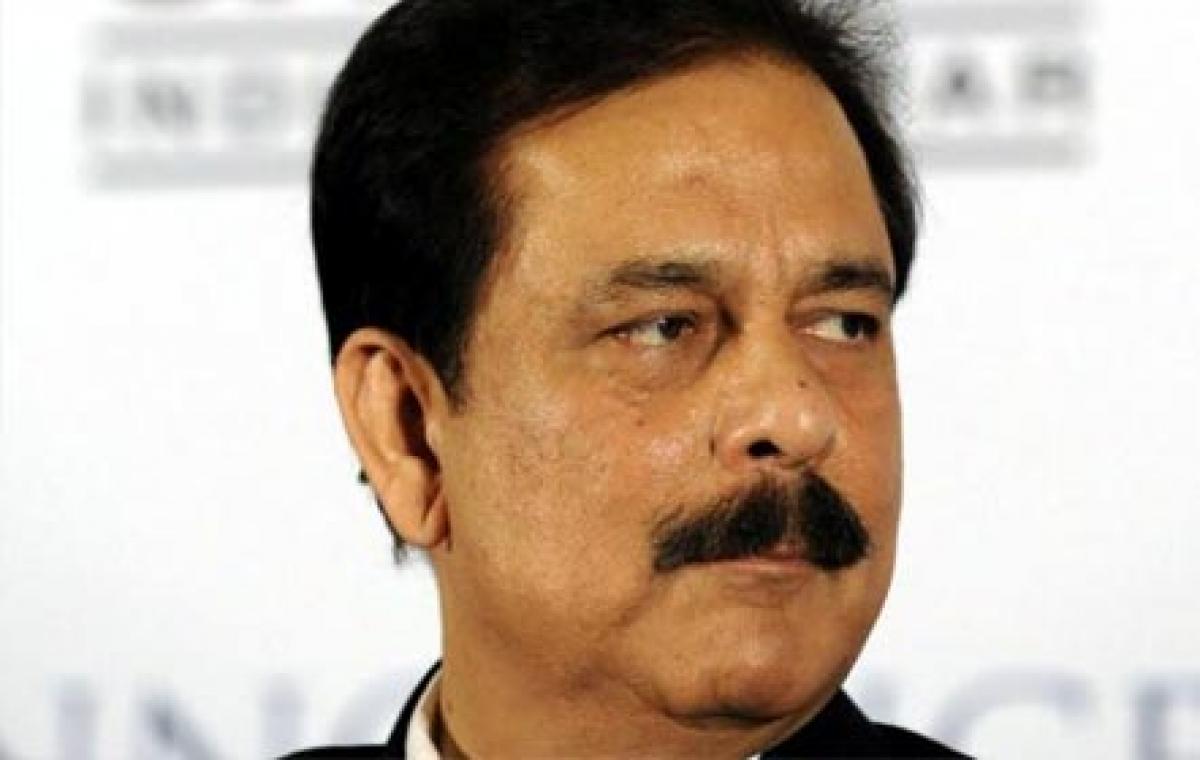 Highlights
In 2004, Khitish Kumar Pandey took 10,000 rupees ($150) out of his pension and put it into a savings plan run by India\'s embattled Sahara conglomerate. The Sahara agent told him his money would triple in 10 years.
Patna:
In 2004, Khitish Kumar Pandey took 10,000 rupees ($150) out of his pension and put it into a savings plan run by India's embattled Sahara conglomerate. The Sahara agent told him his money would triple in 10 years.
Sahara India Pariwar (family) had become one of India's most successful companies over the past three decades with this kind of financial alchemy, turning tiny deposits into dreams for small farmers, rickshaw pullers and food vendors with little financial knowledge.
Pandey, a 78-year old resident of the east Indian city of Patna, said the Sahara agent promised him his money would grow to roughly 30,000 rupees when the time deposit matured in October of last year. His investment documents contained a sample illustration showing how a 10,000 rupees deposit would increase to 25,940 rupees over 10 years, or about 10 percent a year.
But when Pandey went to the Sahara ranch to redeem his deposit, the office told him he could have 15,000 rupees immediately - if he agreed to transfer the remaining 15,000 rupees he was owed to Humara India Credit Cooperative Society Ltd, Pandey said. He has so far not accepted that offer.
Humara is a new Sahara fund-raising vehicle with operational ties to the conglomerate, according to investor documents reviewed by Reuters and interviews with Sahara agents in different parts of India.
"The agent sold me a dream then, and now he has vanished," said Pandey, who said he has gone to the Sahara branch office in Patna, the state capital of Bihar, four times over the past few months. "Every time they send me back with one assurance or another," said Pandey. "We are completely helpless. We don't know who to approach and how to get my money back."
Sahara and its founder Subrata Roy have been under scrutiny for years over its financial products, including for possible money laundering.
Over the past four decades, Roy has built an empire from his small deposit schemes that includes overseas hotels such as New York's Plaza and London's Grosvenor House, television stations, a sprawling community resort outside Mumbai, and a stake in a Formula One racing team.
Over the years, Roy has had his picture taken with the likes of Barack Obama and Bill Clinton, David Cameron and the Dalai Lama. But he has spent the last 21 months in New Delhi's Tihar Jail for not complying with a Supreme Court order to return 360 billion rupees ($5.4 billion) to investors who put money in a 2008-11 Sahara time deposit plan.
The Supreme Court said the 2008-11 plan violated market disclosure regulations on raising capital, including failure to file a prospectus - a legal document that provides details about a financial product for investors - with the markets regulator.
Selling time deposit plans through loosely regulated credit cooperatives is not illegal in India.
Like Sahara's now banned 2008-11 scheme, the new deposit plans are sold through the group's vast network of agents across the country. They collect deposits from investors for a fixed period of time and promise to return the money at interest rates higher than what banks offer.
In addition to hunting for new customers, Sahara agents and branch officials are also trying to get Pandey and other investors in older Sahara savings plans to switch into the new credit cooperative schemes, according to Reuters interviews with these investors.
Sajan Poovayya, who has litigated corporate and commercial cases before India's Supreme Court and is a founder of Bangalore-based law firm Poovayya & Co, says Sahara could be violating the law if it is forcing investors to convert their maturing deposits into a credit cooperative plan.
"The minute you actually breach your obligation to pay me, and rather than paying me force me to get into a cooperative movement, that I think erodes the very ethos of the cooperative movement on one side and clearly, of course, flouts the law because there is a contractual violation in you not returning the money."
Sahara did not respond to repeated Reuters requests for comment.
Most of the nearly two dozen investors in the old Sahara plans that Reuters spoke to stopped short of accusing the conglomerate of forcing them to convert their plans. But they said Sahara officials refused to allow them to redeem their matured deposits until they agreed to do so.
Reuters reviewed savings certificates provided by investors that showed the transfers. The agents never make the requests in writing; it's all verbal, the investors say. In at least one case, the investor claimed her money had been transferred from her old Sahara plan to a new credit cooperative society despite her opposition.
Most of the savings certificates that investors showed to Reuters make no mention of either the maturity date or the interest to be paid on maturity. Such omissions violate Indian laws requiring companies that run savings deposit plans to clearly mention all the terms, said Ramanand Mundkur, managing partner of Mundkur Law Partners.
A few certificates that Reuters reviewed did state that investors could expect an interest rate of 10-15 percent for a one-year deposit. That compares to 7-8.5 percent offered by commercial banks.
Vimal Kumar Sinha, the head of Sahara's Patna operations, said some recent Sahara payments to customers were delayed because of the difficulties the company faced as a result of the Supreme Court case.
He declined to comment on individual cases, such as Pandey's. But, he said, some Sahara agents were probably coaxing investors to convert their savings into another financial plan without the company's knowledge.
Credit cooperatives are widely used by India's rural poor as an alternative bank. Nearly two-fifths of India's 1.27 billion people lack a bank account - most of them live in rural areas.
Sahara turned to credit cooperatives mainly because of their relatively weak oversight, said current and former senior Sahara employees, who said they were briefed on the these financial plans by Sahara's senior management. Those that operate across state lines are registered not with the central bank but with the credit cooperatives division at the Ministry of Agriculture.
The first of the Sahara credit cooperatives, Sahara Credit Cooperative Society Ltd, was set up in 2010, around the time when India's markets regulator started investigating the Sahara bond scheme the Supreme Court would later declare illegal.
Sahara has started three more credit cooperatives since January 2014: Humara India Credit Cooperative Society, Stars Multipurpose Cooperative Society and Saharayn E-Multipurpose Society.
The credit cooperatives division said it had asked for an explanation from Sahara Credit Cooperative Society after receiving complaints of non-payment from investors. The division said in a letter sent in reply to a Reuters request for information under India's Right to Information Act, that it had not received a response from Sahara Credit Cooperative Society.
Pressuring investors, such as Pandey, to transfer their deposits from older Sahara financial plans to a credit cooperative is against regulations, a senior official at the credit cooperatives division said when told of the cases Reuters had discovered.
The official at the cooperatives division was not aware that Sahara was operating credit cooperatives, such as Humara India, the cooperative Pandey and others were asked to switch into. He said the division does not have the resources or punitive provisions to closely monitor more than 1,400 multi-state credit cooperative societies across the country.
The Reserve Bank of India (RBI), the country's central bank, said it was scrutinizing the rapid growth of credit cooperatives, introduced in 1984 as a self-help tool in rural areas where banks are scarce.
"We are looking into it, particularly multi-state credit cooperatives," RBI deputy governor S.S. Mundra told Reuters. The RBI, he added, should oversee all deposit-taking institutions, including the credit cooperatives. He declined to comment specifically about Sahara's credit cooperatives.
While most credit cooperatives are owned by their members, Sahara's credit cooperatives have operational links to the conglomerate, according to investment documents from Sahara's customers and data at the ministry of corporate affairs.
Sahara's credit cooperatives - Humara India Credit Cooperative, Star Multipurpose and Saharayn – are active in most Indian states, according to documents obtained from the cooperative division through the Right to Information Act.
Investment certificates from those three cooperatives shown to Reuters either display a hologram with the Sahara logo - featuring India's flag and the traditional hand-loom symbol with the Sahara name written in small letters - or show the Sahara name in the background.
Humara India and Saharayn did not respond to requests for comment on their links with Sahara.
Stars' head office in southern Hyderabad city is located in a building that also houses other Sahara group firms including its life insurance and asset management unit. Ranga Charyulu, who introduced himself as deputy manager at Stars, said the cooperative society was not linked to Sahara but was just leasing office space from Sahara. He declined to give the name and contact numbers of Stars' chief executive or provide any other details.
A visit paid to a Sahara branch in India's second-largest city of Kolkata showed the Kolkata branch has a Humara India sign at the entrance, flanked by banners of Sahara-branded investment products, such as Sahara Life Insurance and Sahara Mutual Fund.
When asked for more information about Humara India, the receptionist directed Reuters to Sahara's head office in Kolkata, the state capital of West Bengal.
As a private company tightly controlled by Roy, Sahara's finances are largely a mystery.
Sahara's recent moves to raise fresh money through cooperatives has increased by $2 billion the total amount of money it owes its investors when their plans mature, according to two senior Sahara employees, one of them a director in a credit cooperative. The total has now grown to $7.5 billion - and included the $5.4 billion the Supreme Court has ordered Sahara to repay investors from the 2008-11 scheme, the senior Sahara employees said.
This disclosure to Reuters contradicts what the company has told the Supreme Court: that it has already repaid 95 percent of its roughly 30 million investors in the 2008-11 scheme.
Sahara is also struggling to pay its own staff in the midst of its push to raise cash through credit cooperatives. Employees have staged public protests and agents have quit over the issue.
"It was always a one-man show at Sahara," said Kundanlal Sahgal, a Sahara agent in Patna who has stopped trying to sell the new deposit schemes because he is being badgered by people asking for their money and because Sahara has stopped paying him commissions.
"Now that the man has gone to jail everything has come to a standstill and no one knows what will happen to the investors or the agents like us," Sahgal said.