3 box strategy for success of corporates need of the hour: Dr VG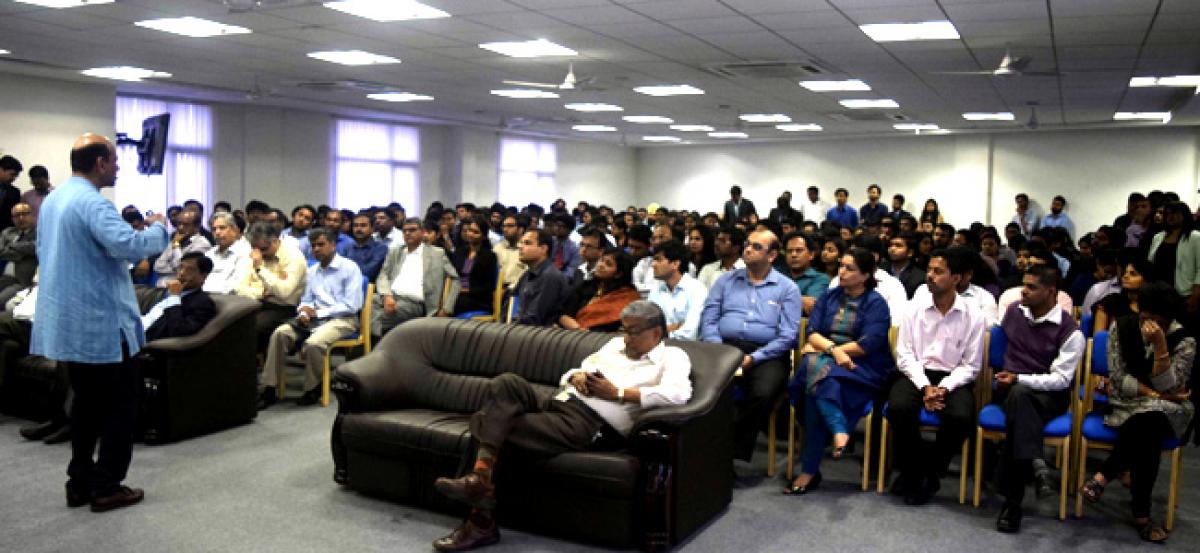 Highlights
Institute of Management Technology, Hyderabad conducted a Guest Lecture session by Dr. Vijay Govindarajan on "Three- Box Solution: A Strategy for Leading Innovation", today.
Institute of Management Technology, Hyderabad conducted a Guest Lecture session by Dr. Vijay Govindarajan on "Three- Box Solution: A Strategy for Leading Innovation", today. IMT Hyderabad believes in the overall development of its students by making them innovative leaders with a global mindset and a holistic perspective. The institute aims to train students into knowledgeable and skilled leaders with an ability to understand and implement sustainable business initiatives.
Dr. Vijay Govindarajan (VG) is widely regarded as one of the world's leading experts on strategy and innovation. VG, NYT and WSJ Best Selling author, is the Coxe Distinguished Professor at Dartmouth College's Tuck School of Business and the Marvin Bower Fellow at Harvard Business School. The Coxe Distinguished Professorship is a new Dartmouth-wide faculty chair. He was the first Professor in Residence and Chief Innovation Consultant at General Electric. He worked with GE's CEO Jeff Immelt to write "How GE is Disrupting Itself", the Harvard Business Review (HBR) article that pioneered the concept of reverse innovation – any innovation that is adopted first in the developing world.
In the latest Thinkers 50 Rankings, Govindarajan is rated the #1 Indian Management Thinker. Dr. Vijay writes about innovation and execution on several platforms including Harvard Business Review and Bloomberg BusinessWeek. He is a co-leader of a global initiative to design a $300 House. Prior to joining the faculty at Tuck, VG was on the faculties of Harvard Business School, INSEAD (Fontainebleau) and the Indian Institute of Management (Ahmedabad, India). VG has worked with CEOs and top management teams in more than 25% of the Fortune 500 firms to deepen and integrate their thinking about strategy. His clients include: Boeing, Coca- Cola, Colgate, Deere, FedEx, GE, Hewlett-Packard, IBM, J.P. Morgan Chase, J&J, New York Times, P&G, Sony, and Wal-Mart. VG received his Chartered Accountancy degree in India where he was awarded the President's Gold Medal for obtaining the first rank nationwide.

Dr. Vijay started the session by defining Strategy. Every industry undergoes phenomenal changes in future and thus the companies need to adapt to these changes with disruptive innovation. With this rationale, he defined Strategy as leadership in future. Dr. Vijay talked about the Three- Box Solution to every problem in the corporate world. The Box 1 deals with how companies manage the existing processes and optimise the systems. In this phase, the companies usually involve in a market share game. Box 2 and Box 3 deals with the companies selectively abandoning the past and creating future respectively. In these phases, companies strategize to create market through break through innovation.
He further related Box 1 with competition for present where the companies respond to clear signals and linear changes in the industry. Whereas Box 2 and 3 can be associated with competition for future where the companies respond to weak signals and non-linear changes in the industry which result in break-through innovations. He further enlightened the audience about consumer discontinuity and how exponential innovation in box 3 can help the non- consumers convert to consumers. Consumer discontinuity arises due to the economical, technological, cultural and political differences that persist between emerging and developed countries. Dr Vijay gave an example of General Electronics- Healthcare which engaged in box 3 innovation by creating an ECG machine in US was unsuccessful in capturing market share in India. The company had to strategize and through innovation could create an ECG machine fit for the Indian consumer.
Dr. Vijay also threw light on the Olympics High Jump Gold Medalists techniques like: Scissors, Western Roll, Straddle and Fosbury Flop which were considered the best techniques yet were often improvised with creative and pragmatic approach by Olympic Gold Medalists year on year. This can be related to the disruptive innovations that companies must ponder upon.
He cited an interesting example of Grameen Bank founded by Prof. Muhammad Yunus in Bangaldesh to explain how the companies need to focus on next practises rather than bench marking themselves to best practices. He emphasized on the thought process of Prof. Yunus to develop a bank which lent money to the poor without any collateral. He said that the primary reason for Prof. Yunus to make such loans available to lower income levels of the society is to fuel growth in economy by alleviating poverty. The bank was highly successful and by the beginning of 2005, the bank had loaned over USD 4.7 billion and by the end of 2008, USD 7.6 billion to the poor. Mahatma Gandhi's approach of Non-Violence can also be categorized as disruptive innovation during India's struggle for independence.
He educated the audience that every strategic intent is supported by direction, motivation and challenge which he neatly explained with an example of the Apollo Program, the US space mission initiated by President John F. Kennedy. He directed his people towards a mission where man would land on Moon and return to Earth. The motivation and passion for this mission was to defeat the Soviet Union. The challenge existed in taking up a mission with the optimistic probability being a mere 20%. He said that every individual must have their own "Personal Moon Statement" to be successful in life.
Dr. Vijay inspired the audience by saying that planning for future is meaningless, but preparing for future is very critical. He compared the competition for the future with a marathon race where one must focus on every upcoming 400m to critically test the hypothesis. He unveiled the fact that the Three Box solution was inspired from the Hindu scriptures where Lord Vishnu, the Preserver; Lord Shiva, the Destroyer; Lord Brahma, the creator personify Box 1, Box 2, Box 3 respectively.
The session proved to be refreshing, interesting and inspiring for the students, faculties and guests. Dr. Vijay certainly enthused the audience to visualize the future and invest their talents and skills in creating a great future for India.