Union Budget 2018: Highlights from Arun Jaitley's fifth budget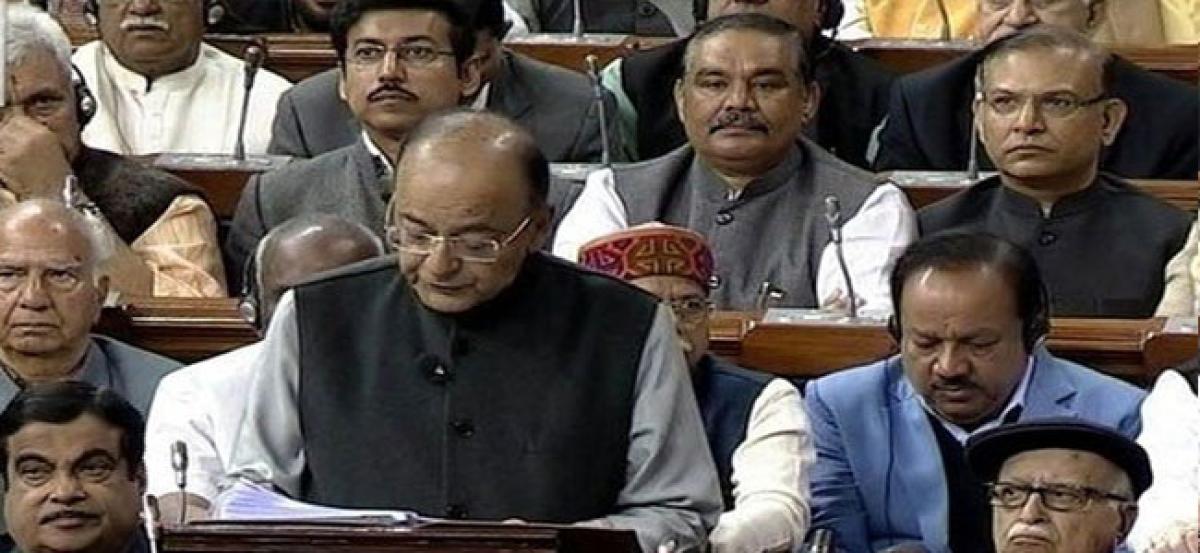 Highlights
Finance Minister Arun Jaitley has begun the presentation of Union Budget 2018 in the Parliament.
Finance Minister Arun Jaitley has begun the presentation of Union Budget 2018 in the Parliament.
Highlights from Arun Jaitley's fifth budget:
* Education and health cess to be increased from 3 per cent to 4 per cent

* Standard deduction of Rs 40,000 introduced in lieu of transport and medical reimbursements for salaried employees

* All senior citizens can claim benefit of reduction Rs 50,000 year for any general health expenditure and health insurance premium

* Exemption of interest income on bank deposits raised to Rs 50,000 for senior citizens

* Long-term capital gains exceeding Rs 1 lakh to be taxed at 10 per cent

* Electronic IT assessment will be rolled out across the country, leading to greater efficiency and transparency

* No change in personal income tax rates for salaried class

* Tax buoyancy more than expected, thanks to greater compliance

* Demonetisation was received by honest tax-payers as 'Imaandari ka Utsav'

* Measures on rationalising long-term capital gains

* Companies with turnover of upto Rs 250 crore to be taxed at 25 per cent

* Government has identified 372 specific business reform actions to improve ease of doing business; Evaluation of performance under this programme to be based on user feedback

* Revised fiscal deficit estimate for 2017-18 is 3.5 per cent of GDP, fiscal deficit of 3.3 per cent expected for 2018-19

* 12.6 per cent growth in direct taxes in 2017-18; 18.7 per cent growth in indirect taxes in 2017-18

* 100 per cent tax deduction for the first five years to companies registered as farmer producer companies with a turnover of Rs 100 crore and above

* Revised emoluments for President - Rs 5 lakh, Vice President - Rs 4 lakh and Governors - Rs 3.5 lakh; Automatic revision of MPs' emoluments every five years, indexed to inflation

* UDAN (Ude Desh ka Aam Naagrik) scheme will connect 56 unserved airports and 31 unserved helipads

* Rs 80,000 crore disinvestment target for 2018-19, target for 2017-18 has been exceeded and will reach Rs 1 lakh crore

* Government insurance companies to be merged into a single entity, and subsequently listed in the stock exchange, as part of the disinvestment programme

* National Logistics Portal as a single online window to link all stakeholders, to be developed by Department of Commerce

* Foundation stone of the bullet train was laid in September 2017. An institute is coming up in Vadodara to train the manpower required for the high speed railway projects

* 12,000 wagons, 5160 coaches and 700 locomotives being procured. There is significant achievements of physical targets by railways

* Road construction has scaled new heights, confident that 9000 km highway construction will be complete by 2017-18

* National Committee chaired by PM, including CMs, Gandhians and representatives from various walks of life for year-long commemoration of 150th birth anniversary of Mahatma Gandhi

* Rs 1,48,528 crore capital expenditure for Indian Railways for 2018-19

* All trains to be progressively provided with Wi-Fi, CCTV and other state-of-the-art amenities

* NITI Aayog will establish a National Programme to direct efforts in the area of Artificial Intelligence towards national development

* Five lakh Wi-Fi hotspots to be set up in rural areas to provide easy internet access

* Government to take all steps to eliminate use of cryptocurrencies which are being used to fund illegitimate transactions

* Individual enterprises too to have unique ID

* Government plans to construct two crore more toilets under Swachh Bharat Mission

* Rs 7,148 crore outlay for textile sector in 2018-19

* One government medical college to be ensured for every three parliamentary constituencies by upgrading 24 district-level colleges

* Hard work of farmers resulted in a record production of more than 275 million tonnes of foodgrain and about 300 million tonnes of horticultural produce

* Not only focussing on 'Ease of Doing Business' but also 'Ease of Living'

* 70 lakh formal jobs have been created this year. Government will contribute 12 per cent of the wages as EPF in all sectors for the next three years

* Mass formalisation of MSME sector is happening after demonetisation and GST

* Have decided to take healthcare protection to a new aspirational level. Launching a flagship National Health Protection Scheme to cover 10 crore poor and vulnerable families, benefiting approximately 50 crore people

* Providing Rs 5 lakh per family per year for medical reimbursement, under National Health Protection Scheme. This will be world's largest health protection scheme

* Government is slowly but steadily progressing towards universal health coverage

* Air pollution in Delhi NCR is a cause for concern; special scheme will be implemented to support Haryana, Punjab, UP and Delhi NCT to address this and subsidise machinery for management of crop residue

* Scheme for revitalising school infrastructure, with an allocation of Rs 1 lakh crore over four years. Called RISE - Revitalizing Infrastructure in School Education

* Eklavya schools to be started for Scheduled Tribe population

* By 2022, every block with more than 50 per cent ST population and at least 20,000 tribal people will have 'Ekalavya' school at par with Navodaya Vidyalas

* Integrated B.Ed programme to be initiated for teachers to improve quality of teachers

* India is firmly on path to achieve 8 per cent plus growth

* Propose to raise institutional credit for agriculture to Rs 11 lakh Crore for 2018-19

* Rs 14.34 lakh crore to be spent for rural infrastructure

* Eight crore free gas connections to women under UJJWALA and 4 crore electricity connections to the poor under Saubhagya Yojana

* Fishery and Aquaculture Infrastructure Development Fund and Animal Husbandry Infrastructure Fund to be set up with corpus of Rs 10,000 crore

* Restructured National Bamboo Mission to be launched with allocation of Rs 1,290 crore to promote sector in a holistic manner

* Rs 500 crore for Operation Green

* Agri-Market Development Fund with a corpus of 2000 crore to be set up for developing agricultural markets

* 470 APMCs have been connected to #eNAM network, the rest to be connected by March 2018

* Minimum Support Price of all crops shall be increased to at least 1.5 times that of the production cost

* From ease of doing business, government has moved to ease of living for the poor and middle class

* Allocation in for Ministry of Food Processing is being doubled; specialised agro-processing and financial institutions to be promoted by the government

* India now a $2.5 trillion economy and firmly on path to achieve 8% plus growth soon

* Will focus on agriculture and rural economy, health, infra, senior citizens

* Hope to grow at 7.2 per cent-7.5 per cent in the second half of 2017-18

* Allocating natural resources in a more transparent manner, there is a premium on honesty now

* Government led by PM Modi has implemented a series of fundamental structural reforms
Interested in blogging for thehansindia.com? We will be happy to have you on board as a blogger.