DC revival plan fails to get bankers nod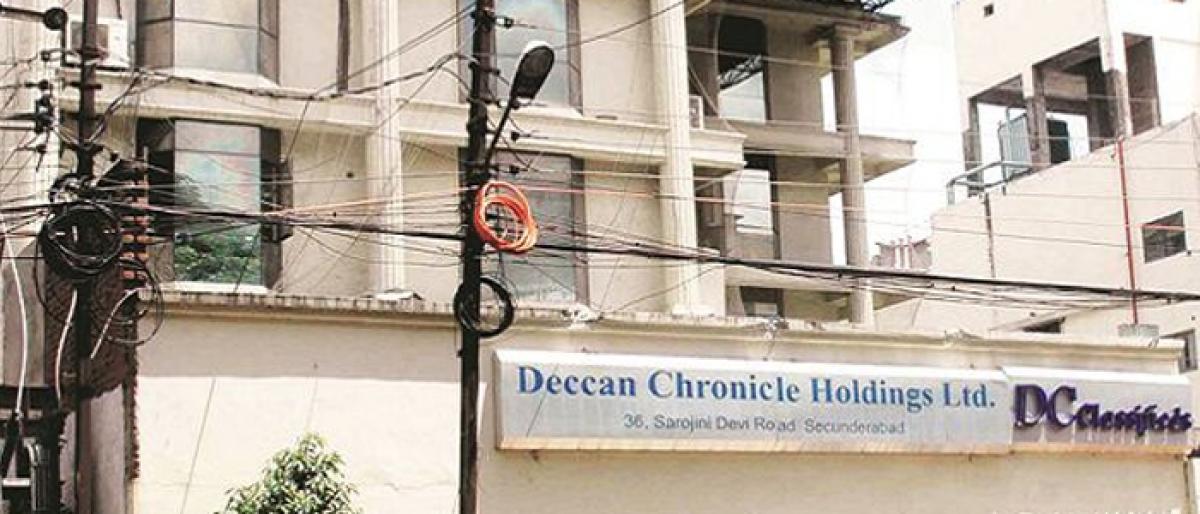 Highlights
The insolvency process of the debtridden Deccan Chronicle Holdings Limited DCHL hit a major road block on Tuesday with the revival plan presented by Insolvency Resolution Professional Mamta Binani failing to get requisite 66 per cent votes from the Committee of Creditors CoC
​Hyderabad: The insolvency process of the debt-ridden Deccan Chronicle Holdings Limited (DCHL) hit a major road block on Tuesday with the revival plan presented by Insolvency Resolution Professional Mamta Binani failing to get requisite 66 per cent votes from the Committee of Creditors (CoC).
The proposal received just 56 per cent of the votes while 44 per cent of the votes were cast against it."As the CoC did not approve resolution plan with 66 per cent votes, I submitted a progress report to NCLT. As per Sub-section 6 of Section 30 of IBC, I can't submit a resolution plan unless it is approved by CoC. I don't know what will happen next. NCLT will take a call on it. It's very painful for me to see that the resolution plan has not gone through," Binani told The Hans India.
Tuesday (July 10) was the last day for the submission of the revival plan for trouble-hit DCHL against which insolvency proceedings began under Insolvency and Bankruptcy Code (IBC) in July 2017 following a petition filed by Canara Bank with National Company Law Tribunal (NCLT), Hyderabad Bench. The initial deadline for completing the process was 270 days which was later extend by another 87 days to 357 days. Despite the extended deadline, the resolution plan did not go through.
"One of the banks expressed dissent. As consequence, the resolution plan fell short of majority required, by 10 percentage points," a person with knowledge of the development said.
Several companies including some leading media houses showed interest in acquiring DCHL, but their proposals did not receive the backing of bankers. Kolkata-based Srei Infrastructure Finance Limited and Zee Media Group were in final fray with proposal submitted by the former was widely expected to get the nod of CoC. Srei Infrastructure which already has over 30 per cent stake in DCHL has reportedly offered over Rs 800 crore, the highest among all the bidders.
But rumours that Srei Infrastructure was favouring existing promoters might have prompted some bankers to vote against the resolution plan. There were also reports that DCHL promoters were trying to make a backdoor entry through the process. Moreover, the company's Trademark was not included as an asset in the resolution process. Some of the bankers reportedly pointed it out.
Some legal experts that The Hans India spoke to felt that IRP should have submitted a resolution plan even with 56 per cent votes to save the company from going into liquidation. "Earlier, 75 per cent votes from CoC were required for a resolution plan to go through. That was reduced to 66 per cent now. As 56 per cent votes are still a majority, tribunal may consider it and set a precedence," a lawyer with knowledge of insolvency proceedings said.
Asked about this possibility, IRP Mamta Binani said she is ready to submit a resolution plan if NCLT wants it. "Future of employees is of paramount importance for me. It's up to NCLT to decide as to what to do," she said.