Irfan Pathan inaugurates Cricket Academy of Pathans in Morbi as part of its pan India expansion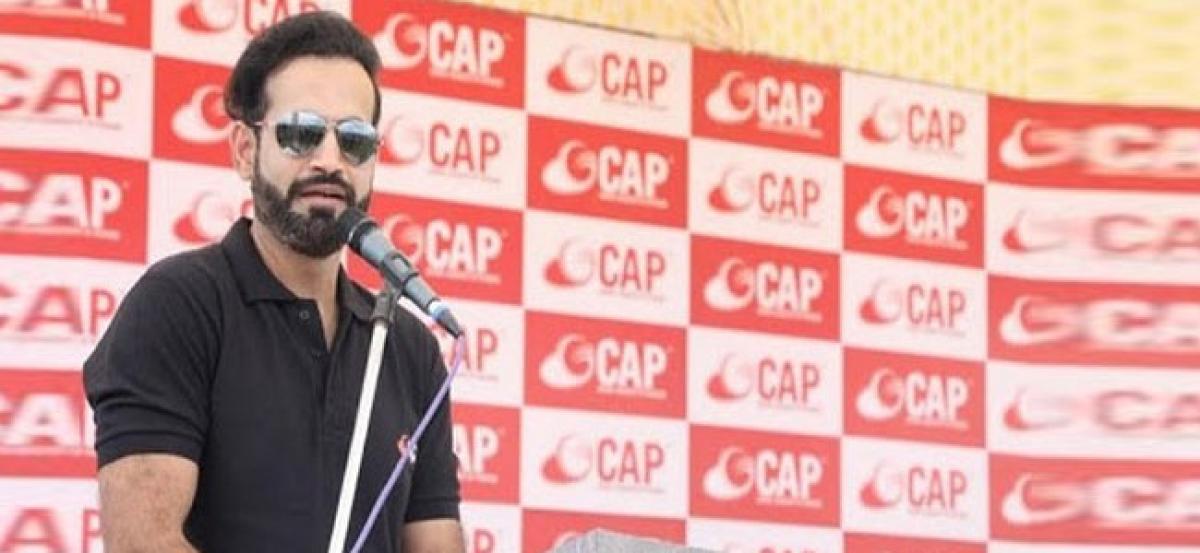 Highlights
Ace cricketer Irfan Pathan inaugurated his fifth academy in Gujarat in Morbi, in the presence of Mr Harmeet Vasdev, Managing Director CAP, at a press conference held at Elite international School, Lajai Circle in Morbi, Gujarat
New Delhi : Ace cricketer Irfan Pathan inaugurated his fifth academy in Gujarat in Morbi, in the presence of Mr. Harmeet Vasdev, Managing Director (CAP), at a press conference held at Elite international School, Lajai Circle in Morbi, Gujarat.
Cricket Academy of Pathans (CAP) is currently present in twelve cities - Delhi, Kota, Patna, Morbi, Noida, Bengaluru, Rajkot, Surat, Sonipat, Port Blair, Raipur and Lunawada and aims to provide world-class coaching and training infrastructure to young children.
Australian cricketing legend Mr. Greg Chappell, former coach of the Indian Cricket team and Mr. Cameron Tradell, renowned coach from Australia have designed the curriculum for the coaching program.
CAP is providing quality service to the young players across India & helping them for their selections at district & state levels.
15 students have already been selected for district and state level matches.
The academy will employ state-of-the-art coaching techniques to teach and develop the budding cricketers in Morbi.
In the past, big organizations such as Ola cabs and OPPO mobiles, and even the Indian Army have given scholarships to selected students to train at CAP. The selected children received the opportunity to be trained under the guidance of the cricket expert and coaches. Till now, around 26 kids have been selected from all over India through sponsorship programs and CAP is looking to tie up with more organizations to continue these programs in the future.
CAP has pledged to invest Rs. 2 crores along with partners for further expansion across India in various cities of Gujarat, Punjab, Maharashtra and Uttar Pradesh. With a group of select, qualified expert coaches, the Pathan brothers, Irfan and Yusuf, had launched these academies over two years back to reciprocate their love for the game.
"We are providing every possible assistance to the aspiring cricketers. Through our world-class coaching, our students are now getting selected for the district & state level matches. We have plans to open more academies in tier II and III cities which will assist the budding cricketers to get trained in the right manner," said Director, Cricket Academy of Pathans, Irfan Pathan.
The academy provides coaching for kids to play cricket as well as those who aspire to become coaches in order to understand the technicalities of the game and in return execute their learned skills on kids. Also, the academy focuses on nutrition, psychology and the overall physical development of the students.
Cricket Academy of Pathans (CAP) has tied up with UK based Cricket technology partner- Pitch Vision to track students' performance in real time via a cutting-edge technology program. This technology closes the gap between the Pathan brothers, coaches and the students.
"CAP plans to expand its operations to tier II and tier III cities to give an opportunity to all the budding cricketers who love the sport and need access to world-class coaching infrastructure.
India has a massive pool of talent and most of it lies in these cities.
We are excited about the prospect of utilizing the talent pool and producing district, state and national level cricketers from these cities," said MD, CAP, Harmeet Vasdev.
Cricket Academy of Pathans (CAP) plans to open 20 more new academies in various cities of India by mid next year, with openings soon in Ludhiana, Mainpuri, Shrirampur, Mysore, Pune, Indore, Bhopal, Jalandhar, and Amritsar.