Marriott International unveils Sheraton Grand Chennai Resort and Spa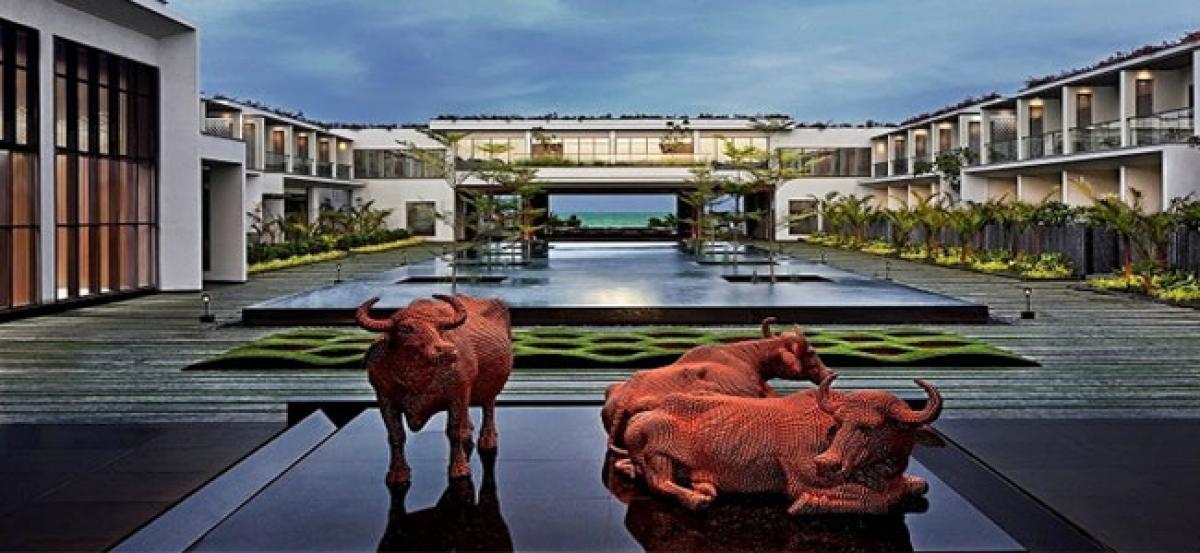 Highlights
Marriott International today announced the opening of Sheraton Grand Chennai Resort and Spa, here
Chennai (Tamil Nadu): Marriott International today announced the opening of Sheraton Grand Chennai Resort and Spa, here.
This stunning resort property will join the brand's premier tier of exceptional Sheraton hotels globally, recognized for their enticing destinations, distinguished designs and excellence in service and guest experiences.
Located along the scenic East Coast Road of Tamil Nadu, overlooking the pristine Bay of Bengal, the property is spread over 10 acres of land, that includes beautiful, landscaped gardens that open on to miles of virgin beach sands and an endless ocean.
Deriving inspiration from the 4S's - Sun, Sand, Sea and Southern India, the architecture and design in the resort eloquently represents the lilting waves, shimmering sands and vast greenery. Rich wood accents, soothing colour palettes, intricate tapestry and the inclusion of copper displayed throughout the property, subtily depict local elements that capture the charm of the city.
With expansive views of the Sea dominating this smorgasbord of colour and textures, the element of the Sun is brought about in a subtle way, with natural, diffused lights & sun lit corridors. Prominent elements of Sand can be found in the rooms and restaurants in the form of cement lamp stands and traditional, stone installations. The flair of the popular South Indian lifestyle can be seen through the rich artwork, copper artifacts and the intricate upholstery of beautiful, net weaved chairs.
The show stopper is a stunning copper installation of water buffaloes in the lobby, which are symbolic to the city of Chennai. The lobby itself is designed to replicate the famous South Indian Catamaran, which is very symbolic to the city and the lives of the natives.
"The opening of the Sheraton Grand Chennai Resort & Spa underlines our focus on enhancing and building the Marriott Resort portfolio within India. We will continue to cater to our ever-expanding customer base with sophisticated hotels that offer spectacular architecture, culturally significant art, great public spaces, unique dining concepts and thoughtful amenities," ," said Neeraj Govil, Area Vice President, South Asia, Marriott International.
"Chennai as a high potential market is witnessing a positive influx of business and leisure travellers alike, thus making this launch perfectly timed to meet the growing hospitality demands of the city," he added.
The hotel features 125 guest rooms, appointed with all of the Sheraton brand's signature amenities and services, including a premium sleep experience.
The Food and Beverage consists of 2 distinctive restaurants and a lounge bar, along with the signature Shine Spa for Sheraton, the Kids Club, a Recreational Club and the Sheraton Fitness Studio.
'Reef' - the hotel's all-day dining restaurant, features a selection of freshly prepared local and international cuisines, 'Pelican Deck' - is an open-air grill and barbecue restaurant, specializing in 'nose-to-tail' eating, prepared with a European & Mediterranean twist.
'Pintail Lounge' is the in-house lounge bar, that holds an old-world charm with its rustic setting and deep, plush seating, serving an exclusive range of premium spirits, single malts and fine wines.
The Sheraton Grand Chennai Resort and Spa, with its prized beach front location, spread across a massive 10 acres of land offers a range of layouts flexible enough to accommodate events of all sizes, from small social gatherings to extravagant weddings and corporate meetings.
"The Sheraton Grand Chennai Resort & Spa is a stylish, modern hotel experience for guests, designed to provide the best in-house service and facilities for the business and leisure traveller. We are excited to offer our guests fresh concepts in service and food & beverage with personalized touches that aim to set new hospitality standards," said Shibil Malik, General Manager, Sheraton Grand Chennai Resort and Spa.
Interested in blogging for thehansindia.com? We will be happy to have you on board as a blogger.