Neeru's admits mistake, but needs time to remove advertisements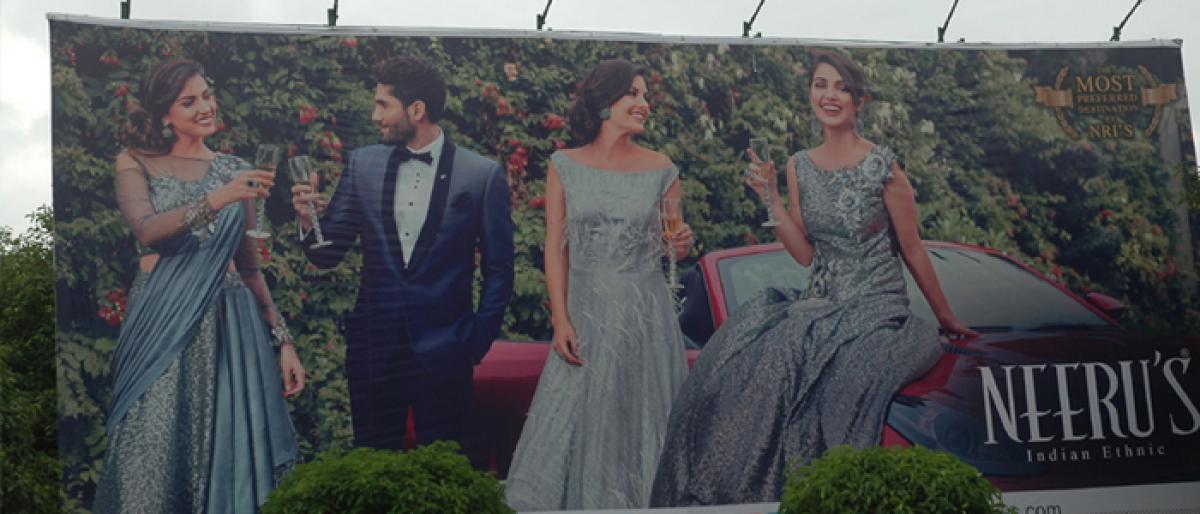 Highlights
Citybased Neerus, which claims to be Indias ethnic wear brand, on Monday admitted that it made a mistake by putting up hoardings and releasing advertisements which depicted a group of people, mostly young women, enjoying their liquor drinks in open
​Hyderabad: City-based Neeru's, which claims to be India's ethnic wear brand, on Monday admitted that it made a mistake by putting up hoardings and releasing advertisements which depicted a group of people, mostly young women, enjoying their liquor drinks in open.
But to our astonishment, the apparel retail brand said it would need at least three more days to take down the advertisements which showcase women and man in a party mood, holding their wine glasses aloft and enjoying their drinks in open. "The campaign will last three more days. After that, we will see to it that those advertisements are removed. We have no intention of hurting anybody's sentiments or feelings," Asim Khan from Marketing Division of Neeru's, said on Monday.
The Hans India published a detail news item titled "For Neeru's, boozers the best customers?" on August 23 on how the apparel retail chain had not only flouted legal norms, but also showed Indian cultural ethos in poor light. The newspaper received appreciation from many quarters for publishing the detailed story to highlight the insensitive attitude of Neeru's. "A great story on Neeru's today," commented Vasumana, a reader.
In the news item, we also published opinion from V Lakshmana Reddy, president, Jana Chaitanya Vedika. He is also Convener for Madya Niyantrana Udyama Committee (MNUC), an activist group agitating against liquor sales and consumption in Andhra Pradesh and Telangana. "I have never seen this kind of advertisements earlier as advertising alcohol consumption is against the law. However, there is the menace of surrogate advertisements wherein a liquor company advertises non-alcoholic beverages like soda to push its liquor brands," he said then. This type of advertising is against our Constitution. It encourages drinking habits even among women. We have ban on alcohol advertisements, he pointed out. This newspaper expected Neeru's to remove the advertisements immediately after its callous attitude was brought to the fore.
However, the controversial advertisement continues to occupy billboard at Necklace Road in the city even after five days after the news story was published in The Hans India. It appears that similar advertisement has been put up at other places as well. Instead of removing it immediately, Neeru's representative said the retail brand would need three more days to take down the advertisements. That's a clear indication that the retail chain neither respects Indian laws nor cares about Indian culture.