My wife keeps complaining why I'm not romantic: NTR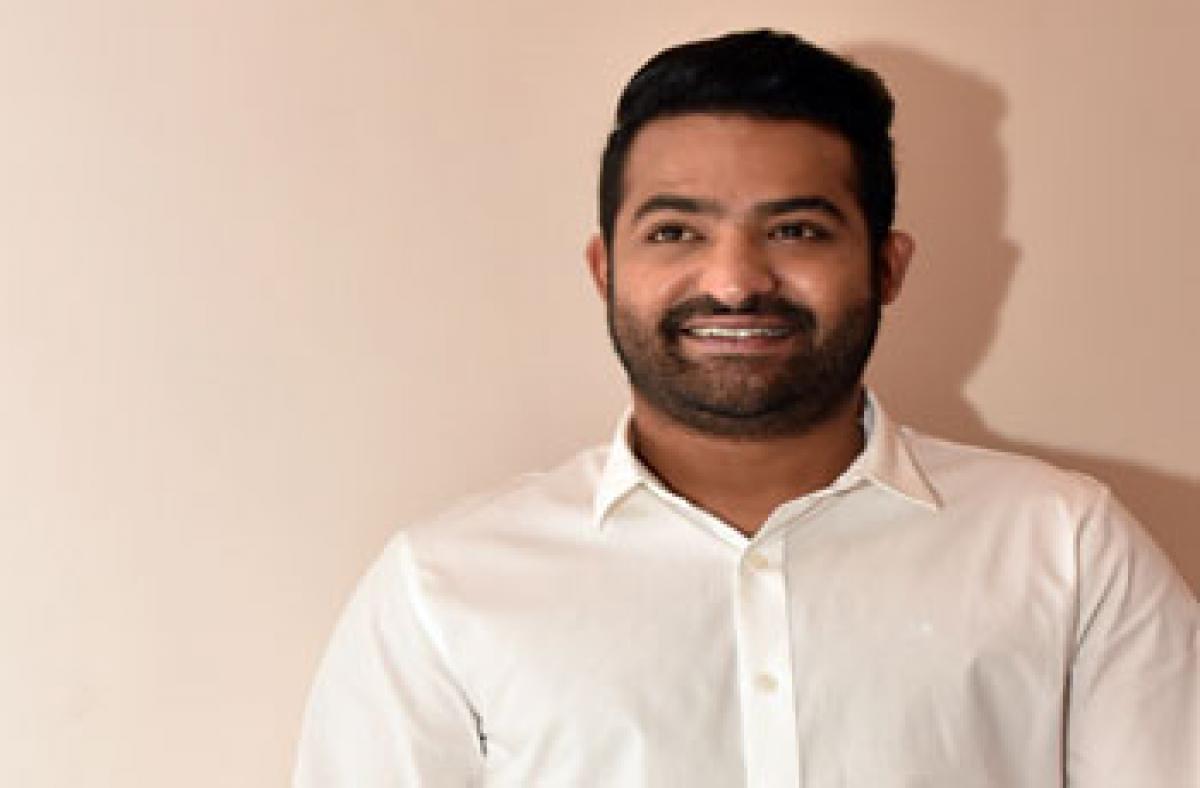 Highlights
Looking plain in a white shirt and a pair of light blue denims, NTR is a picture of poise as he faces the media after more than three years. Needless to say, the conversation begins over his much-acclaimed look—a cone beard with a high poof undercut hair—in 'Nannaku Prematho', his Sankranti release.
Looking plain in a white shirt and a pair of light blue denims, NTR is a picture of poise as he faces the media after more than three years. Needless to say, the conversation begins over his much-acclaimed look—a cone beard with a high poof undercut hair—in 'Nannaku Prematho', his Sankranti release.
Happy to have finally trimmed off his beard, he comments, "I started prepping up for the look last February.Initially it was not on my itinerary. I was casually growing my beard when director Sukumar said that he will shoot the film inUK. And as we began researching for the look, we came across the undercut hair trend. It took me five months to get it right."
Smiling, he continues, "The moment I saw myself in the mirror after the final look, I was afraid. My wife Pranathi loved it while my mom appeared puzzled. I was also afraid how the fans and general audience would react, but the moment the first picture from the sets was released, we breathed a sigh of relief as everybody took a fancy to it." While a lot is riding on 'Nannaku Prematho', it is not the film that the actor was supposed to team up with Sukumar.
"In October 2014, Sukumar narrated me a plotline. I was immensely excited about it and told him that we are doing it. As he started developing it, his father fell ill. During this period, he hit upon a brainwave. He came and briefed about it—a son out to fulfill his dying father's wish—after his father passed away. I got connected to it personally," he reminisces, adding, "We've been trying to collaborate for the past seven years but things took form only in the second half of 2014."
Talking about the film, he shares, "It spans in 30 days and is very emotional. What you will see on the screen is my real self and a bit of Sukumar. The last 40 minutes will define it and it will be told in a linear way. You can make out the difference in terms of dialogues, characterisations, looks and screenplay."
The content was such that NTR felt like meeting his father Harikrishna midway into the filming in London. "During a very emotional sequence involving my father in the film Rajendra Prasad, I felt like calling my dad.Also it happened to be his birthday. My co-star Jagapathi Babu understood what I was going through, before giving a ring to my dad and explaining about my situation. To this dad said, 'It's cinema, don't take it toopersonal.' But at least in my case I take it personally. If not, I can't act."
Is it applicable to romance too? Laughing uproariously, he responds, "Adhenandi problem (It is the problem). Even Rajamouli feels that I get nervous while doing romantic sequences. I pity myself when it comes to romance; it doesn't come naturally to me. Off-screen too I'm not romantic and Pranathi keeps complaining about it."
Sukumar is notorious to take his own time to wrap up a film but NTR never felt that he would miss the Sankranti cut-off date. "Many people told me that he consumes a lot of time to take a shot and that he gets confused at times. Even I was worried about it. But we started last July and we are arriving now. I attribute it to the time he invested on writing. The personal connect too helped. His work will be spoken about by generations to come."
Branded as the lord of the masses, he points out that he doesn'tcategorise audience— mass and class. "I'm someone who believes in telling a good story with an able team. In future if someone comes to me with a script like 'Sagara Sangamam' or 'Sankarabaranam', I'm ready to feature in them. I believe the audience will watch everything and globally films are changing. Will Smith is an action hero but people embraced his drama 'The Pursuit of Happyness'.
My grandfather NTR followed 'KalasiUnte Kaladhu Sukham' with a commercial potboiler 'Vetagadu'. The thing is we got confined into one zone but we will learn from our mistakes. Last year has been a phenomenal year for the industry as all the box-office blockbusters were driven by good content," he reasons. The actor admits to have "changed a lot" after the birth of his son Abhay Ram. "I used to be hyper but after Abhay was born, I've calmed down a bit and started to focus more."
The big fight
NTR's feature will be battling it out with other releases like 'Dictator', 'Soggade Chinni Nayana' and 'Express Raja' this Sankranti for the numero uno slot. With only 2,000 screens in the two-Telugu speaking States, is it in the best interest of the trade for four biggies to release one after the other? "Release dates have become crucial of late as a film's run is now limited to only two weeks. A couple of years ago 'Seethamma Vakitlo Sirimalle Chettu' and 'Naayak' released during Sankranti and did well. I don't see this as a wrong practice."
On whether one film eating into the revenues of others is the dictum, pat comes the reply, "Obviously. I believe everyone got good number of screens. Basically it's the producer's prerogative on when to release his film and if he is okay with a festive season release. As an actor I don't think I have the right to comment about it." He believes the situation couldn't have been averted. "Why should it be avoided? What's wrong if four films release during one week," he exclaims.
"If someone wants to back out, he should search for a right date and even if he gets one, there are chances that he is hampering the collections ofother film, which has already booked its berth the same day. I only wish that all the four run successfully." With a section feeling that it would be a clash between him and his superstar uncle Balakrishna, who is arriving with 'Dictator' on January 14, how does he see it? "I just don't give importance to it as I don't feel it as a clash in the first place. I never felt a clash with anyone in my career," he says sounding nonchalant.
'Rajamouli should go global'
NTR wants 'Baahubali' helmer SS Rajamouli, who started off his career by making films with the former, to go global. "I don't want him to be confined here. I want him to go international and do a film like 'Crouching Tiger, Hidden Dragon'. I don't want him to do another movie with me and get stuck here," insists the actor, adding that he has no plans of foraying into other languages, at least not for now.
Dates clash
The actor was supposed to team up with Nagarjuna for 'Oopiri', a remake of French hit 'The Intouchables', but he exited it, raising manya eyebrow. Throwing light on what prevailed, he confides, "It was clashing with the shooting schedule of 'Nannaku Prematho', which was a prior commitment. But as 'Nannaku Prematho' took time to go on floors, my dates went haywire. And as Nagarjuna's dates too were getting wasted I decided to back out".