Twitter Review: Chakravyuha Puneeth Rajkumar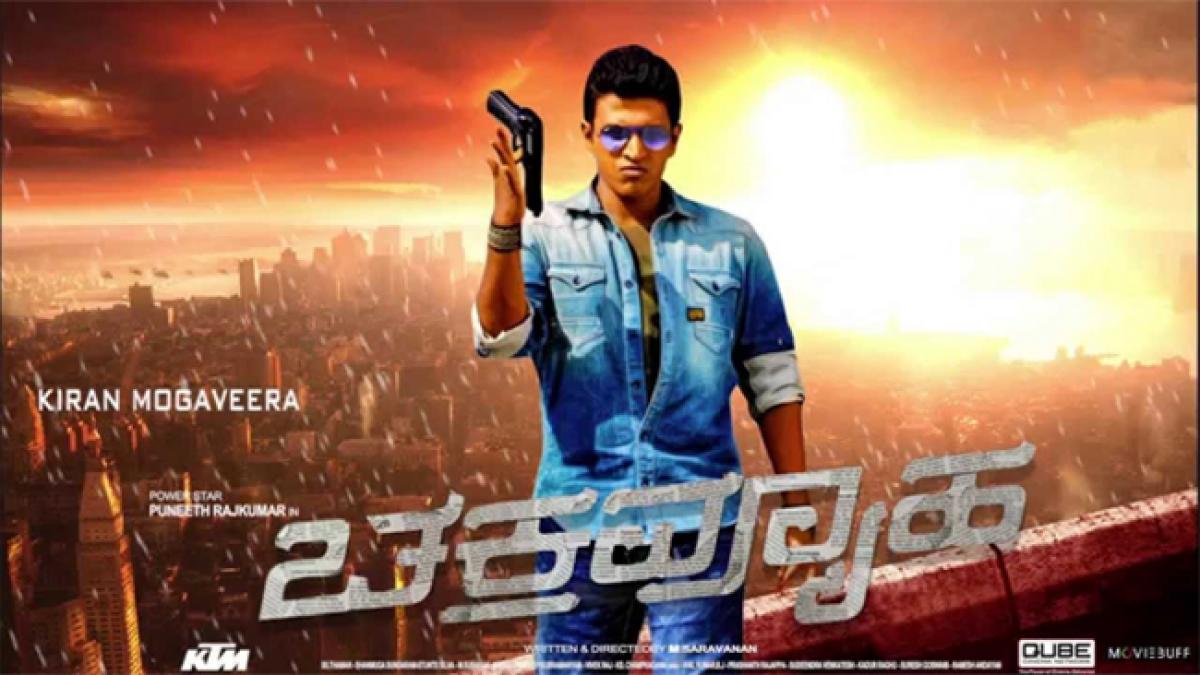 Highlights
Puneeth Rajkumar-'s -'Chakravyuha-' is the remake of Kollywood film -'Ivan Veramathiri-' has grand released in worldwide theaters.
Puneeth Rajkumar's "Chakravyuha", the kannada remake of the Kollywood film "Ivan Veramathiri" had a grand release today in worldwide theaters." Chakravyuha" has been receiving positive response from the audience.Rachita Ram features as female in the movie.Tamil actor Arun Vijay will be seen playing a baddie in the movie.The music is composed by S Thaman.
Here is the audience live updates of "Chakravyuha":
#chakravyuha is version 3.1 of #ivanveremaadiri #ChakravyuhaDay

— Likith bhushan (@likithbhushan) April 29, 2016
Run Antony trailer. Short one. #Chakravyuha U/A 124 minutes. 4 cuts/mutes. Starts...

— S Shyam Prasad (@ShyamSPrasad) April 29, 2016
Its #ChakravyuhaDay obviously fans day!!! Cheering evey time Power appears on screen. #Chakravyuha winning hearts!!!

— #ChakravyuhaDay (@SRK_WORLD_SRK) April 29, 2016
Congrats to #powerstar @PuneethRajkumar nd Whole team..its #ChakravyuhaDay Biggest BlockBuster...Awsome tunes by @MusicThaman @aanandaaudio

— Sainath Kotapati (@sainath_NTR) April 29, 2016
Fans cheering inside #Narthaki @ChakravyuhaFilm Temperature soaring

— Shashiprasad S M (@smshashiprasad) April 29, 2016
Massive Celebration At Shimoga #HPC Theater 😍😘😎🎉@ChakravyuhaFilm @arunvijayno1
- #PSPRFC pic.twitter.com/boRTBRjTD3

— #ChakravyuhaDay (@PSPRFC) April 29, 2016
@ChakravyuhaFilm Superb response in #Ballari 3:10am ge Start aitu@ShivuaDDa @Raj_Dynasty @PSPRFC @ShivRajGlobalFC pic.twitter.com/95oMoQLDta

— RajVamsha Fc Ballari (@RajVamshaFCB) April 29, 2016
#ChakravyuhaDay just its a intermission.
First half superbbb.....fights&dance.. Waiting for second half ...FAN show

— Anil Somanath (@AnilSomanath) April 29, 2016
My cousin saw the movie at the premiere. Jam packed show in Australia. He is happy with the content. #ChakravyuhaDay.

— Priyanka (@Photos4uIndia) April 28, 2016
So it's #ChakravyuhaDay and am at @INOXLEISURE JP Nagar. Looking forward to be entertained as always

— Sunayana Suresh (@sunayanasuresh) April 29, 2016
FDFS Review: #ChakravyuhaDay - Perfect Summer Blockbuster!! Action sequences leaves you spellbound Rating : 4/5 pic.twitter.com/jL3EOosEd3

— Dr Shivrajkumar FC (@Hatrickherofans) April 29, 2016
Watched #Chakravyuha! A very well made thriller! #PuneethRajkumar rocked as usual! @arunvijayno1 was too good! Congratulations @lok12009 bro

— Nagendra Aithal G (@aithal_) April 29, 2016
@chakravyuhafilm #chakravyuhaday every actor has given their best.... @Arunvijayno1 as a baddie rocks....

— Katti Raju (@RajuKatti38) April 29, 2016
Yay! #ChakravyuhaDay https://t.co/z7nl0pTn9h

— #Chakravyuha (@ChakravyuhaFilm) April 29, 2016
Subscribed Failed...
Subscribed Successfully...