Bigg Boss Telugu Season 2 : August 20th Episode Highlights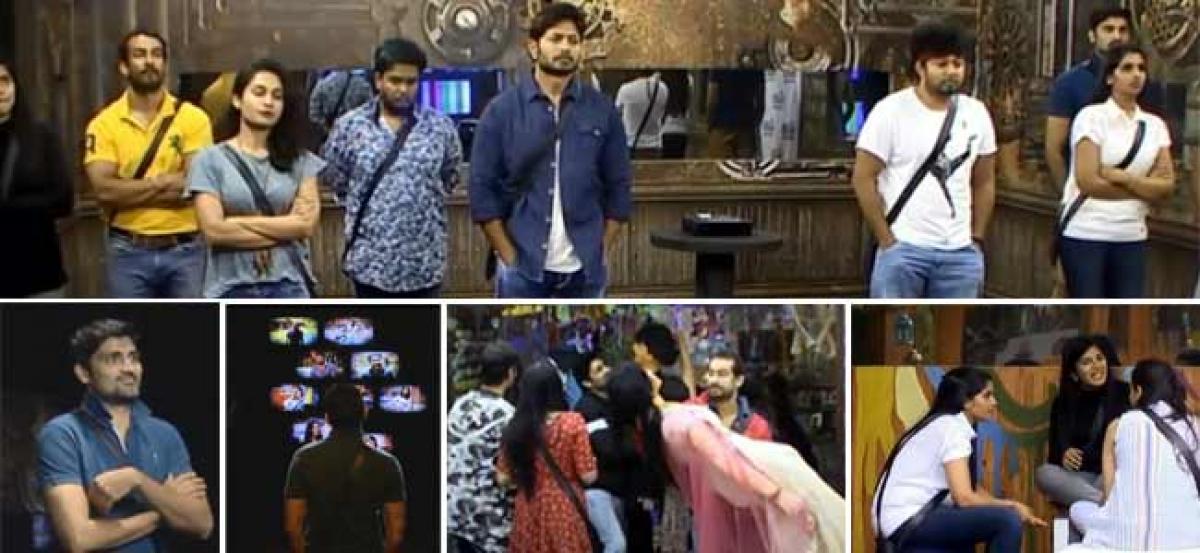 Highlights
The Mondays episode in Bigg Boss TV show is always interesting as the elimination procedure will take off Like every time, this week also elimination episode started in an exciting manner with Tanish reading the letters that Deepthi Sunaina has left for him But before that, there was an interesting discussion that happened between Deepthi Nallamothu, Geetha Madhuri, and Shyamala
The Monday's episode in Bigg Boss TV show is always interesting as the elimination procedure will take off. Like every time, this week also elimination episode started in an exciting manner with Tanish reading the letters that Deepthi Sunaina has left for him. But before that, there was an interesting discussion that happened between Deepthi Nallamothu, Geetha Madhuri, and Shyamala. Deepthi Nallamothu tried to express that she felt awkward moving close with the other males in the house. But Geetha has given her stand clear. Kaushal approached Tanish in a pleasant manner that they should start behaving like brothers and Tanish also accepted the same.
The elimination procedure took place in the activity room where each housemate was made to stand Infront of different TV's displaying the visuals of all the housemates. The housemate has to select two persons for eliminating from the house and has to give two reasons.
Samrat started the procedure. Samrat selected Pooja Ramachandran and Kaushal. Kaushal selected Amit and Pooja Ramachandran. Pooja Ramachandran selected Ganesh and Shyamala. Shyamala selected Pooja Ramachandran and Amit. Tanish selected Deepthi Nallamothu and Pooja Ramachandran. Ganesh selected Kaushal and Pooja Ramachandran. Roll Rida selected Kaushal and Deepthi Nallamothu. Geetha Madhuri selected Tanish and Kaushal. Deepthi Nallamothu selected Amit Tiwari and Samrat Reddy. Amit selected Deepthi Nallamothu and Tanish.
ALSO READ: Bigg Boss: Double Elimination This Week?
The nominated housemates are Deepthi Nallamothu, Kaushal, Tanish and Pooja Ramachandran. Later Bigg Boss sent the postcards for all the housemates. The housemates are asked to take the postcards and sat on the sofa.
ALSO READ: Bigg Boss Telugu Season 2: August 21st Episode Highlights
Bigg Boss has sent the negative feedback on the contestants to the house. Every contestant received a postcard having negative comments on them. They read it out and openly responded on the same giving an explanation.
ALSO READ: Bigg Boss Telugu Season 2: August 19th Episode Highlights
Interested in blogging for thehansindia.com? We will be happy to have you on board as a blogger.