Pandem Kodi 2 Movie First Weekend Collections Report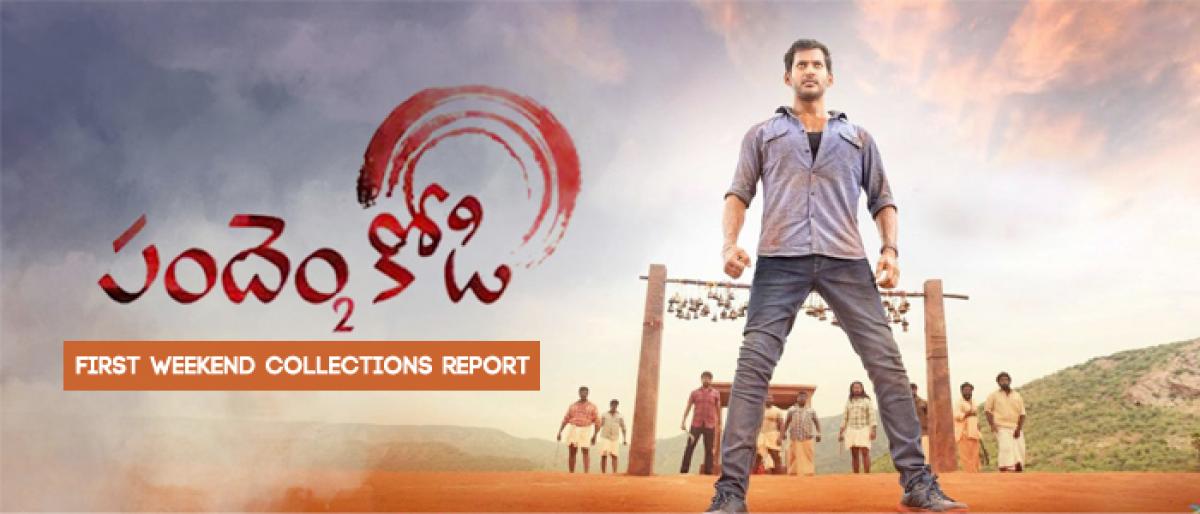 Highlights
Pandem Kodi 2 Movie First Weekend Collections Vishal starrer Pandhem Kodi is going well at the Tollywood box office as well The film was declared a hit already in Tamil and now it has been declared as a sensational blockbuster in Telugu
Vishal starrer Pandem Kodi is going well at the Tollywood box office as well. The film was declared a hit already in Tamil and now it has been declared as a sensational blockbuster in Telugu.
Vishal, Keerthy Suresh and Varalakshmi Sarath Kumar played the lead roles. The film was the sequel for the super hit film Pandem Kodi. The movie has collected a distributor share of more than 5 crores in the first weekend in both the Telugu states.
The following is the breakdown of the film's collections for the five days in both the Telugu states.
Vizag: 68,28,019
East Godavari: 29,09,317
West Godavari: 29,28,702
Guntur: 54,40,167
Krishna: 35,95,770
Nellore: 18.71,397
Ceded: 1,27,58,448
Nizam: 1,41,92,783
On the whole, the film totally collected a distributor share of 5,05,24,603 rupees in the first weekend. The release on Thursday has become an advantage for the movie.
Directed by Linguswamy, the film was produced by Vishal himself under Vishal Film Factory. Tagore Madhu released the film in both the Telugu states.
ALSO READ: 'Pandem Kodi 2' 3 days area-wise box office collections report
Subscribed Failed...
Subscribed Successfully...