No ready buyers for serious cinema, says film editor Sreekar Prasad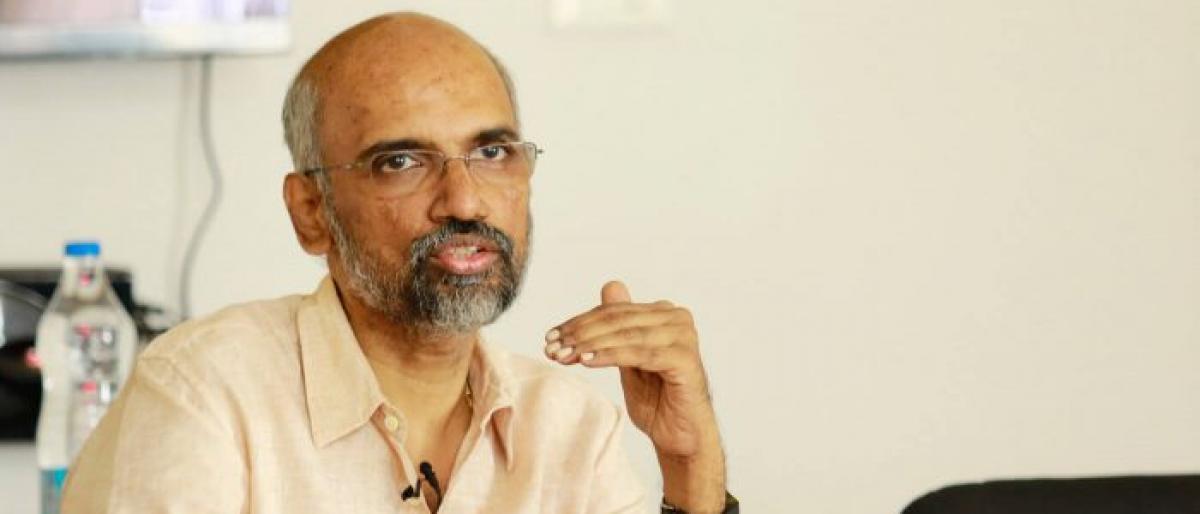 Highlights
National Awardwinning film editor Sreekar Prasad, known for his contribution to popular films like Dil Chahta Hai, O Kadhal Kanmani and The Ghazi Attack, says there are no ready takers for serious cinema as buyers or theatres focus more on boxoffice earnings which come with established actors
New Delhi: National Award-winning film editor Sreekar Prasad, known for his contribution to popular films like "Dil Chahta Hai", "O Kadhal Kanmani" and "The Ghazi Attack", says there are no ready takers for serious cinema as buyers or theatres focus more on box-office earnings which come with "established actors".

His name has been long associated with Mani Ratnam's movies and other films that create fireworks at the box-office. But Prasad is also known for working on indie films like Chezhiyan Ra's directorial "To Let".

Earlier this year, the Tamil film, which deals with house rental issues, won the National Film Award. It has also been screened at about 30 film festivals across the world. A few weeks ago, it bagged awards at the first edition of the Pondicherry International Film Festival.

"When 'To Let' was made, its target audience was the festival circuit and so every festival that it attends and an award it wins, is a vindication of the film. I am also happy as it has been selected for the Indian Panorama Film Section at International Film Festival of India (IFFI) 2018," Prasad, who had edited the Malayalam film "Olu" -- the opening movie of the upcoming edition of IFFI, told IANS in an email interview.

Despite being a hit at film fests, "To Let" is yet to release in theatres.

"There are no ready buyers for serious cinema in the market as the buyers or theatres are looking for collections and numbers which come with established actors. These sort of films have to create a brand for themselves with various festivals and awards to create awareness about the film and subsequently, get somebody to back it and release it in theatres," he said.

"It is a huge task no doubt but in this case, filmmakers are optimistic as it is a relatable story and I too believe it will have its audience in public exhibition too. I wish there are theatres to showcase all types of cinema and not only targeted cinema, even if it is on a smaller scale, Prasad added.

"Otherwise, we will see the demise of pure cinema and filmmakers."

He doesn't let a film's budget "distract" him. "Kayamkulam Kochunni", touted as Malayalam film industry's most expensive movie, is one of his most recent works.

"'...Kochunni' was a very well-planned effort by the director (Rosshan Andrrews) and it had all the ingredients in it to appeal to the masses. We had a few discussions at the script level and once the shooting started... though it took a lot of time to shoot and execute and edit, I was sure it would sort of work well," he said.

After making his debut in early 1980s, he worked on films in Hindi, Malayalam, Tamil, Telugu and Assamese.

Coming from a Telugu-speaking family settled in Chennai, he did not have a plan or preference for editing films in any particular language.

"It was more about getting work to showcase my skills. Chennai was strategically the industry hub for south Indian films and also for the east and northeast part of India. So many filmmakers used to come to Chennai to do their post-production. During that period, I met a few filmmakers from other parts of the country and slowly, I started getting work in different languages," he said.

His initial independent venture "Raakh", which released in 1989, got him a National Film Award.

"So people noticed my capabilities, but the beauty of working in different languages, meeting people from different cultures and different types of stories have greatly contributed to my evolution as a film editor," said Prasad.

But editing bilinguals or remakes is quite a task.

"Huge effort goes into them to maintain the same intensity as the one that was shot first but as time passes by, you get used to this pressure and we do it," he said.

The last bilingual he made was "The Ghazi Attack" and he is in the middle of editing "Saaho". "It has been an enjoyable experience," he said.