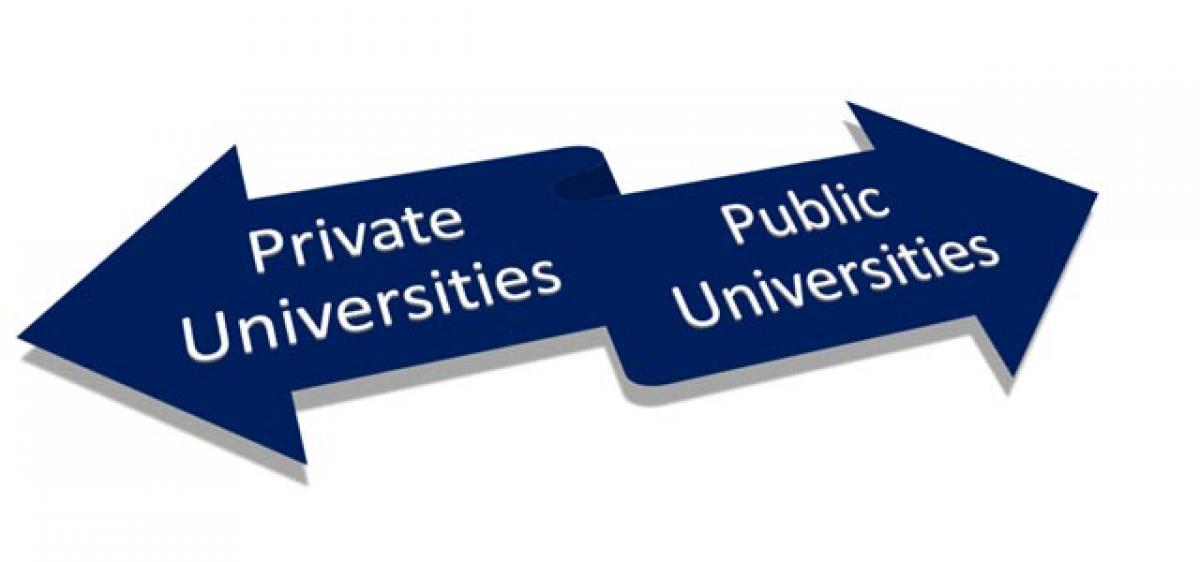 Highlights
Telangana Cabinet cleared the proposal for setting up of private universities in the State. Andhra Pradesh has already moved in this direction.
Telangana Cabinet cleared the proposal for setting up of private universities in the State. Andhra Pradesh has already moved in this direction. It's a welcome move as it results in further expansion of educational opportunities for our youth. The expansion of facilities is not commensurate with the increasing urge for quality higher education. It's just not possible for government alone to meet the rise in demand. In a knowledge economy, access to higher education is critical for harnessing demographic dividend.
But, it's equally important to be cautious in treading this free market path. Unbridled privatisation of higher education is fraught with harmful consequences. If the policy to encourage private universities leads to abdication of government responsibility in this vital sector, it would take away vast millions who cannot afford the prohibitive costs of private run sector from ambit of higher education. This would lead to a sort of internal apartheid as the products of higher education assume the leadership of the society in every field of life. Therefore, it's an imperative to balance the expansion of higher education facilities in both the public and private streams.
The government should put in place proper academic regulatory structures to prevent the mushrooming of teaching shops as was the experience with the deemed universities. Quality concerns emanating from indiscriminate entry of market forces need to be addressed. Private universities normally cater to the courses that have a good demand in the market. This may defeat the multidisciplinary character of the universities thus promoting lopsided growth of higher education.
There is a lurking danger of private universities appropriating the financially lucrative courses while public universities are left with unremunerative courses. This would further pauperise the university education in government stream. The fee structure is always a matter of concern in private stream. The experience of school and Intermediate education in this regard is a clear illustration of the consequences of private takeover of education. The government often finds it impossible to regulate the fees in private institutions. The high cost of education is detrimental to the interests of an emerging economy and a developing society.
Apart from evolving suitable fee regulatory structures, other alternative measures have to be taken to prevent educational deprivation resulting out of privatisation of university education. The economically deprived sections should be provided with alternate State and non-State means to enjoy the access to private owned higher education. It should not be in the form of hackneyed fees reimbursement schemes that essentially means State funding of private education.
The higher educational facilities in government sector should be expanded to create a level playing field for economically disempowered to compete in gaining access. The stronger public intervention would also ensure a competitive market for the private players too. Any blanket permission to the entry of private sector is unwarranted as higher education is not just a commodity that can be sold and purchased. Private institutions with a proven record of contribution in the field of education or economy should only be allowed to enter. University education cannot be investment opportunity alone for profit mongering speculators and cronies in the economy.

Interested in blogging for thehansindia.com? We will be happy to have you on board as a blogger.