From pariah to demi-god: transgender leader a star at Kumbh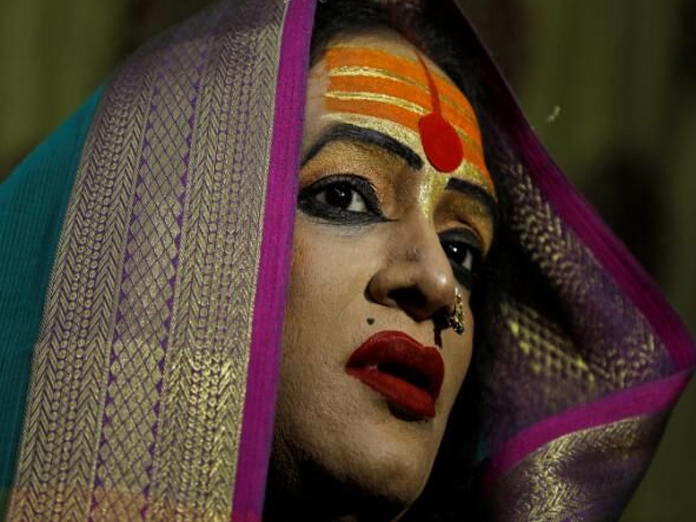 Highlights
In a desert tent guarded by armed police and a thickset bouncer, Laxmi Narayan Tripathi is blessing a constant stream of pilgrims, who garland her with marigolds and kneel to touch her feet
In a desert tent guarded by armed police and a thick-set bouncer, Laxmi Narayan Tripathi is blessing a constant stream of pilgrims, who garland her with marigolds and kneel to touch her feet.
Tripathi, a tattooed transgender leader and a former reality TV star, has become an unlikely icon at the Kumbh Mela, a huge religious festival being held on the banks of the Ganges river in the city of Prayagraj.
Up to 150 million people are expected to attend by the time the festival ends in March. On Tuesday, her religious movement, called the Kinnar Akhada, became the first transgender group to bathe at the confluence of the holy Ganges and the Yamuna rivers on the first day of the ancient festival, traditionally reserved for reclusive Hindu priests, almost all of whom are men.
"After centuries down the line, it was when the community finally got its due," Tripathi told Reuters, seated on a pedestal next to her Michael Kors bag, juggling calls on an iPhone.
Many at the festival cheer Tripathi for reclaiming the lost place in Hinduism for India's 'third gender', known as the hijras, worshipped as demi-gods for thousands of years, but ridiculed and side-lined during British colonial rule.
A law passed in 1871 classed the hijras as 'criminals'. Little changed after Independence and hijras were pariahs, living in tribes, begging or soliciting for sustenance and harassed by police. It was only in 2014 that the Supreme Court officially recognised transgender people as a third gender.
Tripathi is one of the best known. But her support for building a controversial Hindu temple on the site of a demolished mosque has angered some in the LGBT community, who allege she is courting support from India's powerful religious right to further her own influence.
The place of hijras in Indian culture dates back to the Ramayana, a more-than 2000-year-old Hindu epic poem venerated and performed across India. In the text, the god-king Ram is exiled from the holy city of Ayodhya, with the entire kingdom following him into the forest.
He orders them to turn back, but returning after 14 years, finds the hijras waiting for him in the same spot. Impressed by their devotion, he grants them the power to invoke blessings and curses on people.
For centuries, though their lives were far from easy, hijras held a special role in India's royal courts, tasked with guarding harems and rising to influential positions.
By Alasdair Pal
Interested in blogging for thehansindia.com? We will be happy to have you on board as a blogger.