Effective answer writing tips by subject experts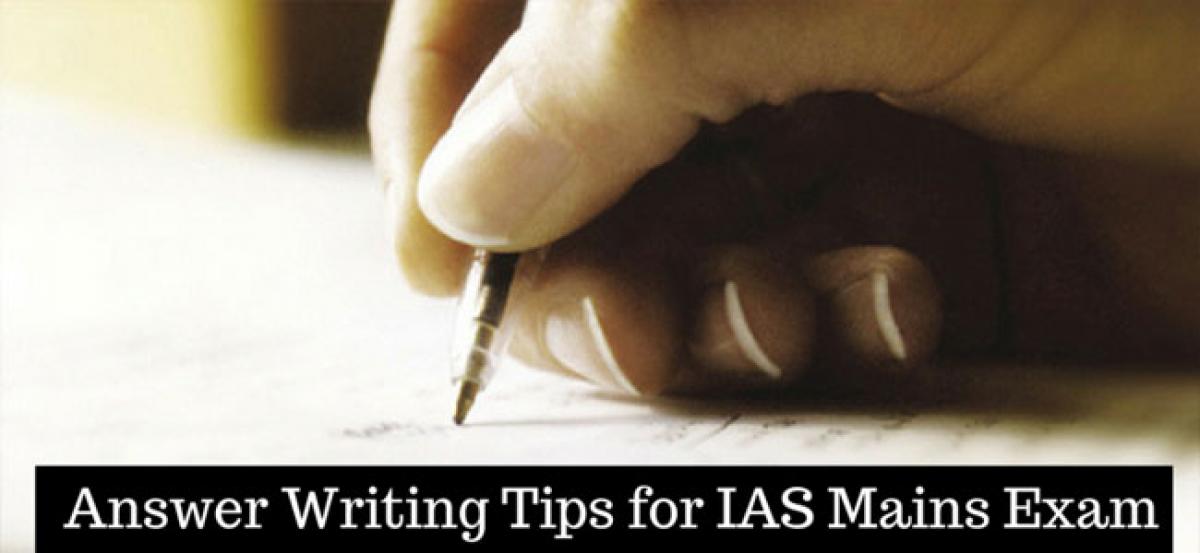 Highlights
The journey from being a Civil Services aspirant to becoming a successful Civil Servant undoubtedly takes the candidates through tough terrains, but the destination is indeed so powerful that it is worth taking those challenging terrains
The journey from being a Civil Services aspirant to becoming a successful Civil Servant undoubtedly takes the candidates through tough terrains, but the destination is indeed so powerful that it is worth taking those challenging terrains.
After appearing for Civil Services Preliminary examination 2018, aspirants must be having a tough time while preparing for mains, as prelims exam went quite unexpected. The weightage of the questions had shifted a lot from the typical analytical questions to current-affairs based questions, stressing much on testing general knowledge of the aspirants in this year's preliminary Exam. So, although no one can predict the upcoming Mains examination, we, being an academy, which has been helping students prepare for this coveted examination for past 25 years, can lend you a helping hand with some effective tips devised after a discussion with successful candidates and field experts.
HERE ARE 7 TIPS TO HELP YOU MASTER ANSWER WRITING SKILL
As an IAS aspirant, you must already know that this stage of the exam preparation must be entirely dedicated to mastering the Art of presenting your opinions and thoughts efficiently in your writing and connecting your answers of a particular question with the current issues being faced in the society. So what you need to do first and foremost…
1. Know your syllabus well
2. Develop a strong hold on each and every subject subjects
3. Religiously follow current affairs
4. Practice answer writing
5. Discuss the issues and the things, you have the knowledge about, with peer groups and seniors
6. Watch toppers' videos
7. Start thinking from a problem
solver's perspective rather than a common person, because you are going to be an administrator
Mastering the art of answer writing for Civil Services Mains 2018 requires a tremendous amount of practice, every day. So students must begin with making notes on every important topic, and after getting a sound hold on subjects, the aspirants are advised to begin solving the questions. Find an explanation for every question you come across on the topic you learn and question yourself constantly, not giving up, until you have all the answers.
Even if you fail to revise all the answers in the last leg of your preparation, with rigorous preparation, your mind will still recall the most of what you have practiced, while writing the actual Civil Services Mains Exam. Then practice solving previous years question papers without fail, this is one of the most important practices every aspirant must do during the preparation. Then Enrolling for Mains Test Series and solving maximum mock test papers for Mains boosts up the preparation process multiple times.
Now these are some important tips which will help you during your actual examination phase for Mains
1. Read your question well
Always read your question properly and re-read it again until you have understood what is exactly expected in your answer. You must spend an approximate of 8-9 minutes per question, so try to spend no more than the 1 minute of your time to read your question, understand it and underline the keywords, you must weave your answer around.
2. Analyse all the aspects
Having understood the exact demand of the question, analyze all the aspects that must be mentioned, starting from giving background details of the subject to explaining the subject further in detail. Cover as many dimensions as possible in an answer rather than just covering the issue in depth with quality analysis. Do not forget to recall the facts and current in-news information related to the topic.
3. Frame a well-structured answer
Introduce your subject in a short paragraph, giving immediate way to the main explanation of the question being asked. Just avoid giving lengthy paragraphs and instead use pointers for multiple arguments or sub-points to the explanation. Balance your answer with multi-faceted aspects of the topics and explain it all in as brief manner as you can. Conclude this answer on a positive note, for, the examiner will appreciate your affirmative take on the situation.
4. Mind your hand-writing
Handwriting has never, in Civil Services Exam, been considered for marking a candidate's suitability and caliber for the job. But in our opinion, a good handwriting will always stimulate your examiners' mind and help them come at ease with your answers. So, ensure making your answer presentable with clear handwriting, decently big characters' size and enough space between the words.
5. Enrich your answer with facts / dates / names / other details
An exceptional answer, especially considering the current trend of questions, must have enough factual backing of the current affairs details, views, dates, names, etc about the topics and a little more about the related aspects of your topic.
6. Explain your answers more clearly and precisely with the help of diagrams, charts, maps & quotations
Students are always advised to back their answers with the relevant and supporting diagrams & charts; and for the answer related to geography-based questions, maps are the ultimate rescue. Use these extra, but relevant elements to enhance your answer quality. It is no-where advisable to overload your answer with these elements, as a supporting paragraph to explain your answer is always better than doing away with the embellishment. Give diagrams and other elements, only where needed!
7. Quality comes with regularity in practice
As we mentioned above, to master the art of writing efficient answers in the Civil Services Examination, rigorous practice is crucial. Hence, you must solve as many Previous Year papers and Mock Tests as you can. Good Luck for your Examination!
BY A K Mishra