IIT-H to collaborate with Australian varsity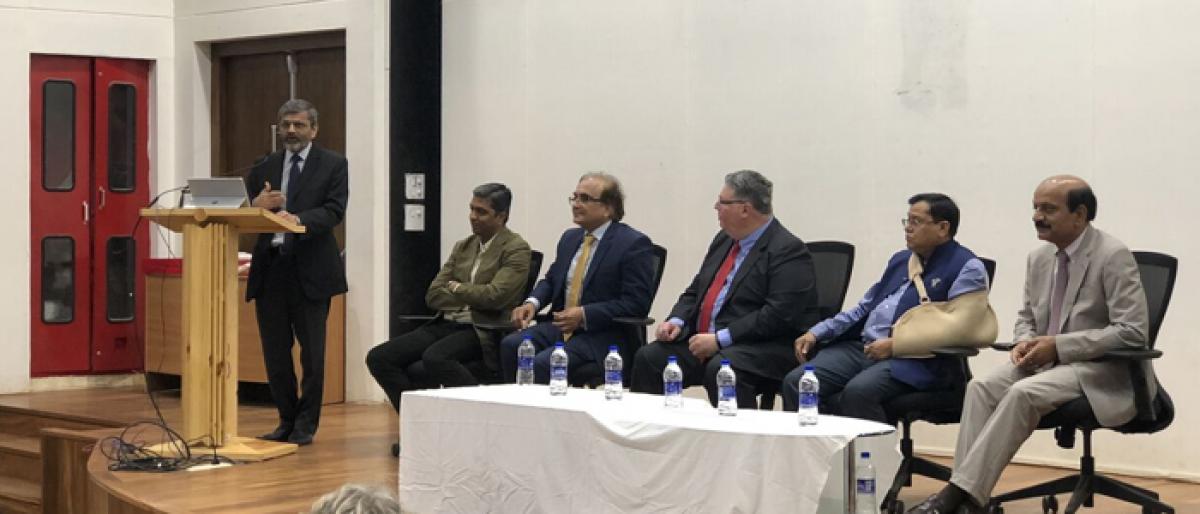 Highlights
Indian Institute of Technology Hyderabad IITH launched a Research Collaboration with Swinburne University of Technology, Australia SUTA They will take up a Partnered PhD program covering Engineering, Science, Design and Arts and Humanities research areas
​Hyderabad: Indian Institute of Technology Hyderabad (IIT-H) launched a Research Collaboration with Swinburne University of Technology, Australia (SUTA). They will take up a Partnered Ph.D. program covering Engineering, Science, Design and Arts and Humanities research areas.
The collaboration will provide top international level research, focused on industry by combining the expertise of researchers in India and Australia while providing access to excellent facilities in mutually identified key research areas.
Indian students make up the largest cohort of students at University of Technology which has, in recent years established more and more alliances and partnerships with Indian industry and education.
Addressing the launch function held on Monday chief guest Dr V K Saraswat, Member of NITI Aayog, said, "If the innovation has to come out of the valley of death, it is important that the industry connects right in the beginning and I'm sure this collaboration between Australia and India will benefit both the nations' industries in that sense."
Industry partners can partner through PhD projects, contract research (short and medium term) and collaborate through projects with other organisations and government institutions. The collaboration will also promote international links and knowledge sharing between the two countries through industrial tours, symposiums and industry focused workshops
Speaking on the occasion, Graham Goldsmith, Chancellor, Swinburne University of Technology, said, "We at Swinburne are thrilled to formalise this partnership with the Indian Institute of Technology Hyderabad. This partnership is a true collaboration between our two institutions where we bring together our mutual strengths in engineering, science, technology and design to undertake life-changing research and produce first-class graduates of the future."
Further, Graham Goldsmith added, "Together we aim to provide a high quality, career-orientated education for our students and focus on research that has tangible outcomes for both our nations, economically and socially. Our graduates will be valued and highly-sought after for their technical and academic skills. They will be recognised for their innovative and entrepreneurial spirit, their resilience and their ability to adapt, collaborate, and solve complex problems."
Addressing the programme, Mohan Reddy, Chairman, Board of Governors, IIT Hyderabad said, "The programme should focus on how technology can serve to bridge the gap between the haves and have-nots."
He also highlighted that India has a large pool of talented students, a vibrant startup ecosystem and a flourishing engineering R&D. This ecosystem will feed into the joint PhD programs between the Swinburne University of Technology and IIT Hyderabad.
Both Swinburne University and IIT Hyderabad share common research strengths in the space of Manufacturing, Smart Cities, Health Innovation, Digital Innovation and Data Science, which aligns with India's initiatives of 'Make in India', Digital India' and 'Smart Cities'. The aim is to combine and expand the existing expertise at both institutions. The current collaboration includes academic exchange, joint organisation of research workshops and developing joint research projects and joint publications.
IIT Hyderabad has an established and extensive collaborative network around the world including with universities in Japan, U.S., Australia, Canada, Europe and Taiwan. It also has three technology incubators – ITIC, Centre for Healthcare Entrepreneurship and Fabless Chip Design Incubator with 10 incubated companies.
Representatives from a number of local industries also attended the launch with further discussions taking place on a potentially wider partnership as well as developing and supporting research projects for the students.
Speaking at the launch, Prof U B Desai, Director, IIT Hyderabad, said, "This is a very unique research partnership which will be of great value to Ph.D. students to enhance their research and get global recognition. It is indeed a win-win research partnership for IIT Hyderabad and Swinburne University of Technology."
The partnership facilitates the joint supervision of PhD students between Swinburne and IIT Hyderabad. The students will have the opportunity to be jointly supervised by both universities while working on industry projects. Students will also have access to facilities at both universities. There are already 23 students enrolled under the PhD agreement with the number expected to grow many fold in the years to come.