VJIM holds business conclave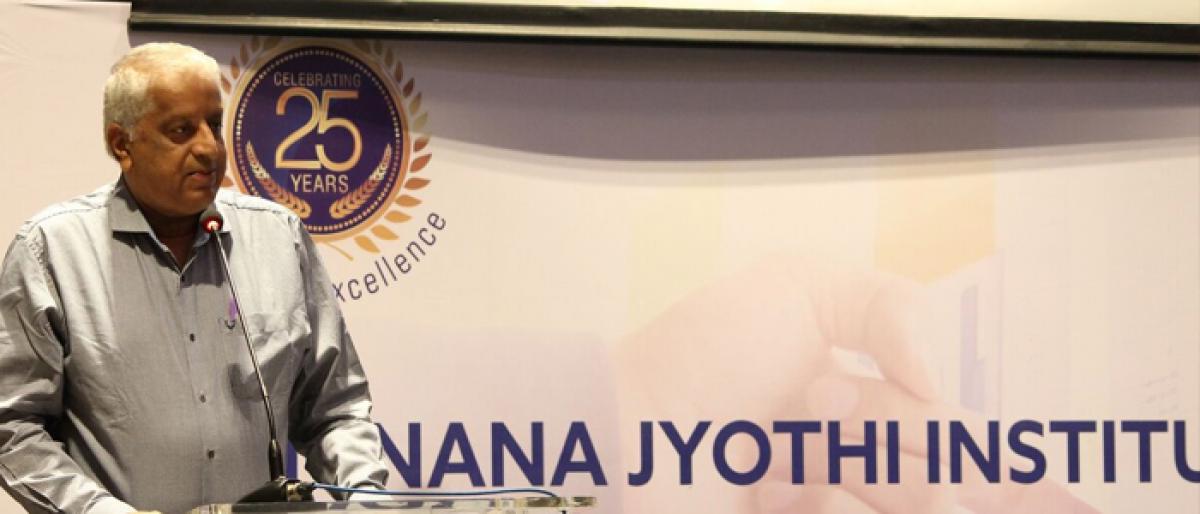 Highlights
The Vignana Jyothi Institute of Management organised a Business Conclave on Digital Marketing as a Tool for Customer Engagement Eminent speakers who spoke on the occasion include CT Shankar, Founder and CEO, Digital Marketing Consulting Inc, Vishwanand, CEO, Infocusrx, Satya Srinivas, Entrepreneur and Data Analytics Expert, Suhas
​Hyderabad: The Vignana Jyothi Institute of Management organised a Business Conclave on 'Digital Marketing as a Tool for Customer Engagement'. Eminent speakers who spoke on the occasion include C.T. Shankar, Founder and CEO, Digital Marketing Consulting Inc, Vishwanand, CEO, Infocusrx, Satya Srinivas, Entrepreneur and Data Analytics Expert, Suhas Dutta, Founder and MD, 3nayan ( Stranzex Consulting LLP ), Manish Jha, Digital Marketing Head, Shriram Life Insurance, Prashant Agarwal, Demand Manager, OYO Rooms, Sudarshan Chakrapani, Vice-President, Digital Automation Head, Tech Mahindra.
Focusing on the aggressive changing trends in digital marketing and the modern marketing practices which have changed the businesses forever the speakers emphasised that today's customer is relying more on online data and peer recommendation with high exposure to online advertising. The future of digital marketing would be through platforms like loT (Internet of things ) , Artificial Intelligence, Messenger Apps, Voice Marketing and Live Videos.
The speakers stressed upon the transcendency that the technology with customer engagement would be the top priority for the digital marketing departments across industries. The future trends of high demand would be in the areas of – Content Creation, Video Marketing, Mobile Marketing, Online Customer Reviews, Data Sciences, Big Data and Machine Learning which support and influence Digital Marketing to become successful.
The conclave stressed that the world is transforming digitally, enterprises are looking for providing a world-class experience to the customers while using marketing automation, connecting the marketers and the consumer.
In his opening remarks, the Director of Vignana Jyothi Institute of Management, Dr.Ch. S. Durga Prasad welcomed the gathering and gave a broad picture of the digital marketing . The President of Vignana Jyothi, Dr. D.N. Rao stressed the significance of digital marketing in the current era which is disrupting the market landscape with use of analytics tools and platforms.