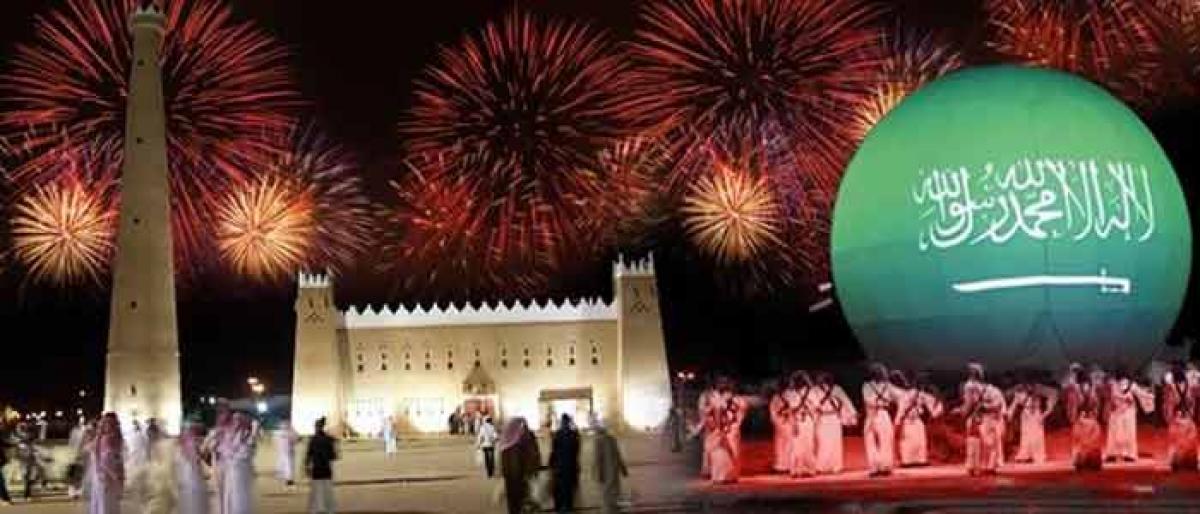 Highlights
External Affairs Minister Sushma Swaraj arrived in Riyadh on her maiden visit to Saudi Arabia on Tuesday during which she will inaugurate the Janadriyah festival of the Gulf Kingdom
External Affairs Minister Sushma Swaraj arrived in Riyadh on her maiden visit to Saudi Arabia on Tuesday during which she will inaugurate the Janadriyah festival of the Gulf Kingdom, which is home to over three million Indians. During the three-day visit, Swaraj will meet with the Saudi leadership and discuss bilateral, regional and global issues of mutual interest. After her arrival, Swaraj in her first engagement addressed Indian community members at a reception in Riyadh, and spoke about the relations between the two countries.
Janadriyah, 42 km northeast of Riyadh, is the venue for Saudi Arabia's national festival of heritage and culture. A colourful festival, held in the winter season every year, which normally falls during the month of February or March. Janadriyah Festival, as it is called, is a rich cultural presentation of the past and present Saudi Arabia. It highlights the culture and heritage of the country which, for the new generation, is a window to the vibrant past.
Long ago, Janadriyah was known as "Rowdhat Souwais" and was mentioned by numerous historians and writers. Though Janadriyah Festival started as a camel race, today, it represents a crossroads where poetry, intellect, culture, art, theatre, as well as heritage and history meet.
The vision behind Janadriyah Festival was conceived by the founder of Saudi Arabia, King Abdul Aziz Ibn Abdul Rahman Al Faisal Al Saud (also known as 'Ibn Saud'). The festival, for the first time, was inaugurated by the late King Fahad Ibn Abdul Aziz in 1985.
Janadriyah Festival is being held from February 7 to 24, 2018. It is the most prestigious and much awaited Eighteen days, "National Festival" of the Kingdom of Saudi Arabia. The King himself patronizes the festival with participation of the Rulers from the GCC Member-States or their representatives as Special Guests.
Invitation to India is a testimony of strong and growing India-Saudi Arabia bilateral relations. Government of India is giving importance to Janadriyah Festival, as Saudi Arabia is at a critical junction in its history and is undergoing a period of transition which may lead to major structural changes, both, politically and economically in Saudi Arabia as well as in the region.
Interested in blogging for thehansindia.com? We will be happy to have you on board as a blogger.