All's well that ends well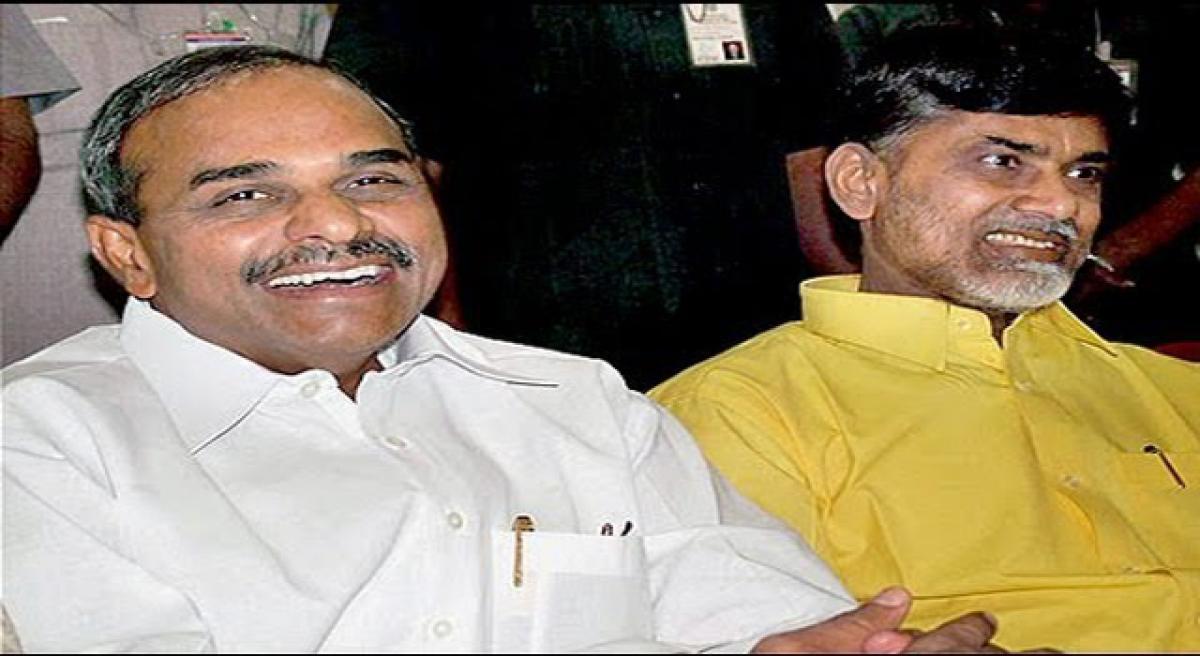 Highlights
And then came the dastardly attack on Chandrababu Naidu's convoy while he was on his way to Tirupati to fulfill an engagement – an event that, at least for some time, changed his attitude towards life. The impact that event made on his mind and thinking was partly responsible for his, what in retrospect turned out to be, an ill judged move. 
And then came the dastardly attack on Chandrababu Naidu's convoy while he was on his way to Tirupati to fulfill an engagement – an event that, at least for some time, changed his attitude towards life. The impact that event made on his mind and thinking was partly responsible for his, what in retrospect turned out to be, an ill judged move.
Convinced that that was the most opportune time, and that his popularity with the public was at its highest ebb, he recommended to the Governor to approve premature dissolution of the state assembly, and the conduct of snap polls.
Elections to the legislature did not follow as quickly as expected. Under the orders of the Election Commission of India (ECI) an overhaul of voters' lists was undertaken lasting several months. To my acute discomfiture, the caretaker government continued in office much longer than anticipated.
In the meanwhile the government of India advanced the programme for conduct of elections to Parliament. Thereupon the state government decided to ask the ECI to hold simultaneous polls to Parliament and the state legislature.
The rest is history. The TDP was voted out of power and the Congress (I), under the leadership of Y.S. Rajasekhara Reddy, registered a thumping victory. Thanks to the use of electronic voting machines the verdict of the electorate was made known in the matter of a few hours. Even as I was trying to register the enormity of what had happened I saw on the television that Chandrababu Naidu was on his way to Raj Bhawan to tender his resignation.
Once more, what ought to have been a much longer partnership was cut short by destiny. A somewhat uncertain interlude followed the result of the assembly elections. Within a day YSR was elected as the leader of the Congress (I) legislature party and, therefore, the CM designate.
DGP Sukumara and I went and called on him, not only to enquire about the arrangements to be made for his swearing-in, but also to find out whether there was something on his mind about our future. On my part I told him that I had returned to the state at the request of Chandrababu Naidu, and had no special desire to continue as CS.
On the other hand, I had no special wish to return to work in the government of India. Making it easy for him, I told him that, if he had anybody else in mind to take my place, I would have no objection at all. I would be quite happy either to continue in the state or go back to Delhi, only I needed to be told what was in store.
Quite naturally his reaction was that he needed a couple of days time to think as, he first needed to go to Delhi to his consult party's high command about the composition of his council of ministers and other matters.
I spent the next couple of days more or less doing nothing and, as I am wont to do under such situations, doubled my daily quota of exercise!
YSR returned from Delhi and asked me to meet him at the Lake View guesthouse. He said "I have decided to request you to continue." I was quite happy to be relieved of the uncertainty. Almost simultaneously the Chief Minister also decided that Jannat Hussain, a senior officer of the state cadre, would be his principal secretary. Thus began another unexpected partnership.
I found YSR to be quite an unassuming and open person. Unlike Chandrababu Naidu, whose mind was difficult to read and with whom communication was never easy, YSR was, as he put it in self while we were settling the ground rules for our relationship, "an easy person to get on with."
The earlier daily slot was changed to 5:15 AM, for a tête-à-tête on the phone and not a face to face meeting. I would rise in the morning, as I always did, read the daily newspapers, make a note of issues if any which I wished to raise with him and call him.
This arrangement was agreed upon as he seemed averse to disturbing officials, being quite happy to conduct business on the phone. We used that call also for him to tell me if he had anything on his mind. Having had that exchange we seldom felt the need to meet again during the day, save for official meetings and emergencies, an arrangement more or less on the same lines as the one with the earlier CM.
YSR was quite as much of a workaholic as Chandrababu Naidu. The similarity however stopped there. Chandrababu Naidu set great store by what was said in the media, print or electronic. He was extremely sensitive to criticism and took even the slightest adverse comment to heart.
He would be upset if the government was criticised no matter how trivial the matter was. YSR on the other hand appeared not to care at all about what was said about him. He would wave away all criticism. He advised me also not to take quite so seriously what was said in the papers or TV channels.
Chandrababu was obsessed with micromanagement. Even about the most ordinary thing that had happened when he went out on tour for a day or two, his normal reaction would be "why was I not told?" In contrast, YSR was quite happy to leave almost everything to the administration, except the occasional matter in which he had something of his own to suggest.
Whenever I tried to explain some matter to YSR in detail, his reaction would be to say that he was simply not interested in why a particular thing was being done or in a particular manner, unless there was something which had definitely to be brought to his personal notice.
The first challenge that the administration during faced YSR's regime was the conduct of the Pushkarams of the Krishna river. Having successfully made arrangements for the same event in respect of the Godavari River the previous year we were in confident mood. The team under my direct leadership was in fact looking forward to the event.
I even visited Vijayawada, the main stage for the event which was to be held over a period of twelve days. Bathing 'ghats' where pilgrims would have the holy dip, were constructed in several places not only in Vijayawada and Krishna district but elsewhere in the state on the banks of the river.
The arrangements had been finalised to my satisfaction. Needless to say this time around I was much more in the driving seat, given YSR's attitude to administrative matters. The event unfortunately began on a tragic note. In the early hours of the day on which the Chief Minister was to visit Vijayawada to inaugurate the event, I got a telephone call saying that four persons had drowned and been washed away in Vijayawada near the Krishna Barrage which connected Guntur and Krishna districts across the river.
I have described what transpired thereafter in another episode entitled "Accountability vs Responsibility –Debate."
The point was that, no matter how thorough and meticulous the administration is, accidents will happen. But the lingering impression which I carry to this day is of the implicit and total faith YSR placed in my leadership, and the value he attached to my advice.
He was a remarkable man in many ways. I recall a meeting during which an officer confessed to being afraid of visiting a particular place as it was said to be infested with extremists. 'What', YSR exclaimed, "you mean to say you plan to live forever?"
On another occasion, I had called for a meeting of heads of departments as the Chief Minister wanted to make acquaintance with them and familiarise himself with the problems being faced in different sectors. He had several questions to ask of the group.
After the meeting had progressed for some time he asked me, "why are you answering all my questions although they are addressed to others?" Firmly but politely, I replied that, as long as I was present, it was my duty to play my role as the leader. It was quite possible that the officers may falter in replying directly to the Chief Minister, out of sheer nervousness. Typical of him, the Chief Minister laughed the matter away, remarking that I appeared to be "quite a character."
Another important feature of the change in the quality of administration under YSR was the importance given to ministers. Earlier on I had cleared with him how requests of ministers for meetings with me were to be handled. Except for the two senior ministers, Rosaiah (Finance) and Jana Reddy (Home), I would not personally attend meetings convened by ministers. In their offices. Such meetings were conducted in a conference hall across my room on the same floor in the general administration department building.
Such was the enormous freedom I enjoyed in controlling the administration during YSR's time that once, when I mentioned to him about a complaint I had received that an official in the CMs office was issuing instructions to field officers directly which, in my view, was not quite proper, he told me to send for the official concerned and reprimand him!
YSR was also a very earthy and practical person. He established sound relationships with a large number of individuals. Even earlier, in his election campaign, he had travelled extensively all over the state, meeting a wide cross-section of people and learning in depth about various issues.
Therefore, after about a year or so, he found himself firmly in the saddle. So much so, that I told time that I felt no qualms about retiring soon he longer needed a Chief Secretary. So completely had he familiarised himself with personalities, places and issues. It was an enjoyable and fruitful relationship and, towards the end, we had grown quite fond of each other.
One day, as I was travelling to fulfill a commitment, I noticed that an unusually large number of cars had revolving lights on the roofs. Time was when one was allowed to blow a siren or have a revolving light only if one was the Governor of a state.
At the other extreme, only fire engines or ambulances used that facility. Dr. Y. Venugopal Reddy, formerly Governor of Reserve Bank of India, had once told me a story of about how, as a research scholar in Osmania University, he went to call on the then Chief Minister of Andhra Pradesh state Sanjeevayya. Venu had found the CM distressed and pacing in the corridors of his bungalow. Apparently the driver of the Chief Minister's car had failed to turn up. And Venu actually drove the Chief Minister to the Assembly in his private car!
While realising that we no longer lived in those days, I was still determined to reign in to say whether there was an excessive and avoidable use of symbols of authority and status. Therefore, upon return to my office, I consulted the protocol book and issued a circular restricting the use only of overhead lights vehicles in which people entitled to that privilege, and only which they were actually travelling in the vehicle.
I use the word 'travelling' because I remember that, when father was a judge, my driver would carefully remove the national flag whenever my father was not travelling in it. Needless to say my circular did not have any spectacular or immediate impact. It however served to make a point. The Mayor of Vijayawada at that time, I remember, called me up 'this job has no other perks anyway', she told me and asked, do you wish to withdraw even the simple pleasure?"
As my retirement drew close YSR would, in the last few weeks, make repeated attempts to see whether he could not talk me into taking on a post - retirement job in the state. Every now and then he would have to choose an officer who had retired or was about to retire, different for assignments. He would, on each occasion, press me to take on one of them.
I politely declined, telling him that my abruptly abridged tenure as secretary agriculture in the government of India had left me with an unfulfilled desire to do something concrete at the national level. I felt I had both the energy and enthusiasm. I very much wanted to have a shot at a national level assignment once again. At one point of time the CM even said "what will you do in Delhi in that cold weather? Why not stay here and be comfortable?"
One evening a dinner the Director General of Police (DGP) had arranged a dinner in connection with the visit of the Union Home Secretary and the National Security Advisor who were in Hyderabad and to attend a meeting for reviewing the status of extremist activities in the state.
The Home Secretary was my batchmate V.K. Duggal. During the course of the dinner he mentioned to me that a new organisation called the National Disaster Management Authority (NDMA) was being set up to deal with the management of natural and man-made disasters, and that it might be an interesting assignment for me after retirement. I mentioned this to YSR later who reluctantly acquiesced. The proposal was cleared and I took on a post retirement five-year assignment as Member NDMA.
It was during this period that B.V. Rama Rao, a senior colleague, told me "Mohan, you can look forward to at least ten good years after retirement." A novel arrangement which I had instituted in the very beginning of my tenure as Chief Secretary was the appointment of a young IAS officer as an Executive Assistant (EA).
I found it extremely useful in maintaining contact with senior officers and keeping track of important matters. Importantly, the EA consolidated routine cases that came to my table so that I could dispose them of without too much scrutiny, leaving myself free to spend more time on important matters.
I was also to persuade the CM to decide upon my successor a month in advance of my retirement. T.K. Dewan, who was to take over from me, was posted as an officer on special duty and Chief Secretary-in-waiting, in addition to his normal charge.
He spent that a month sitting with me for several hours a day, familiarsing himself with important issues which he would later have to deal with, – and taking a closer look how things happened in my office. Orders appointing me as member NDMA were received a couple of days before the day of my retirement.
Interested in blogging for thehansindia.com? We will be happy to have you on board as a blogger.