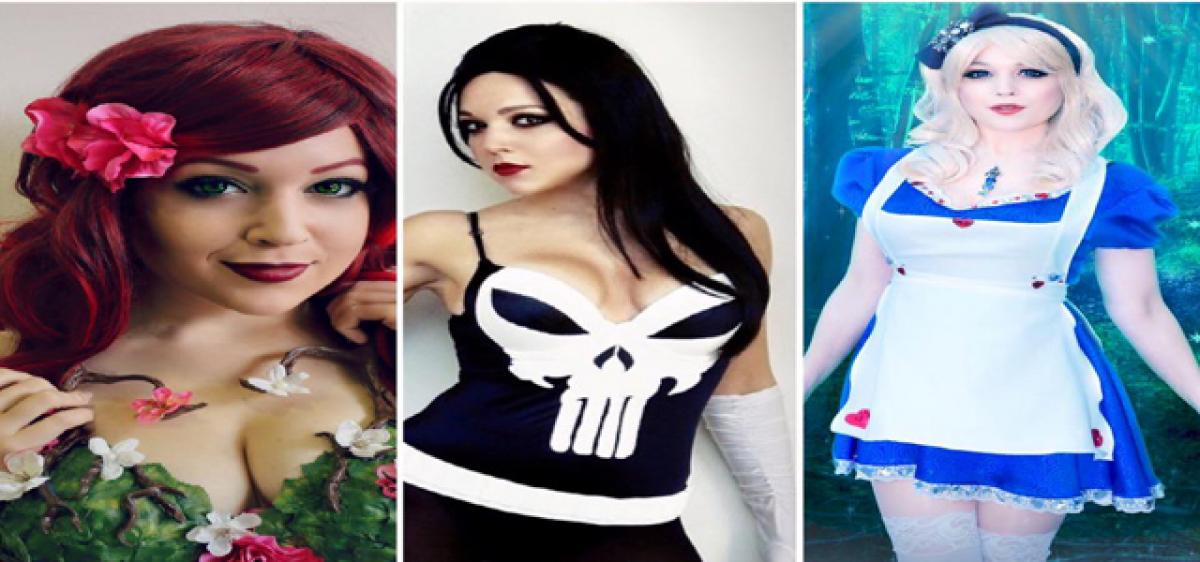 Highlights
The Portuguese poet Fernando Pessoa once wrote, "Masquerades disclose the reality of souls. As long as no one sees who we are, we can tell the most intimate details of our life."
The Portuguese poet Fernando Pessoa once wrote, "Masquerades disclose the reality of souls. As long as no one sees who we are, we can tell the most intimate details of our life."
It's more than an alter-ego… it's an expression of one of the deepest human desires: of wanting to belong to something without judgment or bias. And, that's what Cosplay does. One of the biggest attractions of every comic book conventions is the Cosplay contest, which of course is a lot of fun, apart from giving fans the opportunity to live like their favourite comic book character for a few hours.
To the nerds, geeks and masters of cosplay Nicole Marie Jean needs no introduction. The international artiste, sculptor and designer from San Diego, California is all psyched for her stint at the upcoming Hyderabad Comic Con at Hitex on September 24.
Known as 'Lady Bane' from 'The Dark Knight Rises' the artiste has created a revolution in the world of Comic Cons by making cosplay as a viable career option.
Nicole, who began her journey into the feat about four years ago, has travelled around the world for events and conventions, as both an attendee and a guest. She has judged contests and been a part of many panels. Recently, she was at the Bangkok Comic Con.
The award-winning cosplayer has over 20 lakh followers on Facebook. So far, she created upto 80 original costumes inspired by her favourite characters.
Ahead of her visit, the artiste spoke to The Hans India about the significance of cosplay in her life, the unifying bond at comic book conventions and sexualisation of female characters.
Tell us about your expectations from Hyderabad Comic Con. Is this your first time in India?
I'm not coming to the event with any expectations. Every event and appearance is a new, exciting experience. I'm looking forward to meeting people from the country and connect with them. This will be my first time in India.
You've been around many comic book conventions in different cities around the world. In your opinion, what is the unifying factor for comic book enthusiasts at these events?
I've travelled all over the world for comic conventions and one thing remains the same - the enthusiasm and excitement. I've gone to countries with a strong language barrier but, the thing that's amazing is that we all speak the same universal language at comic conventions. We all know these characters that we love and this creates the bond.
And, what cultural or regional differences have you observed?
Honestly, the biggest difference is the language if the country is non-English speaking. Other than that, Comic Cons feel like home no matter where I am in the world.
What is favourite cosplay till date?
It's hard to choose a favourite because I have a connection with all of them. Each is a learning experience whether it goes well or not.
Give us some inside info on your appearance and costume for Hyderabad Comic Con.
I'll be bringing a couple of costumes, which are undecided at this moment. I like to choose my newest and most popular costumes. I may reach out to my fans from India and ask them what they'd like to see.
Tell us about how you got into cosplay? How has life changed after that?
I got into cosplay in 2011. I created and wore my first costume and was immediately hooked. It has been such an amazing creative outlet for me as an artiste. Eventually it turned into a job and a career so it's basically become my life.
Separating the alter-egos - tell us about an ordinary day in Nicole's life. How's that like?
A day in the life of Nicole is a lot of work and art. I am self-employed and a one woman business so it's a lot to keep up with. I do like to make time for friends, fun and my animals.
What's your take on comics and gaming industry sexualising female characters?
Personally, I don't have a problem with the sexiness of female characters. I think, the female body is a beautiful thing, but I do understand the matter concerning of pushing boundaries. Children do look at the characters and often times believe this is the standard for females. It's important to have a balance.
Do you think it affects cosplay and how the Conventions choose winners for the same?
When it comes down to competitions it's important that judges focus on the quality and craftsmanship, not the amount of skin shown. It's not a beauty contest.
And, finally what are some of your top tips for cosplayers in India?
The tip I give most is have fun, first and foremost. That's the whole idea behind cosplaying. It's showing off your love of your favorite characters and fandoms. It doesn't matter if you purchase or create your costume. There's no right or wrong way.
Subscribed Failed...
Subscribed Successfully...