Select careers based on your aptitude: Maheshwer Peri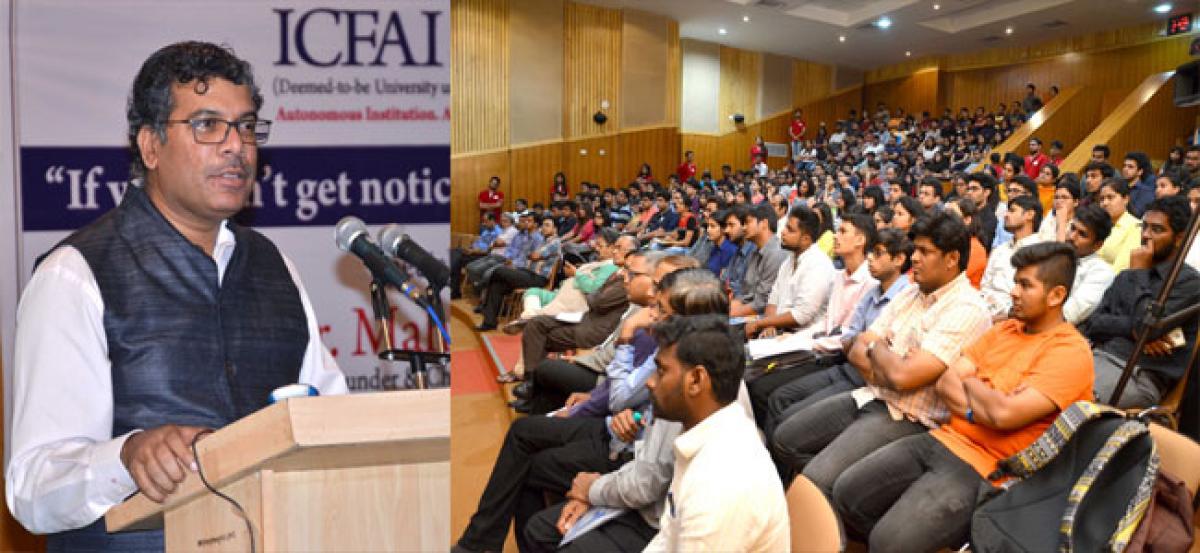 Highlights
Entrepreneurship is the future which will create job opportunities for the younger generation said Maheshwer Peri, Founder Chairman of Careers 360 magazine He was delivering a special lecture at ICFAI Business School IBS recently He spoke on the topicIf you dont get noticed, You dont get placed that was aimed for the students who are gearing up for the placements
Entrepreneurship is the future which will create job opportunities for the younger generation said Maheshwer Peri, Founder & Chairman of Careers 360 magazine. He was delivering a special lecture at ICFAI Business School (IBS) recently. He spoke on the topic 'If you don't get noticed, You don't get placed' that was aimed for the students who are gearing up for the placements.
Peri cited numerous examples throughout his lecture and explained how students should prepare themselves for the future challenges. He advised the students to be honest in their approach and should have clarity of thought about what they are opting to choose as their career option. The first three years of any job is a learning phase and not an earning phase, he opined. The job seekers should have integrity of character and ethical perspective, he said. Being humane and empathetic to others is essential to be successful, he added.
Peri said that the real challenge lies in dealing with abnormal situations and the students should strive to bring out normal solution out of that. The students should try and create small zones of happiness which in turn takes a shape of their dream career. They should be ready to fight battles that work for a larger cause, he said.
Prof J Mahender Reddy, Vice-Chancellor of ICFAI Foundation for Higher Education Deemed University, stated that the University is striving to develop the Center for Entrepreneurship for the benefit of students. He thanked Mr. Peri for his enlightening speech. ADmire, the marketing club of ICFAI Business School coordinated the lecture which was attended by large number of students and faculty.
Subscribed Failed...
Subscribed Successfully...