ICFAI conducts 6th international meet on Applied Econometrics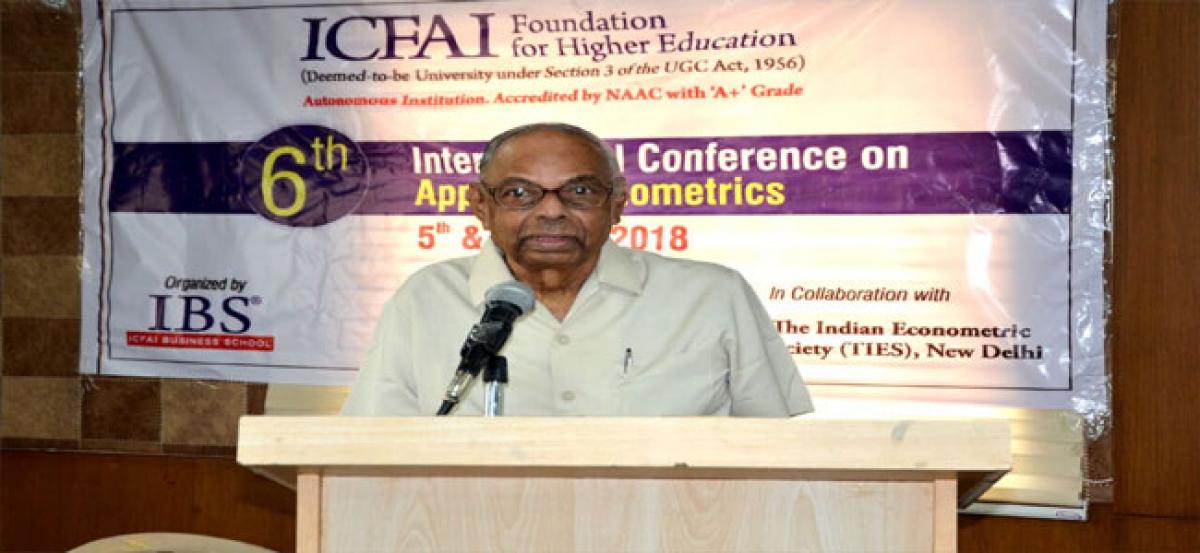 Highlights
The 6th International Conference on Applied Econometrics was organised by ICFAI Business School IBS in collaboration with The Indian Econometric Society TIES recently The conference was inaugurated by Dr C Rangarajan, former chairman of Economic Advisory Council to the Prime Minister, former Governor of Reserve Bank of India
Hyderabad: The 6th International Conference on Applied Econometrics was organised by ICFAI Business School (IBS) in collaboration with The Indian Econometric Society (TIES) recently. The conference was inaugurated by Dr C Rangarajan, former chairman of Economic Advisory Council to the Prime Minister, & former Governor of Reserve Bank of India.
In his inaugural address, Dr RangarajanChancellor of the ICFAI Foundation for Higher Education, Hyderabad, a deemed-to-be University, highlighted the relevance of econometrics as an applied discipline, to governments & businesses. Describing it as a confluence of mathematics, economics & statistics, he traced its rapid progress since the World War - II owing to the challenges of economic policy.
Theoretical postulates, according to him, gain universal acceptance only after their empirical validation, which is provided by econometric research. He explained that divergence of views about economic policy is attributable to differences in value-judgments, & therefore not a weakness of the science of economics, which is based on logical premises & methodologies.
Speaking on the occasion, Prof J Mahender Reddy, Vice-Chancellor of The ICFAI Foundation for Higher Education (IFHE), explained the efforts being made by his institution in evolving socially relevant curriculums for higher education which support industry-academia interaction. For over a decade now, the IFHE has been encouraging goal-oriented research programs in all functional areas of management science by supporting committed PhD scholars towards successful careers in management education. The study of econometric models has played a pivotal role in this endeavor, which is why the IFHE campus is the appropriate venue for holding this conference.
The two day conference witnessed a wide spectrum of scholars across different specializations like agricultural economics, development economics, public policy, & industrial economics. About 60 delegates attended the conference and 25 scholars presented papers on diverse fields of economics.