To bring transformation through education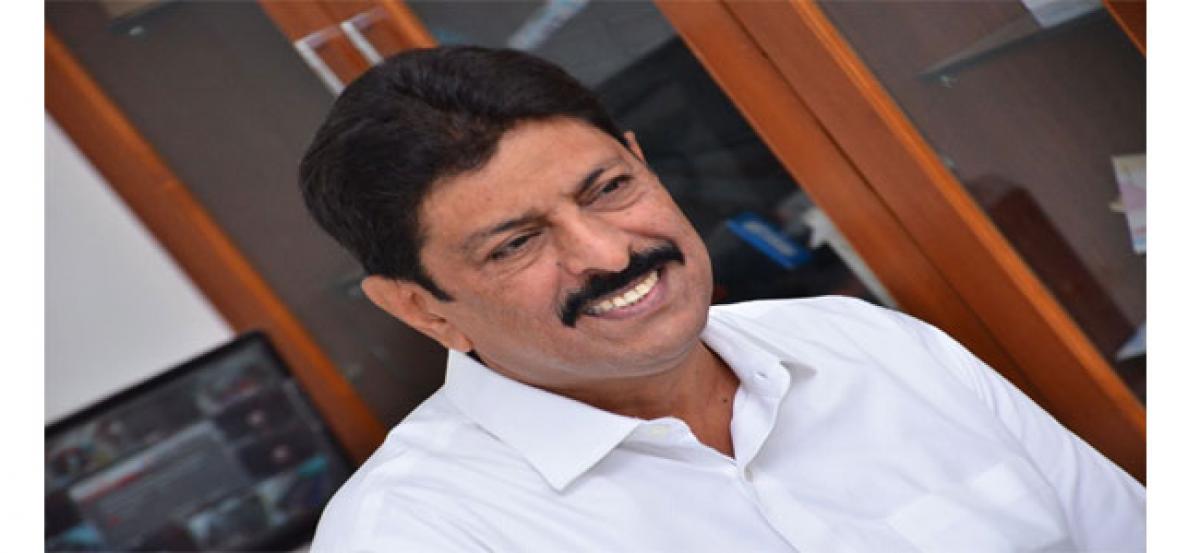 Highlights
In a one of its own kind of story the Progress Group of Institutions PGI, is aiming to bring transformation through education in the old city The...
In a one of its own kind of story the Progress Group of Institutions (PGI), is aiming to bring transformation through education in the old city. The Progress Global High School, Correspondent, Mirza Mustafa Ali Baig shared how the journey of the school started with his father Mirza Mohammed Ali Baig (popularly known as Abid Pasha).
Abid Pasha, who wanted to give his mother KhutijhaKhatoonidea wings started the PGI. Continuing the legacy, Mirza Mustafa Ali Baig, the elder son along with his brothers pitched in to make their grandmothers vision a success story. A Postgraduate in M.Sc in Information Systems Management from the Greenwich University, London, on his return, hefollowed suit in the footsteps of his father introducing new techniques and to improve standards to give quality education to the people in the old city. With nearly 7,000 students, 600 staff the institutions registering 98 per cent results TPGHS and other institutions in the group are confidently moving into future to achieve its objective of transformation through education.
How did your journey start?
A. It was all the vision and dream of my grandmother KhutijhaKhatoon. When my father was doing well in the real estate Sector, she wanted him to do something to society; In particular, she wanted to help people through education as it is an honourable profession. Besides, it would also help the community in the old city. So, my father Abid Pasha wanted to fulfill the dream of his mother and started a small school in about 150 square yards space in 2003 at Faluknuma. Since he has a good reputation and rapport with the local residents, the school had around 350 admissions in the first year. This was followed up with starting a junior college in 2009 in the same place. In the first year, we have got 250 admissions. Now, the school has around 700 students studying in the two years of intermediate course with MPC, BIPC, and CEC and other selective. Encouraging this, we have started a degree college in 2013 and now, we have strength of around 600 students. And, the college offers B.Com, B.Sc and courses in nutrition at degree level.
What is your focus and objective in the school segment?
A. We wanted to expand our reach after receiving a positive response from people in the area to our efforts. So, we have started The Progress Global High School (TPGHS) in Bahadurpura in 2013 in the name of an education society named after my grandfather and grandmother, i.e., Roshan and KhutijhaKhatoon Education Society (in short RK Education Society). The school started with just 380 students and now we have a student's strength of 2,500 within a span of 7 years. Every year the school gets around 500 new admissions.
Apart from Faluknuma, we have TPGHS in Baghadurpura and one more school has been started in the current academic year at Bandalguda, which is looked after by my brother Mirza Ahmed Ali Baig. Another younger brother of mine Mirza Ibraham Ali Baig too is actively looking after the activities of our institutions. We are planning to start one more school either in Tolichowki or Attapur in near future. Our only objective is to bring positive change through education and ensure that students are prepared for life.
How are you scaling up your infrastructure to the growing strength?
A. We take a keen interest in developing our infrastructure; keeping in view the interest of the student on the top as they are the beneficiaries at the end. And, people who have visited our school in Baghadurpura were taken by surprise seeking such an outstanding and eye-catching infrastructure for a school in the old city. It's not just building, we ensure that the classrooms are spacious and are properly ventilated. Each student gets an individual chair and bench so that they concentrate more on the board. To supplement the teaching, every classroom is made into a smart classroom. There is also a good library with a collection of a variety of books.
You talk about transformation through education. How are you doing on that front?
A. People in this part of the city had never bothered to understand the importance of educating their children. So, there was some difficulty in sending children to the schools. There was only one missionary school in the old city when we started our journey. However, our efforts have set in a new thinking and now people are coming forward to send their children to the school. Even small job holders like watchmen, mechanics now, want their children to be educated. With this literacy rate in the old city is getting better. Our success story comes from our objective that everyone should have basic skills. It was not just education; we also impart skills in carpentry, plumbing and the trades like that to help them to choose to take up different professions of their choice.
What kind of syllabus do you follow in an environment where people predominantly speak Urdu?
A. We follow the integrated syllabus. From primary to Class V, it is of Central Board of Secondary Education (CBSE) and ICSE. From Class VI to X, we follow state syllabus. As most of the students come from the Urdu speaking backdrop there is some difficulty in moulding them. So, we make it a point everyone in the school, including drivers, watchmen speak English and ensure that students are motivated and pick up the language. The action-based learning which we practice gives the students to see, learn and use by understanding the concept in action. This makes them not only in understanding but also in writing and fluency. That apart, we conduct bridge courses at the starting of the academic year. During this, we provide the much-needed orientation to ensure that all children are brought on track to comprehend teaching in English. The school regularly provides professional training to the teachers and also trains students to focus on taking admission in elite institutions like IIT and the like.
How are parents responding to your efforts?
A. We give personal attention to every student and address every complaint brought to our notice by parents. Parents think that when their wards conversing in English they have achieved everything. But, our focus is to ensure that students pickup effective communication skills in the English language to prepare them to confidently face the competitive world. Besides, we also feel that everyone in Telangana should learn the Telugu language, the official language of the State. So, we impart Hindi, Urdu and Telugu at the primary classes besides emphasising on English. This is to make students write and read in their own language as well as the skills required to read a newspaper in Hindi and Telugu. From Class VI onward, students can choose a language of their interest. The holistic development of what we are focusing has been winning the approval of people reflecting in the number of students seeking admission in our schools.
What other activities do you take up in the school as part of your focus on holistic development?
A. It not just the syllabus, our student are doing well in all aspects as we try to impart critical thinking, communication skills, bringing out the creativity of the students' though essay writing, elocution, quiz, drawing and painting and physical activities like participation in sports and games. Also, regularly we host a three-day event called 'Inspire', a science fair where around 500 schools participate with students presenting their exhibits on various models like alternative energy resources, water conservation, robotics and the like. We host it in association with the education department. The school has not only got an award for this but it would also trigger and motivate our students to actively participate in such events. That apart, we have NCC as well as scouts and guides.
What kind of sports and games do you have at your school?
A. We have different kinds of activities for the students. Our students have bagged all the medals in Inter School Martial Arts a state level tournament. Our students actively participation sports competitions organised by the Hyderabad District School Games Federation (HDSGF) and they triumphed in Kho-Kho standing in under -16 and 14 categories, Amina Sadeqa and Armaan Fatima of Class IX Gold medal Cricket in under -14 categories at state level. Volley Ball, Kabaddi, Judo, skating are a few to name in which our students brought laurels to the school. The students get their training and practice at an indoor stadium and auditorium.
How your alumni are doing?
A. We celebrated alumni meet two years ago which turned out to be a most memorable event for us. Because, a maximum number of our students are doing well in several Multi-National Companies (MNCs) abroad in the fields like telecom, communications, information technology and the like. Within the country, several of our students are practicing professions like chartered accounts, doctors, engineering and law. They keep in touch with us through social media. Sharing their positive thoughts with their Alma mater continues to inspire them. It makes us not only happy but makes us stronger to resolute in our efforts.
What are the constraints that you face? What are the areas that you suggest improvements?
A. For so long people have a feeling that the old city is not developed Vis a Vis the new city. But, it is changing faster. People in the old city are coming up in every aspect, including education. But, the main hurdle is that some of the parents have a misnomer that once they admit their children in school it takes care of everything. It is not so. Parents should give their personal time to their children and spend quality time with them. If possible communicate them in English and give them a sense of distinguishing between choosing right and wrong. In some cases, parents taking their wards to late night functions for two to three days.
This makes hard for children to wake up early in the morning resulting in coming late or skipping school day. This makes not able to cope up with their regular school activities. Parents should do their bit of responsibilities. An effective communication and active participation among school management, teachers and parents would increase the children coming up in flying colours. In turn, we are confident that this would bring a positive change in the old city for which we have started our educational institutions.
Subscribed Failed...
Subscribed Successfully...