More schools chose Cambridge qualifications in India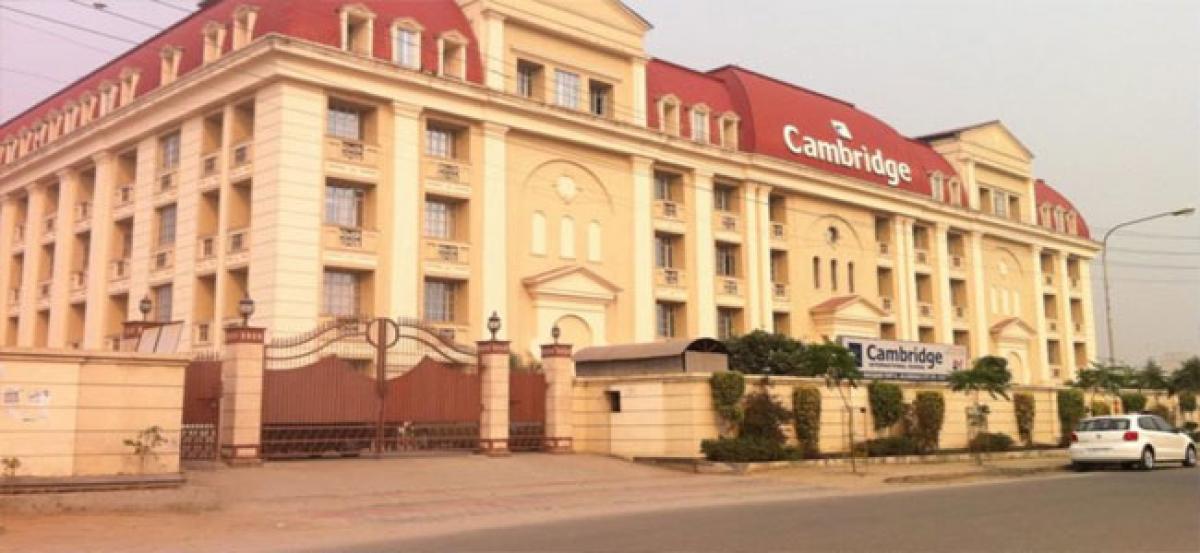 Highlights
More schools than ever before chose to teach Cambridge International qualifications this year, with exam entries continuing to rise in India and around the world On Wednesday Cambridge International released the results of its June 2018 exam series to students worldwide, revealing that total entries for Cambridge qualifications have grown by eight per cent internationally on June 2017
Hyderabad: More schools than ever before chose to teach Cambridge International qualifications this year, with exam entries continuing to rise in India and around the world. On Wednesday Cambridge International released the results of its June 2018 exam series to students worldwide, revealing that total entries for Cambridge qualifications have grown by eight per cent internationally on June 2017. There has also been a six per cent growth in the number of schools internationally which offer Cambridge programmes.
Globally, over half a million students took Cambridge IGCSE, O Level and International AS & A Level exams this year and will now be planning their next steps into further education or the world of work.
In India, over 300 schools made over 75,000 entries for Cambridge IGCSE and International AS & A Level qualifications in 2017/18 – a 10 per cent increase on last year and 49 per cent increase over the past five years. In the June series this year, the most popular Cambridge IGCSE subjects in India are First Language English (Oral), Physics and Chemistry. The most popular Cambridge International AS & A Level subjects in India are Mathematics, English Language and Physics.
Over the past five years Cambridge International has seen a combined global growth of 15 percent in entries for Cambridge IGCSE and Cambridge International AS & A Level. This year Cambridge International AS & A Level entries rose by seven percent globally and the top five most popular subjects remain the same - Maths, the sciences and Economics. Cambridge IGCSE continues to be the world's most popular international curriculum for 14 to 16 year olds, with entries increasing by seven per cent internationally this year.
Cambridge International has also seen a significant increase in the number of younger students now studying Cambridge programmes. Entries for Cambridge Primary Checkpoint tests grew by 12 per cent this year, and Cambridge Lower Secondary Checkpoint tests increased by five per cent. Ruchira Ghosh, Regional Director, South Asia, Cambridge International said: "International curriculum is gaining prominence in India and Cambridge International is the most popular provider, with over 420 schools offering Cambridge programmes.
"Indian parents and students are responding positively to the choice of subjects that Cambridge International offers, and our approaches to teaching and learning. Unique subjects like Cambridge Global Perspectives, which nurtures critical thinking, research and collaboration skills through the study of global issues, are also becoming more popular. I would like to take this opportunity to congratulate all the students on their results today and to thank all of their teachers and parents for their relentless support."
Speaking about the reason why his school chose to teach the Cambridge International curriculum, Bipin Pote, Director, The Cambria International School, Mumbai said: "Most of today's students will end up doing jobs that we haven't even heard about yet. Cambridge International curriculum prepares students for this future. We opted for Cambridge International purely because it is a child friendly and holistic curriculum. A broad, balanced and cohesive curriculum, like that offered by Cambridge, is essential in our opinion Parents today want their children to get international exposure from an early age. Cambridge International provides that with programmes from primary years onwards."
Satish Jayarajan, Principal and Higher Education Advisor, Mallya Aditi International School, Bengaluru said: "Cambridge syllabuses set up numerous opportunities for learners, both students and teachers, to do some of what is involved in lifelong learning. It will be the outcome of choices that both students and teachers make. Students must be accepting of the fact that grades, while important, do not automatically translate into real learning.
Subscribed Failed...
Subscribed Successfully...