Graduation is not the end but beginning of learning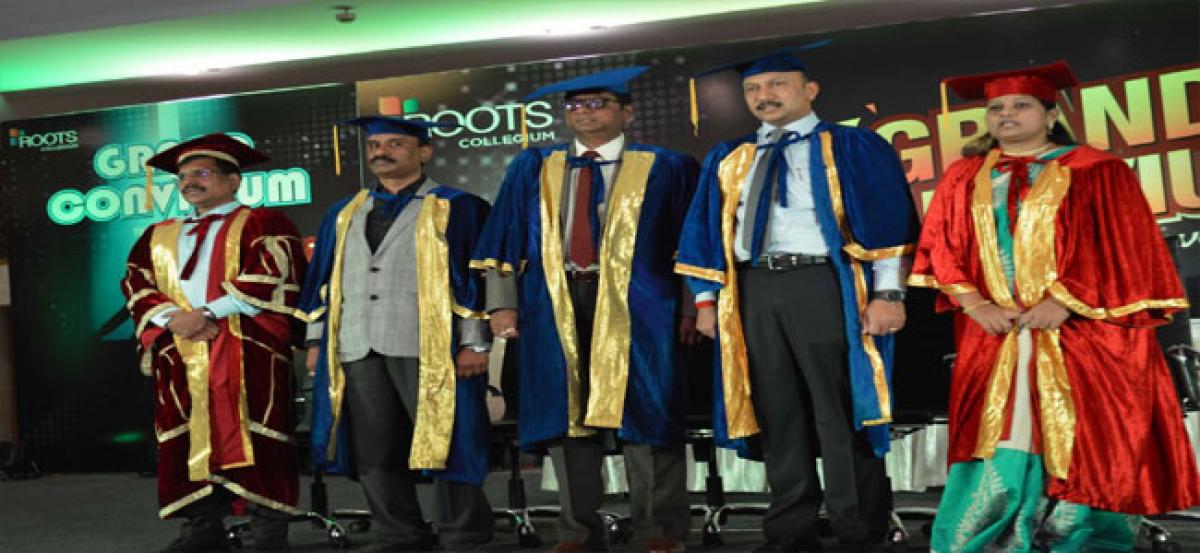 Highlights
ROOTS Collegium, a 10 yearold group of educational institutions celebrated its 8th Convocation day on Saturday Navin Mittal, Commissioner of Collegiate Education was the Chief Guest at the Grand Convivium E Suresh Kumar, Vice Chancellor of English and Foreign Languages UniversityEFLU and former Registrar of Osmania University was the Guest of Honour
Hyderabad: ROOTS Collegium, a 10- year-old group of educational institutions celebrated its 8th Convocation day on Saturday. Navin Mittal, Commissioner of Collegiate Education was the Chief Guest at the Grand Convivium. E Suresh Kumar, Vice Chancellor of English and Foreign Languages University—EFLU and former Registrar of Osmania University was the Guest of Honour. IIITian from Kharagpur, Suresh Reddy, Chairman & CEO of Lycos Internet Ltd was the Key Note Speaker. Under his leadership the Lycos group has raised $100 million in equity and debt over a period of seven years. Navin Mittal administered oath to the outgoing students.
Chairman of Roots Collegium Prof Padala declared Graduation Day open and welcomed the gathering. Addressing the 500- plus gathering, he gave them Pancha Mantras.
1. Pursue excellence. Make mistakes. Mistakes denote that you have attempted something.
2. Enjoy the work. Turn your passion into profession.
3. Go to the extra mile. Put always a bit of extra effort.
4. Be answerable to your conscience, family and nation at large
Giving his address, Navin Mittal said: "Graduation is an important milestone in life. You are at the crossroads now. You need to know where you want to go. You should have a roadmap. You should have a vision to achieve success in life and to set goals". He reiterated the Pancha Mantra shared by Prof Padala, Chairman of Roots speaking earlier and elaborated it further. He added and told students to decide whether they want to pursue excellence or mediocrity. Money, fame are just byproducts of success, Navin Mittal added.
Further he told them not to be afraid of failing, doing mistakes. Those who try only make mistakes, he explained. "Enjoy whatever you do. Or do whatever you enjoy doing. Don't take things so seriously in life. There is always a second chance. Let things go" he told them amidst cheers from the graduating students. E. Suresh Kumar highlighted the importance of communication. He asked the grads to differentiate between Formal, Informal and Casual Communication.
He compared the same with Special, Normal and Working lunch. If you want to be successful be a Roman when you are in Rome he told them. Graduation is not an end of learning, but, it is beginning of the learning said Suresh Reddy, Internet Entrepreneur, delivering his key note address. "You have graduated and going into ever changing world. Artificial Intelligence (AI) is changing our world. In fact we are working hard to teach computers how to take away our jobs. Better be prepared for new challenges", he told them.
The guests also gave away gold medals to toppers. As a refreshing change, the parents of the toppers were also honoured. College Principal Swathi gave academic report for the year. Roots started small in 2008 with 19 students. Now it has two campuses and 1300 pursue their BA, B.Com, Inter and Hotel Management studies. It is about to start a third campus. Roots is the first college in Telugu States to have introduced Toastmasters in a college. Three national players in Swimming, Bike Racing and Cricket are among its students.